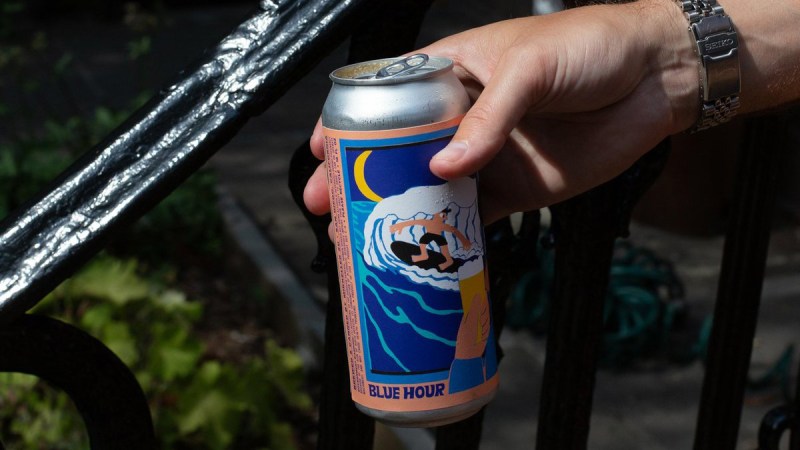 Isn't it great when you not only look good, but whatever you're drinking or eating does too? Danish "phantom" brewery Mikkeller has teamed up with men's lifestyle store Huckberry to brew the most fashionable beer of the summer: Blue Hour.
Blue Hour is a gose-style ale (which is named for Goslar, Germany, where the beer was first brewed in the early 16th century — #themoreyouknow) and is made with pineapple, tart cherry, and yerba buena. The result is a cherried amber beer with crisp, refreshing palate. The pineapple and tart cherries come through in equal measures without being overwhelming or throwing off the balance of the beer.
If gose-style beers aren't your thing because of the saline taste, you don't have to worry — Blue Hour's components blend pretty seamlessly not only with the fruits that were fermented in the beer, but also the slightly minty taste flavor derived from the addition of yerba buena. Think of the salinity in this beer as being akin to a relaxing ocean breeze.
Blue Hour is named after the time of morning or evening where the sun has sunk below the horizon and the remaining light has a (you guessed it) blue-ish hue to it. Fun fact: The blue hour doesn't actually last an hour. Typically, the "hour" is only about 20 minutes — the perfect amount of time within which to consume one of these 16-ounce cans of beer, if you ask us.
The Blue Hour label was designed by Mikkeler's art director, Keith Shore, as part of Huckberry's Artist Series and will not only be available on the cans themselves, but also as limite-dedition prints, koozies, and more.
If you live in California, you can order four-packs of Blue Hour online (it will be shipped from Mikkeller San Diego). They'll run you $15 per pack (or $4.25 for a single can, but who really wants just a single can of beer delivered by UPS?) and can be purchased here. If you live elsewhere, never fear. Huckberry is working to expand shipping to other states.
While we've got you here, you should also check out how Huckberry is partnering with Faherty to create clothes that help the oceans.
Editors' Recommendations