Poached pears have always felt a little distant, like something out of a Williams Sonoma catalog that one never really gets around to making. Well, humbug to all that. The classic dessert dish can be prepared with relative ease and is a great option around the holidays. Better still, it accompanies a number of great wines, beers, and spirits.
Greg Higgins runs his eponymous restaurant in downtown Portland, having done so since the mid-90s. He's a revered culinary figure, one of the pioneering firsts to make farm-to-table a real and practically expected thing in American dining. He's included a fairly straightforward poached pear recipe, below, and has a few tips on the topic.
"Choose pears that are slightly firm or underripe," the chef says. "That makes them easier to prep and poach." Higgins also advises the slow and low method of cooking the fruit. "Never let the poaching liquid come to a boil," he warns.
There's also a simple trick that allows for added presentation points. "Cut a bit of the bottom to create a flat spot to stand the pears up after poaching," he says.
Pinot Noir-Poached Pear and Blue Cheese Salad
This Higgins recipe utilizes the flavorful poached pear in salad form. Per the Higgins way, it's a very locally-sourced endeavor. If you live away from the Pacific Northwest, you can still have good quality pears and cheese, along with some hazelnuts. As the chef suggests, enjoy it with a nice Pinot Noir, or a darker Belgian ale if beer is your thing.
Ingredients:
6 Oregon pears, cored and peeled
1/4 cup Oregon blue cheese, crumbled
1 cup Oregon hazelnuts, toasted and chopped
1 bunch frisée
1/4 cup hazelnut oil
Poaching Liquid Ingredients:
1 quart Pinot Noir
2 whole cinnamon sticks
15 whole cloves
2 tablespoons whole allspice
Method:
Bring poaching liquid to a low simmer in a non-reactive saucepan.
Peel and core pear from the bottom leaving top intact and place in liquid (approximately 180 F). Do not boil.
Toast hazelnuts until browned in the center, then chop.
Remove pear from poaching liquid when softened yet still firm and hold in a warm place.
Place 2 cups of the poaching liquid in a pan and reduce to the consistency of syrup.
Stand pear on a bed of frisee, crumble on blue cheese and sprinkle with toasted hazelnuts. Drizzle salad with reduction, hazelnut oil, and grind of fresh pepper.
Citrus-Poached Pears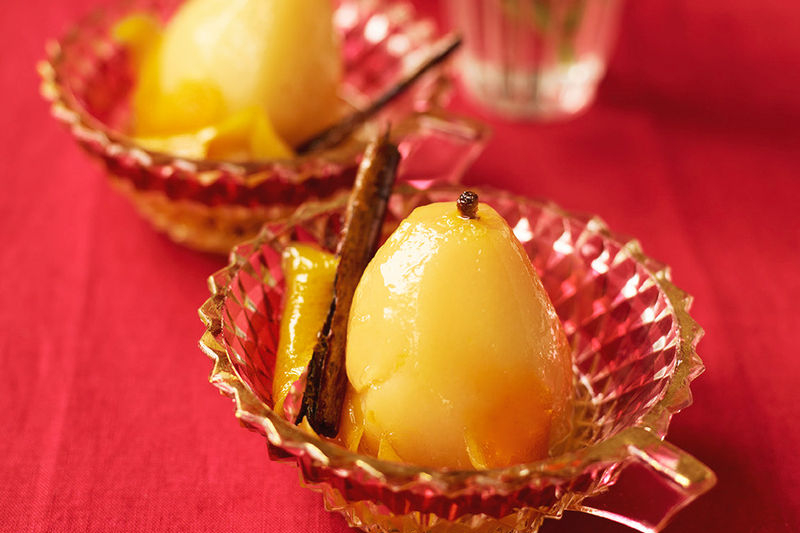 For an approach that really just puts the fruit on a pedestal, we like the poached pear recipe from Jamie Oliver. Enjoy it with a dry or off-dry Riesling, a glass of Alsace, or even a nice and yeasty farmhouse ale. If you're looking to pair it with a spirit, try a finger of your favorite rye whiskey or a short pour of brandy.
Ingredients:
2 pears
1 lemon
1 orange
1 stick of cinnamon (or cloves, allspice, star anise, or some combination)
1 cup granulated sugar
double cream
Method:
Place the peeled zest and juice from the lemon and orange into a saucepan, just large enough to hold the pears.
Add the cinnamon and sugar, pour in 2 cups of water and bring to a boil. Cook until the sugar dissolves.
Peel the pears, then once the sugar has dissolved, reduce the heat and lower the pears into the syrup.
Simmer gently for 10 to 12 minutes, or until tender, then remove from the heat and leave to cool.
Serve the pears with double cream and 4 tablespoons of poaching liquid per person.
Chai-Poached Pears with Cinnamon Whipped Cream
Tea is a great option for poaching and this recipe from Oh My Veggies knows as much. Obviously, chai on chai is a nice combo so try a good cup of tea with this one. If you feel like something stiffer, try a late-harvest white wine like Gewurztraminer or a nice bourbon or spiced rum.
Ingredients:
2 chai tea bags
2 Bosc pears
1.5 cups boiling water
1/2 cup heavy cream
1/3 cup honey
1 teaspoon sugar
1/2 teaspoon ground cinnamon
Method:
Place the chai tea bags into a 3-quart pan and pour the boiling water over the top. Let the bags steep for 8 to 10 minutes. Remove the tea bags, squeezing them to release as much liquid as possible. Stir in the honey. Add the pears and add enough water to barely cover, then bring to a simmer. Cook for 20 to 25 minutes, or until the pears are tender. Remove the pears with a slotted spoon and set aside.
Bring the poaching liquid to a rolling boil. Let boil until syrupy, about 20 to 30 minutes.
To make the whipped cream, pour the heavy cream in a mixing bowl and add the sugar and cinnamon. Beat with a whisk or hand mixer until soft peaks form.
Place pears in a shallow dish or bowl. Spoon some of the warm poaching syrup over the pears and add a spoonful of cinnamon whipped cream on the side. Serve immediately.
Editors' Recommendations