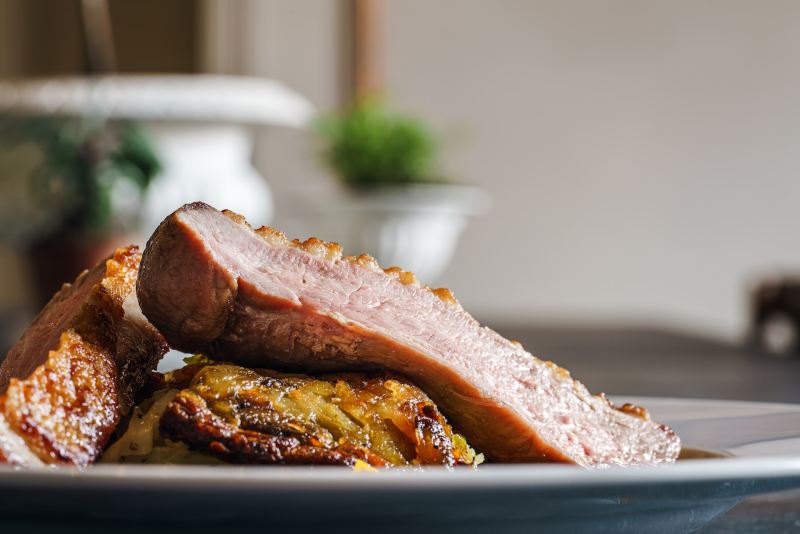 In the summer, we grill. It's what we do. Give us your burgers, your steaks, your chops, your fish, and your brats. There's (almost) nothing that can't be improved by a quick trip to the firy grill grates. It's that signature smoky campfire smell and flavor that invokes feelings of summertime happiness, and from May to August, we can't get enough. But what about the more obscure (albeit delicious) grilled meals? Of course, barbecue chicken, hot dogs, and ribs are what summer love is made of, but isn't there more to the smoky, charred fun than these usual suspects? We say yes.
Grilled duck breast may not be the first thing that comes to mind when it's time to fire up the grill, but maybe it should be. Duck is delicious, and while it tends to be reserved for more fine-dining situations in the States, there's no reason it shouldn't nestle in next to the other blue-collar ingredients on your grill. After all, duck breast is a reasonably priced, incredibly versatile, succulently juicy, rich, and gamey piece of meat. There's no reason why it shouldn't steal the show at your next barbecue. This duck breast recipe is incredibly simple to make, but it tastes sophisticated enough to wow anyone around your picnic table.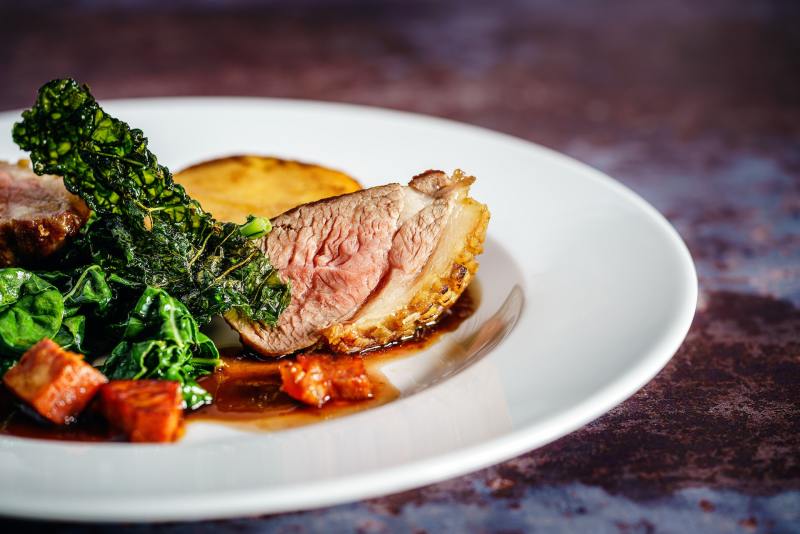 Grilled duck breast with spicy orange sauce recipe
Ingredients:
2 boneless duck breasts
1 tablespoon vegetable oil
1/4 cup soy sauce
Juice from half a lemon
Juice from one orange
Zest from one orange
1 teaspoon hot sauce
1 tablespoon orange marmalade
1 teaspoon honey
1/4 teaspoon crushed red pepper flakes
Salt and pepper to taste
Method:
Dry duck breasts thoroughly with paper towels, then score the skin side in a cross-hatch pattern using a sharp knife. Place in a shallow dish.

In a small bowl, whisk together the vegetable oil, soy sauce, lemon juice, salt, and pepper. Pour mixture over duck breasts and set aside.
In a sauce pot, whisk together the orange juice, zest, hot sauce, marmalade, honey, crushed red pepper, salt, and pepper. Bring to a boil, then reduce to a simmer for about 5 minutes.
Preheat grill to 400F and place duck breast on grill, skin side down, over indirect heat, and close the lid. Most of the duck fat will render off, leaving a thin layer of crispy skin. This should take between 5 and 10 minutes.
Flip the duck breast over and cook skin side up over indirect heat for 3–5 minutes, until it reaches your desired doneness (we recommend medium-rare).
Remove the duck from the grill, tent with foil, and rest for at least 5 minutes.
Slice duck breast on a bias and top with prepared orange sauce.
Grilled duck tips and tricks
Don't skip the score! Whether grilling or pan-searing duck, scoring is the best way to ensure crispy, delectable skin, and there's really nothing better than that.

It's true that duck breast is a very lean meat. However, it's a juicy and flavorful piece because the fat is in the skin. This isn't the time to do a boring, skinless breast. If that's your style, save some money and stick with chicken.
Because of the high-fat content in duck skin, the grill may be prone to flare-ups during the cooking process. Stay close to your grill and in control of the heat to prevent a burnt dish or dangerous situation.
Editors' Recommendations