Not everyone grew up with an Emily Post as a mom or attended a gentlemen's finishing/prep school.
In fact, our day-to-day urban lifestyles are so divorced from dandified life, it's no wonder most modern men feel as at home in a formal dining atmosphere as they would on the moon.
We're living in casual times. But if you are someone who rubs elbows in fancy restaurants even occasionally, you'd should at least know the basics of fine dining etiquette.
1. Dress code
You know better than to show up in jorts and crocs. But beyond that, is there a fancy restaurant dress code? Upscale eateries often require men to wear a jacket and tie before they even enter the dining room. Assess the need for a dinner jacket ahead of time so you never have to borrow one from the house (they're often ugly and so ill-fitting you'll either look like a six-year-old in your dad's suit or Chris Farley in little coat).
2. Menu and ordering
Prix fixe? A la carte? Chef's menu? Figure out what type of menu you're working with to get a feel for how the ordering process will go. Prix Fixe means that the entire meal (all courses) is one single (and often very high) price. A la carte is French for "pay individually" and a Chef's Menu is just that, the chef's menu–you don't get a choice in what you order–and sometimes that's just what you want. And by all means, get friendly with the waitstaff and ask questions. You might get the perfect recommendation.
3. Utensils
Ever sit down to a fancy meal and think, "Why on earth are there so many forks?" Holding your fork in the proper position is actually a matter of geography. Americans eat tines-up, while much of Europe goes for a tines-down approach. Pro tip: Utensils are placed so that you work your way inward throughout the meal–think Leonardo DiCaprio and Kathy Bates in Titanic.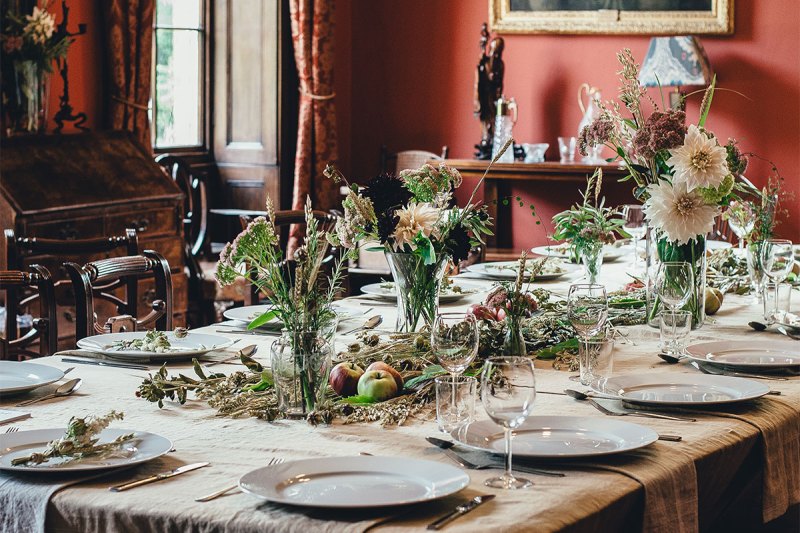 4. Glasses
Glasses work in the opposite fashion, so expect to work your way outward from the center of the place setting. And always remember to hold your glass by the stem rather than the body.
5. Technology
Unless it seems to be the norm at the establishment, refrain from snapping pics for social media — especially if that means getting the perfect shot by standing on your chair. Fine dining is an opportunity to experience the world through your senses in the present moment. Take advantage of that while looking extra polite by keeping your phone put away. Take your time.
6. Handling the check
The standard rule is that the person who invites is the person who pays. If you want to be extra slick, arrive at the restaurant earlier than your guests so you can slip the waitstaff your credit card before the meal even begins. And if you're going dutch, for the love of all that's holy just split the check down the middle. There's nothing fancy about counting pennies.
Now you know. Go forth and dine like royalty.
Related Reading: Beginner Wine and Cheese Pairing Tips to Impress Anyone
Editors' Recommendations