Cured salmon is a staple in many Northern-leaning cuisines around the world. Whether it is brined, such as with lox, or cured with salt and spices as the Scottish and others do, one thing can be agreed upon – it is delicious.
Whether it's topping a fresh bagel or rolled with a caper and simply popped in your mouth, you really can't go wrong with cured salmon. With that in mind, we wanted to know just how hard it was to cure our own salmon. Luckily, a new book was right there for us.
This recipe comes to us from Jon Wipfli in his new book Fish: Recipes and Techniques for Freshwater Fish (Harvard Common Press 2019). In the book, Wipfli not only covers recipes for the most-often-consumed freshwater fish, but techniques for how to prepare them, such as the curing below or an even more necessary act, scaling a fish.
After you learn to cure the salmon, we recommend plating it using the crème fraîche, lemon, and dill-on-toast recipe below.
How to Cure Salmon
Salt, Sugar, and Dill-Cured Salmon Recipe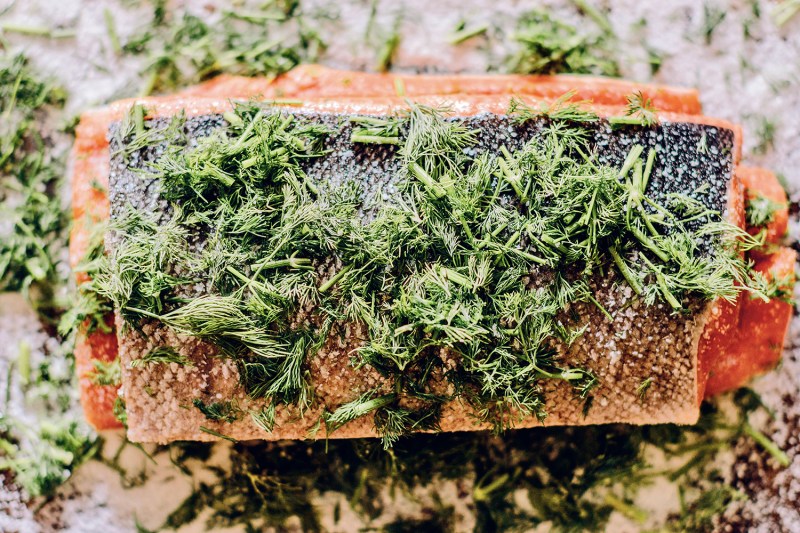 "Curing with salt, sugar, and dill is one of the most traditional methods for making cured salmon. It's a tried-and-true technique you can't go wrong with as long as you use fresh salmon. In the following recipe, I pair this salmon with crème fraîche and some traditional accents on toast — but I encourage you to use your imagination. It can make its way into omelets, top bagels or eggs Benedict, or be plainly sliced onto a charcuterie platter. It's an extremely versatile ingredient. You can also use this same process with other fish, such as trout or bass."
(Serves 10 to 12 when used as part of other recipes)
Ingredients:
1 c (300 g) kosher salt
1 c (200 g) sugar
Two 24-oz (680 g) salmon fillets, bones removed as needed
2 bunches fresh dill, roughly chopped
Method:
In a small bowl, stir together the salt and sugar until blended.
Sprinkle the bottom of an 8 x 12-inch (20 x 30-cm) glass baking dish with a layer of the salt and sugar mixture and a layer of dill. Lightly season the skin side of one salmon fillet with the salt and sugar mixture and place it, skin side down, in the baking dish.
Aggressively season the flesh side of that fillet with the salt and sugar mixture and spread a handful of dill over the fish. Aggressively season the flesh side of the second fillet and place it on top of the fillet in the dish so that flesh is resting on flesh. Aggressively season the skin side of the exposed salmon and spread the remaining dill over the top.
Cover the salmon with plastic wrap and place some weights, such as bricks or a couple of large tomato cans resting on a sheet of parchment, on it, pressing the salmon down evenly. Refrigerate.
Flip the fish every 12 hours and drain the juices collected each time it's flipped. Do this four times over a curing period of 48 hours.
After 48 hours, wipe away any excess salt with a damp cloth and the salmon is ready to eat. When you're ready to serve it, remove the skin.
Cured Salmon with Crème Fraîche, Lemon, and Dill on Toast Recipe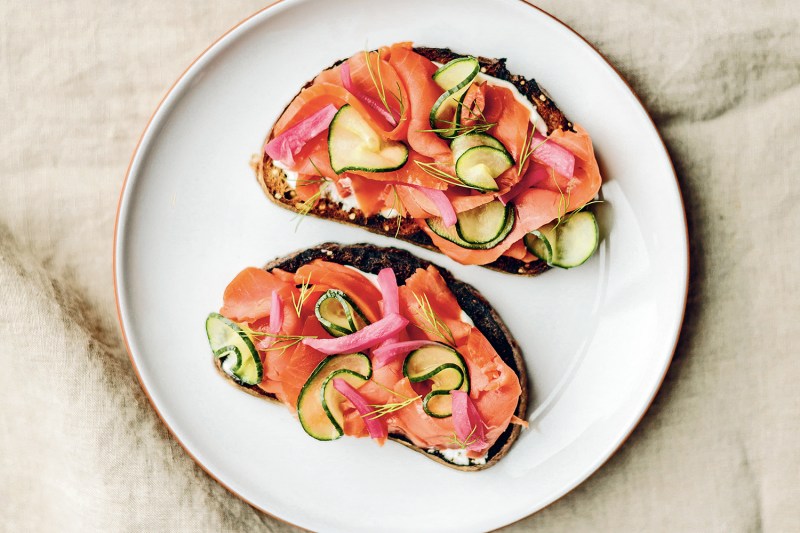 "This is a straightforward dish that seems to please everyone. The star is diced cured salmon with some added fat in the form of crème fraîche, fresh lemon for acidity, and dill for a pop of freshness. Shallots and capers add to the depth of flavor, but aren't necessary for a great-tasting end result. If you don't have time to cure the salmon yourself, buy cured salmon for this recipe."
(Serves 4 to 6 as a snack)
Ingredients:
.5 cup (112 g) crème fraîche
1 tablespoon (9 g) capers, rinsed and chopped
Kosher salt
Freshly ground black pepper
4 to 6 slices hearty bread, such as rye, toasted
1 lb (454 g) cured salmon, thinly sliced (recipe above)
.5 cup (70 g) quick cucumber pickles (recipe below*)
.5 cup (80 g) pickled red onion, drained of liquid (recipe below**)
2 tsp freshly squeezed lemon juice
1 tbsp (4 g) fresh dill
Method:
In a small bowl, stir together the crème fraîche and capers.
Season the mixture with a pinch of salt and pepper.
Lightly spread the toast with the crème fraîche.
Fold slices of salmon onto the coated bread.
Top with quick pickles and red onion.
Sprinkle a bit of fresh lemon juice over the fish and garnish with dill.
*Quick Cucumber Pickles Recipe
Ingredients:
1 English cucumber, thinly sliced
Pinch kosher salt
.5 cup (120 ml) rice vinegar
.5 cup (120 ml) water
Method:
Place the cucumber slices in a medium bowl and sprinkle with the salt. Let sit for 30 minutes.
Squeeze the cucumbers to get rid of their water and return them to the bowl. Add the vinegar and water. Let sit at room temperature until needed.
**Pickled Red Onion Recipe
Ingredients:
1 qt (960 ml) distilled white vinegar
1 qt (960 ml) water
Juice of 1 lime
1 tbsp (9 g) peppercorns
1 tbsp (5 g) coriander seeds
1 jalapeño pepper, halved lengthwise
1 sprig marjoram
Big pinch sea salt
Big pinch sugar
2 large red onions, thinly sliced
Method:
In a 6-quart (5.8 L) saucepan over medium heat, combine the vinegar, water, lime juice, peppercorns, coriander seeds, jalapeño, marjoram, salt, and sugar. Bring to a simmer and cook for 5 minutes. Remove the mixture from the heat and let cool.
Cover and refrigerate for 24 hours, and up to 5 days. Drain the onions from the liquid before using.
Pick up your copy of Fish here .
Recipe and images courtesy of Fish: Recipes and Techniques for Freshwater Fish by Jon Wipfli, Harvard Common Press 2019. Photography by Colleen Eversman.
Editors' Recommendations