In the wide world of shellfish, the Dungeness crab holds a special spot, especially among cooks and chefs. The West Coast critter is usually plentiful and an utter joy to eat, blending the decadence of lobster with the on-its-own goodness of your favorite oyster. And now that we're in the thick of Dungeness crab season — a rather long stretch that normally goes from December to August — it's high time to get your hands on some and try out some recipes.
Even if you don't live near the Pacific, you can still get some fresh Dungeness. It's a popular crab shipped out to just about everywhere. It's delicious mixed into salads and pasta as well as in crab cake form or even straight off the grill. Read on for some tips on preparing the crustacean, along with some recipes to try out at home.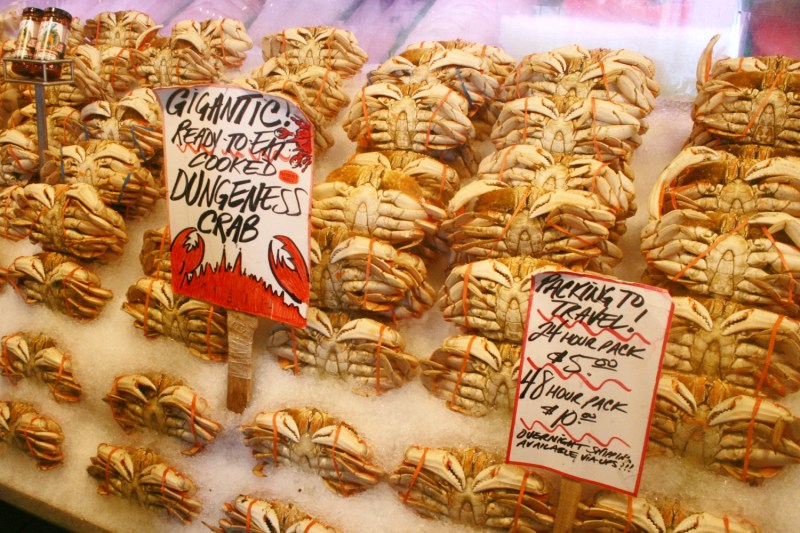 Cooking and Cleaning Crab
Oftentimes, you'll be purchasing a deceased crab. If you do get a live one, just be sure to handle it from the rear so you don't get pinched. Boil the crab for about seven minutes per pound and chill it down over some ice after. Next, peel off the carapace. This is the large, oval-shaped shell atop the crab's body. It can be easily removed along the seam at the back. Pull out the meat with your hands and place it in a bowl.
At this point, if you wish to serve the legs of the crab shell attached, simply pull them off and serve. Otherwise, if you're just after all of the meat and no shell, flip the crab over and use a shucker to lift up the apron. Then, snap the crab in half with your hands and pull out the meat. Remove the legs and use a nutcracker or rolling pin to crack the shell into pieces and pull off the meat. If you'd like a visual, check out this helpful video .
One of the best ways to eat this type of crab is straight up, after a good boil. You can crack off the legs and pluck out the treasured meat inside. Some dipping sauce is recommended if that's your thing but the sweet and mild flavor, with some nuttiness and a kiss of ocean brine, is great on its own. Some say it's the closest sibling to the Alaskan King crab, a prized crustacean that can sometimes fetch triple figures per pound.
Here are a few Dungeness crab recipes we're fond of.
Grilled Dungeness Crab Recipe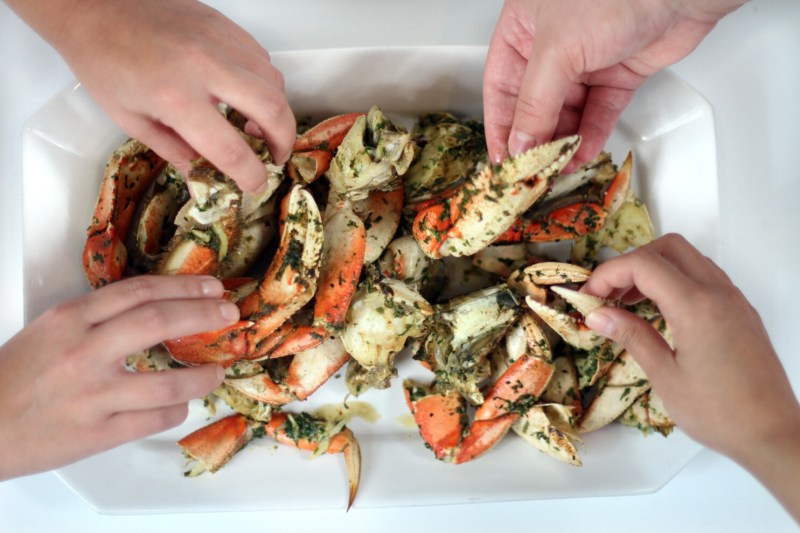 This recipe from the Los Angeles Times is great year-round and demonstrates that you can cook a crab to perfection on your grill.
Prep Time: 10 minutes
Total Time: 20 minutes
Yield: 4-6 appetizer servings, 2-4 main course servings
Ingredients:
Directions:
Clean and crack the crabs, keeping the legs attached to their respective body segments. Using the back of a heavy knife, crack the shell of each leg joint (without breaking them into pieces) to allow the marinade to penetrate. Place in a large mixing bowl.
In a mortar and pestle, grind the fennel seed, red pepper flakes, black peppercorns, and salt to a powder (some of the spice pieces will stay more intact). Add the parsley and the green onion and grind to a coarse pulp. Add the olive oil a little at a time until you have a wet, sticky sludge.
Alternatively, you can grind the fennel seed, red pepper flakes, black peppercorns, salt, parsley, and green onions in a blender, and then slowly add the olive oil with the blender running until you have the right texture.
Pour the herb mixture over the crabs and mix with your hands, making sure each piece is coated evenly. Refrigerate for at least an hour to allow the crab to marinate.
Start a hot fire in the grill. Empty the mixing bowl onto the grill and use tongs or a large spatula to distribute the crab pieces in a single layer. Every 2 to 3 minutes, use the tongs or spatula to scoop and turn the crab pieces. The crab is grilled with you see traces of scorching on the shell and some of the herb mixture has blackened, 6 to 7 minutes.
Alternatively, spread the crab out onto a rimmed baking sheet and broil until the shell is lightly scorched and some of the herb mixture has blackened, 4 to 5 minutes.
Serve immediately.
Fettuccine with Crab Recipe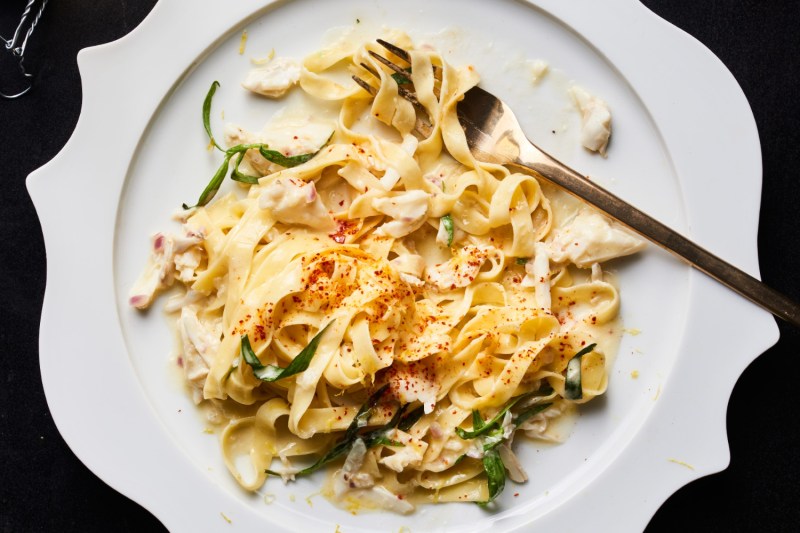 Dungeness is great in all kinds of pasts, from a simple mac and cheese to linguine. This Bon Appétit take is creamy and delightful, all the better with a zippy white wine.
Prep Time: None
Total Time: 25 minutes
Yield: 2 servings
Ingredients:
1 tbsp extra-virgin olive oil
1 tbsp unsalted butter
1 small shallot, finely chopped
1 small garlic clove, finely grated
1 8-ounce container crème fraîche, room temperature
Kosher salt
6 ounces fresh or dried fettuccine or tagliatelle
10 ounces cooked Dungeness crab
½ lemon
½ cup tarragon leaves
1 teaspoon piment d'Espelette or red pepper flakes
Directions:
Heat oil and butter in a medium skillet over medium heat. Cook shallot and garlic, stirring often, until soft and golden, about 3 minutes. Add in crème fraîche and cook until mixture is slightly thickened, about three minutes.
Meanwhile, cook pasta in a pot of boiling salted water, stirring occasionally, until very al dente, about 3 minutes (for fresh pasta). Drain, reserving ½ cup pasta cooking liquid.
Using tongs, transfer pasta to skillet with sauce and add crabmeat. Finely grate zest from lemon over pasta and squeeze in about 1 teaspoon juice. Cook pasta, tossing constantly and thinning sauce with a few tablespoonfuls of pasta cooking liquid if needed, until pasta is glossy and sauce is the consistency of heavy cream, about three minutes. Add tarragon, season with salt, and toss a few more times to wilt tarragon.
Transfer pasta to a platter and sprinkle with piment d'Espelette.
Dungeness Crab Salad Recipe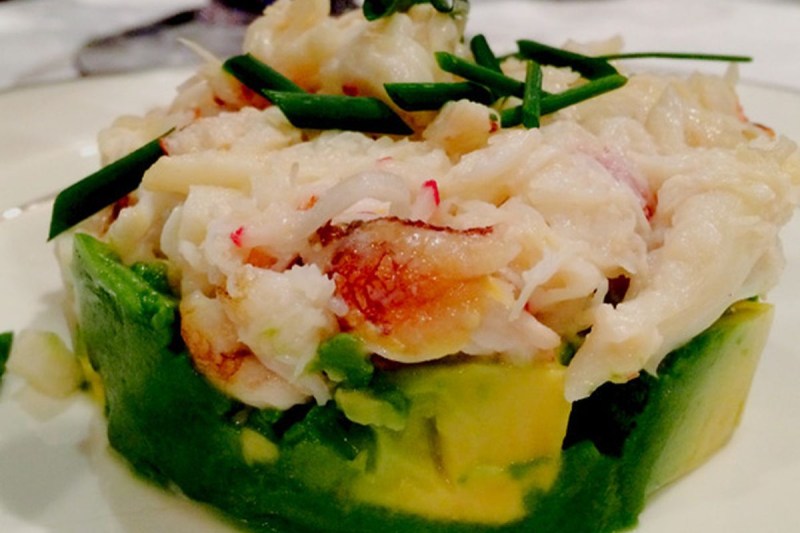 This salad recipe from Food 52 is easy to make and makes for a great lunch. You can play around a bit with the apples you use, depending on how tart or sweet you want it to be.
Prep Time: None
Total Time: 10 minutes
Yield: 4 servings
Ingredients:
8 ounces fresh Dungeness crab, picked and cleaned
cup Pink Lady apple, diced
cup radish, julienned
Zest of 1 lemon
1 tablespoon mayonnaise
1 tablespoon Pernod (or anise flavored liquor)
3 teaspoons lemon juice, divided, plus more to taste
1 large avocado, diced
Fresh chives
Directions:
In a bowl, combine crab, apple, radish, lemon zest, mayonnaise, Pernod, and 1.5 teaspoons of lemon juice, gently mix until incorporated, season with salt and pepper to taste, and chill.
Prior to serving, add a touch more lemon juice to brighten all the flavors.
When you are ready to serve, dice avocado, gently mix in remaining lemon juice, and divide between four plates.
Place equal an amount of crab salad atop avocado, garnish with fresh chives, and serve immediately.
Editors' Recommendations