Many of us are lucky enough to live in cities where we can find pretty much any type of food we desire. Sometimes, those foods are eclectic options that are really only liked by the locals (here's looking at you, Cincinnati and Skyline Chili) while others, like a cheesesteak from Pat's in Philadelphia, you could find elsewhere, but it wouldn't be the same.
If you live in such a city, good for you. You have access to it whenever you want. For others, though, it's not as simple. Jobs change, love happens, and sometimes you find yourself in a town 2,000 miles from your favorite food. Until recently, you had to rely on friends and family to help you get your fix.
"You're coming into town? Can you pick up a dozen of those bagels I love?"
"I swear, if you show up on my stoop without a few links of those jalapeño sausage links from Texas barbecue country, I'm not letting you in the door."
Etcetera.
Now, though, online food retailer Goldbelly (which we first introduced in our bacon subscription guide) is working to solve that issue by shipping some of the country's most iconic foods to your door, sometimes in as little time as 24 hours.
Broken up regionally, by state, type of food, and what's in season, Goldbelly allows anyone in the United States to find a beloved food and gorge themselves on it, even if they are nowhere near where it's produced.
For example: missing that aforementioned cheesesteak from Pat's? Not a problem. You can order a four-, eight-, or twelve-pack of cheesesteaks online and have them at your door within two days. The cheesesteaks come frozen with directions on how to heat them (as well as the ever-so-important reheating cheese whiz directions). Before ordering, you have the option of getting your sandwiches wit or wit-out (onions), and also the option to order cheese whiz, American, or provolone cheese. (We're not saying "Whiz Wit" is the only way to go, but let's be real, it is.)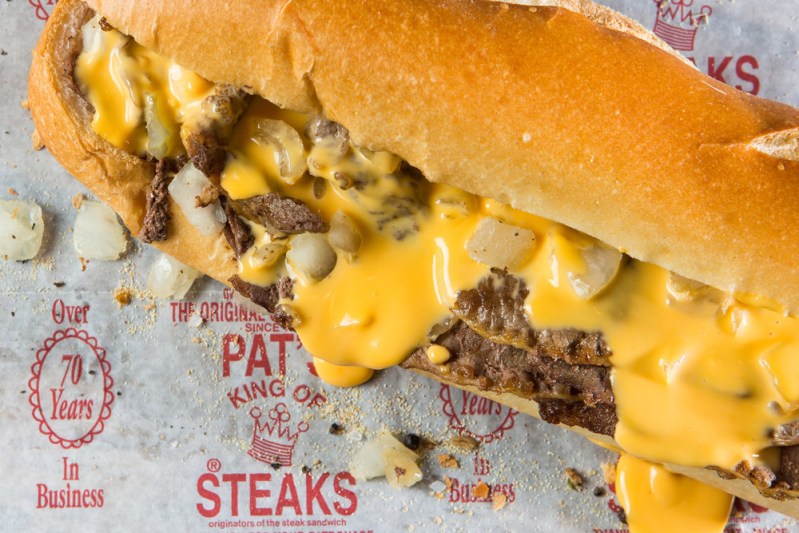 Is it exactly as you would have it if you were standing in line at Pat's? No, the bread is a little crispier and you'll probably put too much or too little whiz on there, but will you find better or make better on your own? Also no. Obviously, restaurants have a je ne se quoi when it comes to their food — the items made them famous, after all — but this is the closest you'll come to tasting home when you're not there.
The other benefit to Goldbelly's selection, we found, is that even if you've never tried a specific food — take the original Buffalo wings, for example — now you don't have to travel all the way to the Anchor Bar in Buffalo to try them. Instead, you can order a 50-pack for $129 and get a bottle of extra wing sauce to boot.
It doesn't matter if you're looking for Maine lobster rolls from Mcloons Lobster Shack, a dulce de leche cake from Milk Bar in Brooklyn, or to go wild and order food from a place you've never been, Goldbelly has you covered.
Goldbelly adds new products all the time, so it's good to check back often to see if what they've added to their list of available foods.
Editors' Recommendations