In the canon of pasta, there are no losers. Across the board, the thousands of iterations found in countless global cuisines offer up beautiful and delicious options for any palate or possibility. Whether it's acting as a side to a delicious cut of meat or whether the pasta is the centerpiece of the meal, you're going to have a good time (as long as the person preparing the pasta dish knows how to cook it, of course).
For most of people, though, the range of pasta dishes probably isn't all that wide (we know we're guilty of using the same four or five pasta dishes for meals). With summer on the way, it's time to switch up your routine and make a pasta dish from scratch that doesn't involve any expensive equipment. What dish is that, you're probably asking. One word: gnocchi.
Typically made from potato, egg, and flour, gnocchi are delicious little dumplings that can be a wonderful side to pair with, say, short ribs, or they can be used as a meal in and unto themselves.
To learn how to make gnocchi the right way at home, we turned to executive chef Matt Wynn of St. Louis' acclaimed Taste Bar (which was started by James Beard Award-winning chef Gerard Craft). The recipe that follows not only show you how to make gnocchi, but also how to make nettle pesto, conserved mushrooms, and pickled cauliflower, some of Wynn's favorite toppings for these little pillows of awesome (which, we're pretty sure, is a direct translation from Italian).
Gnocchi with Conserved Mushrooms and Pickled Cauliflower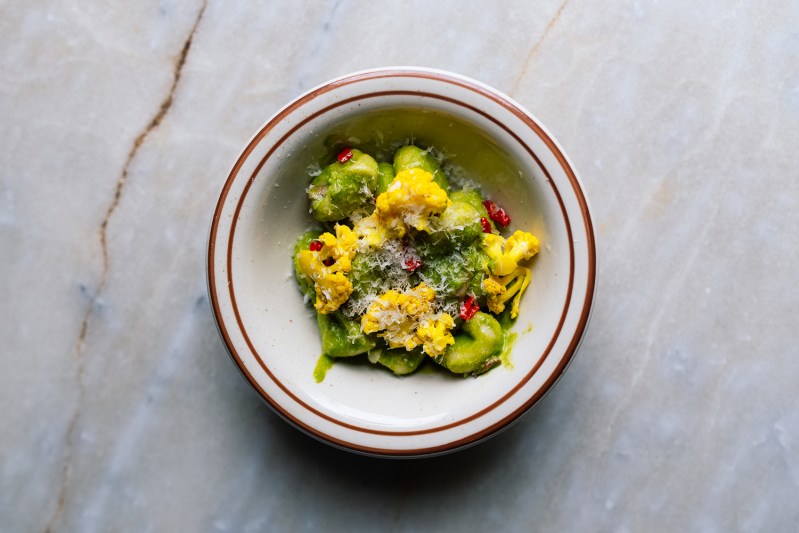 Gnocchi ingredients:
5 whole russet potatoes
5 c flour
1 egg yolk
Gnocchi method:
Preheat a convection oven to 350 degrees Fahrenheit.
Take 5 russet potatoes and prick them with a knife or fork; this will help leach out some of the moisture from the potatoes as they bake.
Prop them on a bed of salt (once again, to help peel out moisture) and bake them for an hour and a half.
Once baked and tender, peel the potatoes from their skins.
Grab a food mill and rice the potatoes onto a work table.
Once they are riced through the mill, grab a pastry scraper and cut the potatoes with the flour and egg. Add more flour or another yolk if needed. The dough should be firm; if it still feels tacky add more flour.
Roll the dough into a compact log, and then allow it to rest for 5 minutes. Each log should be about .5 inches thick.
Once rested start cutting each log into little 1-inch pieces.
If you want to give them ridges, grab a gnocchi board and simply run each piece down the ridges of the board to give them that look. (If you don't have a gnocchi board, primping them down with a fork also works)
Bring a pot of salted water to a boil, then working in 3 – 4 batches; boil the gnocchi until they start to float, then strain them out into an ice bath of water, let them soak for 1 minute then remove them onto an oiled surface.
At Taste we store our gnocchi cold, then poach it in a broth consisting of vegetable trim and Parmesan rinds.
Once they are warmed through we hit them with conserved mushrooms and a pesto made from stringing nettles.
To garnish and add flavor, we add Calabrian chiles and cauliflower pickled in turmeric, and finally a nice layer of grated aged sheep's cheese from Shepherd's Way Farm in Minnesota.
Nettle pesto ingredients:
1 qt picked nettles
.5 c almonds
.5 c stale bread
.5 c extra virgin olive oil
.25 c ice water
1 tbsp lemon juice
1 tsp salt
Nettle pesto method:
Blanch the nettles in water and shock them in an ice bath.
Pulse in a food processor with the rest of the ingredients until it resembles a chunky green paste.
Conserved mushrooms ingredients:
1 lb fresh mushrooms, preferably hen of the woods.
2 wt oil
2 sprigs thyme
.25 c aged balsamic vinegar
.25 c champagne vinegar
.25 c sherry vinegar
Conserved mushrooms method:
Grab a pot and fill it with the oil, and add in the thyme. Put the pot over medium heat. Once the thyme sizzles, remove it.
Take all 3 vinegars and mix them in a bowl with a little water.
Break down your mushrooms into manageable chunks and gently fry them in the thyme oil.
Once they start to turn a delicate brown, remove them and add them to the bowl with the vinegars.
Let them soak up vinegar for 5 minutes, then remove them (if they soak too long they will get too acidic).
Pickled cauliflower ingredients:
3 heads cauliflower, chopped into florets
1 qt champagne vinegar
1 qt white distilled vinegar
1 pint water
1 c sugar
.5 c brown sugar
.5 c salt
3 tbsp turmeric
1 tbsp chili flakes
4 pieces star anise
1 tbsp black peppercorns
2 sprigs thyme
Pickled cauliflower method:
Bring all ingredients to a boil, then strain over the cauliflower.
Cover the cauliflower in liquid using plates to help weigh them down, let sit at room temperature until they are tender.
Editors' Recommendations