In the busy and trendy neighborhood of Manhattan's Meatpacking District, luxury is no stranger. Some of the city's most Instagrammable and viral social media locations are here, including The High Line, Pier 57, Little Island, and Chelsea Market. To stand out in this neighborhood requires an edge, something different than the rest.
Genesis House NYC is attempting to accomplish that rarified air. It's a multi-faceted concept that takes a few sentences to explain. It's a Korean fine-dining restaurant serving a carefully curated, seasonal tasting menu. It's a car showroom for Genesis, Hyundai's luxury car vehicle division, and the namesake for the location. There's also a tea pavilion, complete with a small library and a separate area called The Cellar Stage, where they host modern art and dance events. But at the center of all of this is an intricate, focused dedication to Korean culture, both past and contemporary.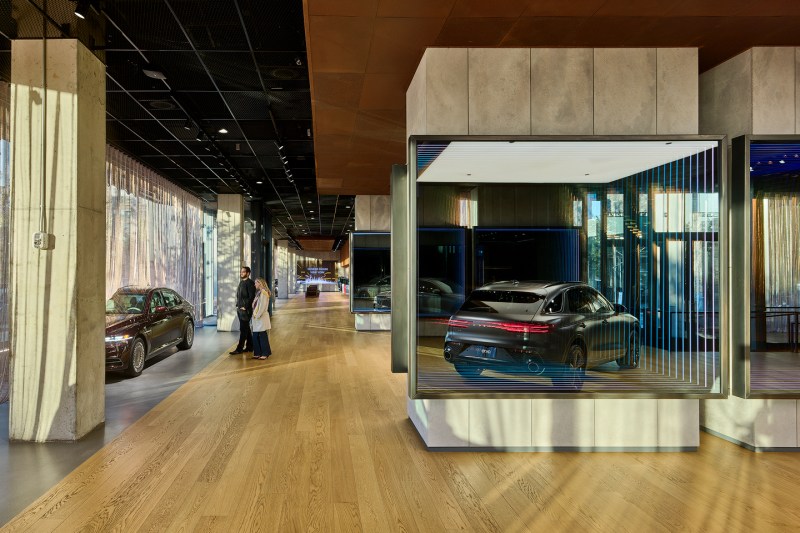 The Genesis House concept
First opened in November 2021, Genesis House was deliberately designed to be an "oasis amid the hustle and bustle of the city," according to Rachel Espersen, the Executive Director, Head of Brand Experience for Genesis House & Studios.
"Genesis House offers all who walk through its doors the opportunity to connect with each other and their surroundings through community, culinary experience, and design," explains Espersen.
Upon entering the first floor, guests will immediately find themselves in the middle of a car showroom. Greeted by the curators, they are encouraged to explore the selection of the newest Genesis vehicles in the space, including the all-electric Genesis GV60 and the Genesis GV80 Coupe, an SUV. From there, guests can venture to the second floor to enjoy the large outdoor terrace and, of course, the restaurant, complete with the tea pavilion. Throughout all these concepts, the central theme highlights the Genesis brand as progressive and audacious but also uniquely Korean.
"As the showpiece of Genesis House, we want visitors to be immersed in Korean culture," said Espersen, "which is woven throughout each space through culinary expression, architecture, art, and literature."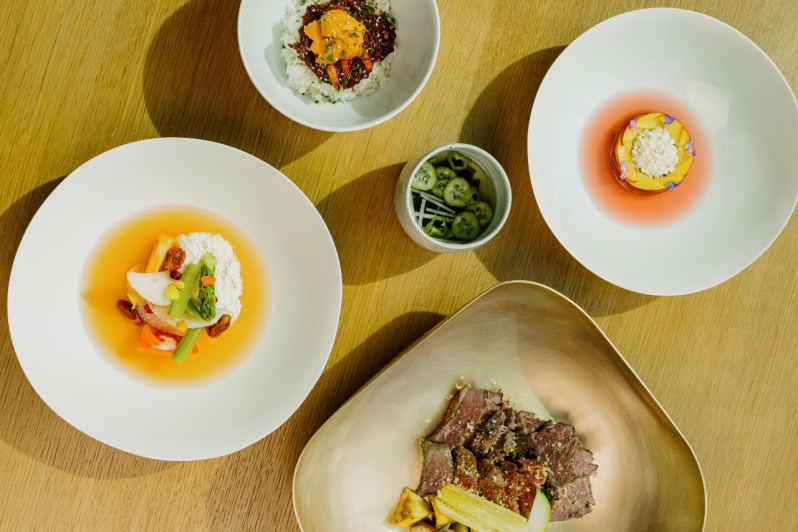 Modern Korean cuisine with a royal twist
Despite the eye-popping car showroom, the highlight for many guests will be the food. And it's no wonder — the restaurant at Genesis House is crafted and helmed by the culinary team behind Onjium, a Seoul restaurant awarded one star by the Michelin Guide. The best way to describe the food at Genesis House is that it pays both homage to history and modernity. The food here is inspired by Korean Royal cuisine, and chefs at Genesis take pains to use traditional techniques and ingredients sourced from old recipes and noble households dating back centuries. The main historical era of focus is the Joseon Dynasty, a 500-year span of history that stretched from 1392 to 1897.
If you're expecting the brightly red, heavily sweet, and spicy pungency of your favorite Korean BBQ restaurant, the food here will be the opposite. Korean cuisine has evolved over the centuries, and the royal cuisine of the Joseon Dynasty was much lighter in spice, focused on more delicate flavors, with seasonality playing a major factor.
"Our New York team helmed by Chef Losa Yi," said Espersen. "And works hand in hand with Onjium to create menus that reflect seasonality while staying true to Korean traditions and the centuries-old recipes from which each dish was inspired by. We incorporate as many ingredients from Korea as possible, often through special craftsmen that Onjium has built relationships with, and work collaboratively to select dishes that we believe our guests will enjoy and also represent the original restaurant in Seoul."
Dishes can include Sujeunggye, a stuffed half chicken with beef, mung bean sauce, and cucumber, a recipe sourced from the diaries of Eumsik Dimibang, a 17th-century royal cook. In Korea, chicken is considered a summer meat, while beef, a red meat, is a cold-weather food believed to provide warmth. This clever combination plays off these historical and cultural intricacies, giving diners the best of both worlds.
But not all dishes are meat-centric. One such dish is the vegetarian dish, Nammansi Dubu Naengchae, consisting of heirloom tomatoes, asparagus, tofu cheese, Asian pear, lemon juice, and passionfruit syrup. Served cold, it's a refreshing start to the tasting menu that's complex and brightly highlights the natural flavor of the seasonal vegetables. It's also served with a shot of clear tomato water that looks plain but is, in reality, a complicated process.
"Clear tomato water is made by extracting the pure juices from the tomato," explains Espersen. "This is done by blending tomatoes and hanging them over a fine mesh cloth for one day. This yields a very clear juice that is full of tomato flavor. The remaining pulp is then squeezed, which produces a stronger and redder tomato juice. These two liquids are blended (at a ratio of 2:1) and cooked with arrowroot powder which thickens the liquid. The texture is akin to a variety of thin Korean porridge known as eungi."
The best way to enjoy the juice is to sip it while enjoying bites of perfectly cooked vegetables. It's an elegant start to the Genesis House tasting menu and perfectly embodies its philosophy and goal — highlighting an immersive and unique experience of Korean culture.
Editors' Recommendations