On Easter Sunday, thousands upon thousands of people around the country will be gathering around dinner tables to celebrate Easter. Whether the holiday is a holy day for you, or you're just looking for an excuse to cook a nice meal and eat a bunch of chocolate purportedly gifted by a large white bunny, you should feel welcome to enjoy the event. Regardless of your reasons, there is probably cooking to be done, but before you do that, you're going to have to figure out what you're cooking.
Most will likely dine on an Easter classic, ham. There's nothing wrong with that at all – hell, we've already told you the best hams to buy and how to cook them — but if you're looking for something a little different (and a little fancier) this year, we recommend the juicy, succulent beef dish that is known as Filet Chateaubriand.
Made from a thick portion of the tenderloin filet (aka the good stuff), Chateaubriand is so named for the sauce that typically accompanies the cut of meat. Made from a series of reductions using white wine, shallots, and other ingredients, it was created in the 1800s by the personal chef (a man named Montmireil) to Vicomte François-René de Chateaubriand, who was the French ambassador to England.
(Note: We are going to be focusing on how best to prepare the meat, so if you're looking for the actual sauce to serve with this cut of meat, check out this recipe from the National Cattlemen's Beef Association.)
For this Chateaubriand recipe (again, the steak, not the sauce), we reached out to one of the purveyors of the cut, New York Prime Beef. Josh Tanner of NYPB says that Filet Chateaubriand is the perfect meal for a special occasion for a number of reasons.
"New York Prime Beef tenderloin is the ultimate showstopper for a special occasion and the best part is that you can throw it in the oven and be free to entertain guests," he says, adding, "The meat is USDA Prime Filet Chateaubriand, which is guaranteed to be meltingly tender, moist, and flavorful. Whether as a tied roast, or on the grill for the ultimate cookout, the Filet Chateaubriand is sure to make a lasting impression and even better guarantees sandwiches for days after."
Filet Chateaubriand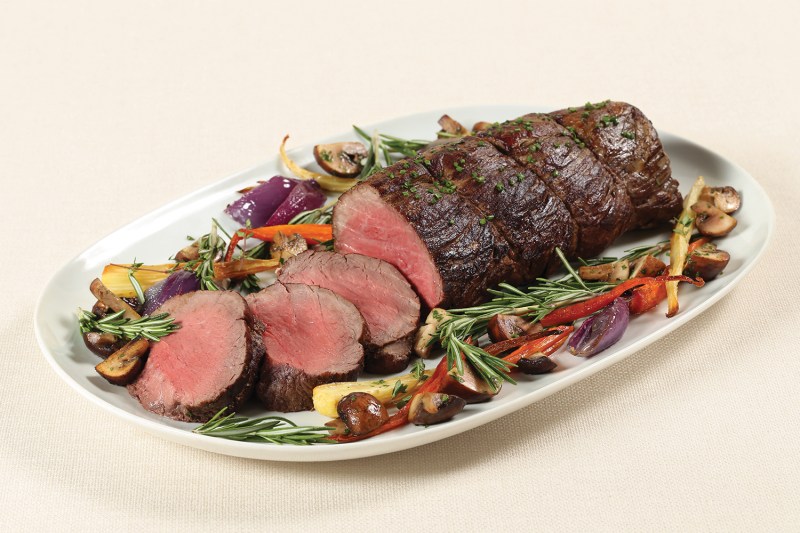 5 lbs

Olive oil
Salt & pepper
Rosemary
Potatoes
Seasonal vegetables
Preheat your oven to 500 degrees Fahrenheit. The high temperature helps develop the caramelized appearance and flavor on the outside of the meat.
Make a simple seasoning rub of freshly cracked black pepper and kosher salt. Rub all over roast.
Insert a meat thermometer into the thickest part of the meat. Roast uncovered for the first 15 minutes, then turn it down to 350 degrees F and let it roast until desired internal temperature is reached (see above). To help you plan, it will be roughly 14 minutes per pound for rare; roughly 17 for medium rare; roughly 19 for medium. Again, these times are approximate and your best weapon is a meat thermometer. Go by temperature, not time.
Arrange the peeled baby potatoes to the pan alongside any vegetables of your choice. We like root vegetables as they soak up all the delicious meat juices and turn caramelized in a high heat but use any seasonal ones you desire.
Tent the roast with foil and let it rest at least 15 minutes. It will continue to cook during this time, allowing juices to permeate the meat. Once the temperature comes back down to 120 degrees F, it's ready to carve and serve.
Editors' Recommendations