The fun of Easter goes beyond coloring eggs and hunting for candy. What some people look forward to most is sitting down for a delicious meal. And what's usually at the center of each table? Ham. Sweet and savory, crispy and juicy, a delectable Easter ham makes the perfect showstopper for your holiday feast. We suggest you step away from the generic store-bought hams and instead spring for a high-quality product that'll taste great no matter how you prepare your ham.
From the animal that brought you bacon, a large bone-in ham rivals other popular roasts of meat, including prime rib, crown roast of pork, and of course, turkey. And compared to those three, ham is the perfect blend of sweet and savory, and simply perfect on its own (or utilized in an epic ham and cheese sandwich). So whether you've prepared ham before, or it's your first time, our top ham picks are sure to delight you and your family for Easter.
Fermin Acorn-Fed Iberico Shoulder Ham
This one's the Lamborghini of hams, and you can tell by the price tag. Fermin's Iberico ham, or Jamon, is from the Sierra de Francia region of Spain and is among the best and most uniquely flavored hams you'll find anywhere in the world. The company's Iberico pigs are exclusive to Spain and get treated better than wagyu beef. They live a happy, free-range life dining on acorns in oak-covered meadows, which gives the meat its buttery and nutty flavor. Once they are selected for the Jamon, they go through a meticulous curing and aging process that has been perfected for over 60 years. When it's all said and done, the Fermin ham master puts each piece through a rigorous testing process to see if it meets the required standards. How's that for quality control?
Fermin Acorn-Fed Iberico Shoulder Ham
Benton's Aged Whole Hickory Smoked Country Ham
If you've been through the Smoky Mountains of Tennessee, there's a good chance you've heard of Benton's Smokehouse. Famous for its hams and bacon for over 70 years, folks travel a long way just to pick up some of the brand's delectable country-cured meats. Fortunately for the rest of us, you can also purchase them online. And don't forget to freeze that ham bone to make some top-notch black-eyed peas as an Easter side dish, especially if you're going for a Southern-themed feast.
Benton's Aged Whole Hickory Smoked Country Ham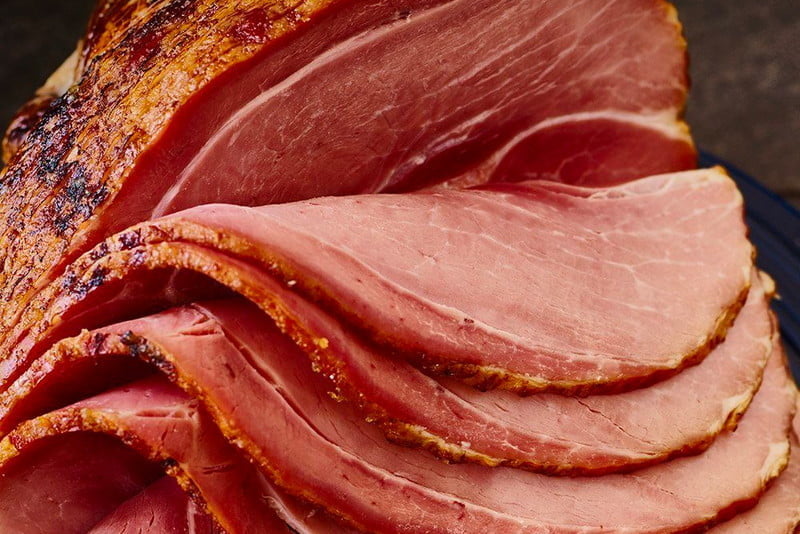 Tender Belly Spiral Cut Uncured Holiday Ham
Denver may be known for its sunny days and walkable downtown area, but did you know that it also boasts a passionate ham company? Tender Belly emphasizes its love and devotion to pork with its classic slogan, "If loving pork is crazy, we don't want to be sane." They also use 100% natural pork without any antibiotics, nitrates, or nitrites, gluten, or MSG. Bottom line -- zero fake stuff. You'd be crazy not to try their uncured Easter ham from heritage-breed pigs, which yields an incredibly moist and tender hunk of meat. And once you try it (and inevitably love it) you can get a ham subscription on the website. Individual hams tend to sell out as Easter draws near (which shows you just how good these are), but not all hope is lost. You can still get a bundle with two packages of uncured bacon, which you will absolutely want after trying this ham.
Tender Belly Spiral Cut Uncured Holiday Ham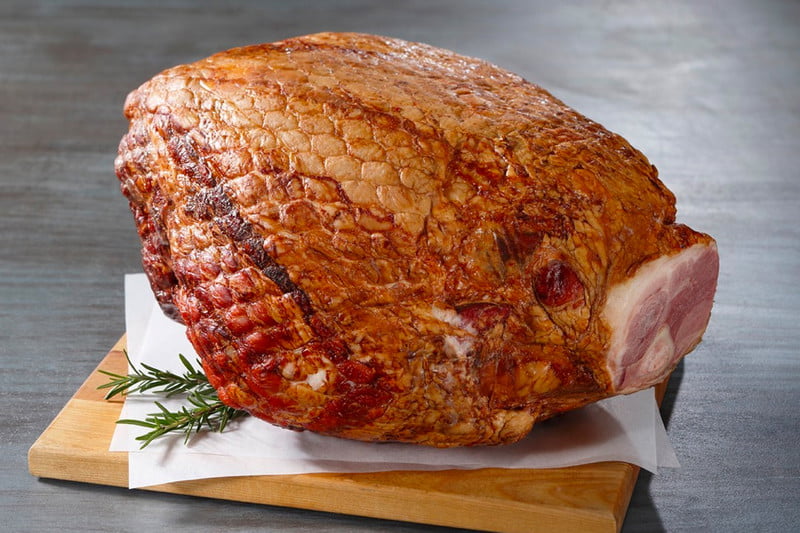 Snake River Farms Half Bone-In Ham
Just one look at the picture-perfect coloring and marbling on its Kurobuta Ham and you'll understand why Snake River Farms products are used in Michelin-star kitchens all over the globe. Made from heritage-breed Berkshire pigs, Snake River Farms' hams are known for flavor so naturally delectable that it hardly even needs a pinch of salt. For Easter, be sure to grab the Kurobuta Ham Starter Kit, which includes a bone-in, 8+ pound ham, a Snake River Farms apron, and a step-by-step guide for cooking a whole bone-in ham. These tend to range from 14 pounds to around 20 pounds.
Snake River Farms Half Bone-In Ham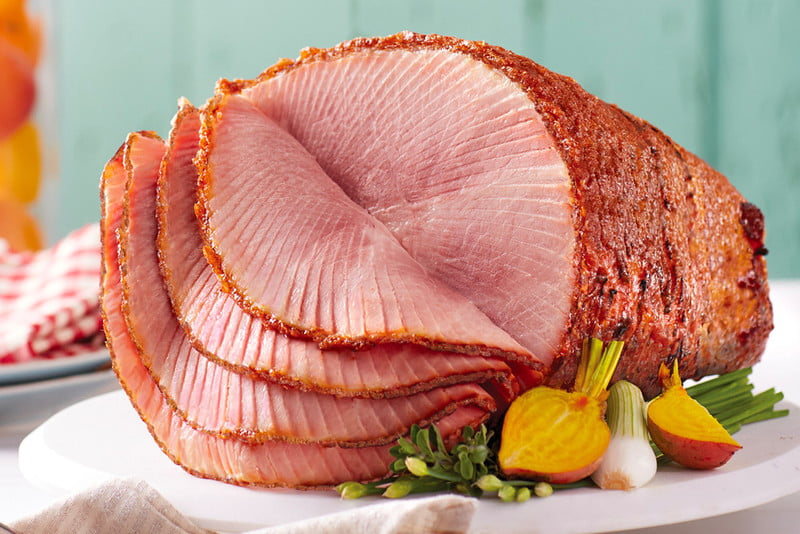 The Honey Baked Ham Company Bone-In Half
Honey-glazed ham has become a phrase synonymous with Easter feasts, and The Honey Baked Ham Company loves to keep this tradition going with its signature bone-in ham. The fully cooked, spiral-sliced hams are roasted over hardwood chips for over 20 hours before getting topped off with the irresistible crispy, syrupy glaze that helped them become a household name. The half-ham is available in 6 to 10-pound sizes that can serve up to 22 people so everyone can indulge no matter the size of your Easter gathering.
The Honey Baked Ham Company Bone-In Half
D'Artagnan Berkshire Pork Bone-In Smoked Ham
If you're looking to inject some Applewood-smoked deliciousness into your Easter feast, long-time gourmet meat specialist D'Artagnan has you covered. The Berkshire hogs used for the company's beautiful hams are raised humanely and sustainably with no antibiotics or hormones. Before it reaches your table, this ham gets smoked over real Applewood and gets topped off with the perfect elevating hit of salt and brown sugar. The result? A tender, hearty main course with just enough sweet smokiness to bring out the meat's natural succulent flavor.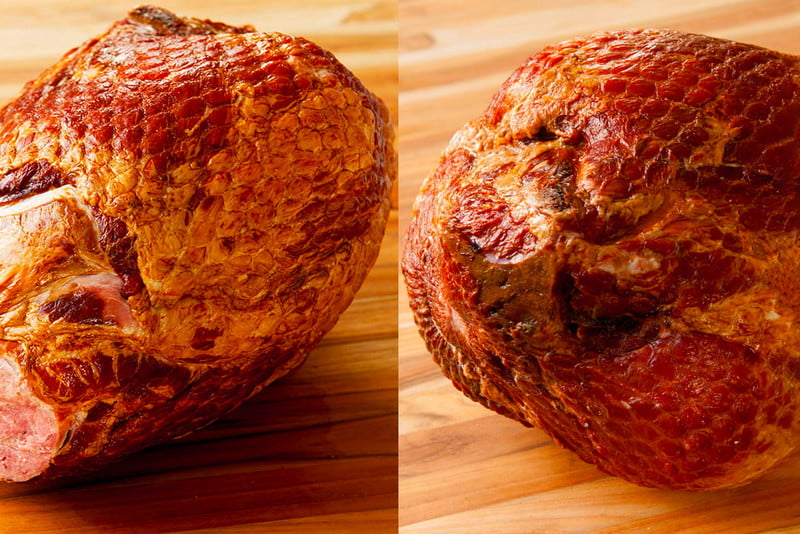 D'Artagnan Berkshire Pork Bone-In Smoked Ham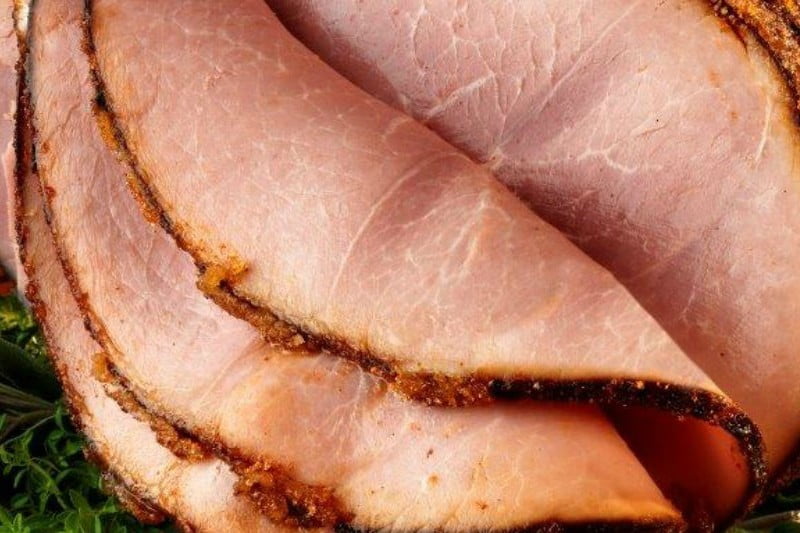 Logan Farms Honey Glazed Ham
If you're watching your sodium intake for Easter, Logan Farms Honey Glazed Ham is the way to go, as the company has the best low-sodium hams on the market. The low-salt curing recipe coupled with the delicious crispy glaze makes this ham perfect for your next Easter brunch or dinner. You can order directly online from one of their multiple locations, so pick the one closest to you to get the lowest shipping costs. If you have a smaller gathering, the brand also offers half-ham options.
Logan Farms Honey Glazed Ham
Editors' Recommendations