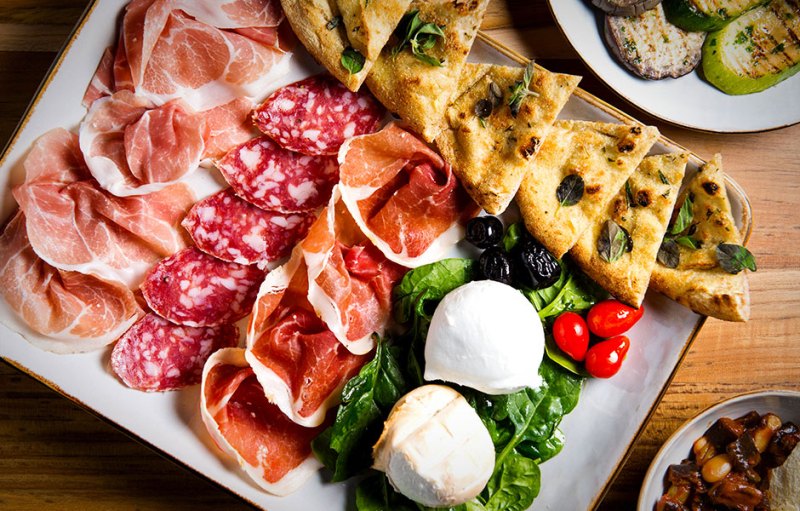 Pairing wine and cheese together is a no brainer. But what if you're not in the mood for wine and would prefer a classic cocktail instead? That's the beauty of the modern food and beverage world – pretty much anything goes as long as it's executed with care and expertise. To teach us more about how to pair the most delicious cheeses with our favorite classic cocktails, we went to Obicà, a modern restaurant imported from Italy that specializes in the freshest mozzarella di bufala Campana DOP, homemade pastas and pizzas and a killer cocktail program that's unlike any other we've seen.
Related: Master Class: 5 Cocktails to Make to Impress Anyone
Founded in 2004 by Silvio Ursini, Obicà has expanded to 20 different locations, including Los Angeles and NYC, and emphasizes quality ingredients as the focus of the menu. They import their mozzarella di bufala twice a week to ensure freshness and have a two-day leavening process for their pizza dough that results in a delicate, light, crunchy crust. Flatiron Beverage Director Fabrizio Argiolas is a mixology master. All of the liquor infusions, purées and syrups are made in-house to create deliciously unexpected concoctions you can't find anywhere else. From the Favola (carrot-infused rum, butternut squash purée, cherry peppers, citrus mix, cane syrup) to the classic Negroni, you can find a cocktail to drink with every dish on the menu. So we asked the experts at Obicà to pair cheeses with our favorite classic cocktails. But before we get your mouth watering too much, check out the signature cocktail Fabrizio made just for The Manual, and put something new in your shaker this week.
Cocktail for the Manual: by Beverage Director Fabrizio Argiolas
Nome: Smeraldo
Glass: Tumbler
3 slices of ginger
5 slices of cucumber
10 leaves of mint
1 ½ oz vodka
½ oz Dimmi Liquore di Milano
1 oz citrus mix
½ oz simple syrup
PREPARATION: Muddle the cucumber and ginger in a shaker then add the other ingredients. Fill with ice and shake for 10/15 seconds; pass through a double strainer into a tumbler glass with ice.
GARNISH: Slice of cucumber into the glass
Cheese Pairing
Smeraldo: Smoked mozzarella
Buffalo milk cheese plus the slightly smoked and juicy texture of the mozzarella is perfect with the freshness and aromatic spice of the Smeraldo and creates an amazing pairing.
Negroni: Quadrello di bufala
Buffalo cheese with a soft texture and a perfect balance of sweetness and acidity is perfect with the characteristics of the Negroni because of its sweet and bitter tendencies
Martini: Stracciatella di burrata con Caviale
The Martini is a perfect match for the creaminess of the stracciatella di burrata and the fantastic notes of iodine from the sturgeon eggs. Excellent with the alcohol content and purity of the vodka or gin with herbal, noble notes of juniper.
Old-Fashioned: Pecorino Fiore Sardo
100% sheep's milk aged cheese, with a powerful structure, slightly smoked with a tangy finish, matches well with the powerful alcohol and sweet-bitterness of the old-fashioned.
French 75: Mozzarella di bufala
Buffalo milk cheese is perfect with the wonderful freshness and carbonation of the French 75. The cocktail works perfectly with the freshness and juiciness of the buffalo mozzarella.
Bloody Mary: Gorgonzola
Blue cheese from cow's milk with great complexity and a strong taste pairs well with the complex flavor and spiciness of the Blood Mary.
To learn more about Obicà, visit them at obica.com.
Editors' Recommendations