When it comes to the conversation about quintessential cookout sides, cornbread has to be included. For something so simple, it seems everyone has their opinions on how the proper cornbread should be made. Some swear the best comes from the box brands mixes, while others claim a true cornbread can only be made from scratch. For the most part, however, a lot of people rely on the cornbread mixes on the market. From sweetened with honey to the heat of jalapeno, no matter how you slice it this fluffy, buttery, golden grain-based bread is always a bite of heaven. So to help fulfill all your skillet dreams, here are 7 different and delicious cornbread recipes to try.
Related Guides
Classic Cornbread

(By Michelle A. Roberts, chef/owner, Dr. Shells Soul Food Kitchen, Jonesboro, Georgia)
We'll start our list with a classic cornbread recipe, one that doesn't rely on bells and whistles, but instead shows off the natural sweetness of cornmeal and produces a perfect texture. When your cookout calls for cornbread to use as a canvas for any number of sauces, grilled meats, and accouterments, then you'll find the right fit in this version.
Ingredients:
2 cups all-purpose flour
2 cups cornmeal
1 cup sugar
2 tbsp baking powder
1 tsp salt
5 eggs
2.5 cups milk
1 cup vegetable oil
Method:
Mix flour, cornmeal, sugar, baking powder, and salt together in a large bowl.
In a separate bowl, beat 5 eggs with milk and oil.
Pour wet mixture into the dry mixture a bit at a time and stir until fully combined.
Pour batter into greased pan or cast-iron skillet. Bake at 350 degrees Fahrenheit for 40 to 45 minutes.
Remove the pan from the oven and butter the top while still warm.
Cornbread Salad

(from Immaculate Bites)
This extraordinary salad is made with layers of homemade cornbread, beans, corn, bell peppers, tomatoes, green onions then topped with bacon bits, cheese, and a generous serving of ranch dressing. It's a great recipe for those rare occasions when you have some leftover cornbread.
Ingredients:
1 loaf homemade cornbread, cut into 1-inch cubes
3-4 cups tomatoes, seeded and chopped
1 cup red bell pepper, diced
1.5 cup green bell pepper, diced
2 (14.5 oz each) cans of red kidney beans, rinsed and drained
1 (15 oz) can corn, rinsed and drained
8-10 bacon strips, diced
1 medium onion, small diced
1-2 cups grated sharp cheddar cheese
.5 cup green onion, diced
.5 cup parsley, chopped for garnish (optional)
Ranch dressing
Method:
Heat the skillet or cast iron over medium-high heat. Then add chopped bacon, cook until the bacon is brown, turning as needed until brown and crunchy about 6-7 minutes or more.
For the assembly, you can use a large glass bowl or you can equally arrange on a large serving bowl.
Arrange according to preference or you can refer to the picture for guidance — cornbread, tomatoes, peppers, beans, corn, bacon, and onions.
Top the salad with cheddar cheese ( if desired), green onions, parsley, and ranch dressing. I usually reserve the ranch dressing until ready to be served.
Cover and refrigerate for at least a couple of hours before serving. Serve with extra ranch dressing on the side.
Sage Brown Butter Cornbread With Caramelized Onions
(from The Kitchenista Diaries)
This is the perfect savory fall-inspired cornbread, made with nutty brown butter, sweet caramelized onions, and aromatic sage. This cornbread is made the classic style, in a cast-iron skillet for an extra-crisp crust.
Ingredients:
.25 cup butter
1 cup stone-ground cornmeal
1 cup White Lily Flour, not self-rising*
1 tbsp baking powder
.5 tsp baking soda
1 tsp kosher salt
Several grinds cracked black pepper
2 eggs
.25 cup honey
.5 cup sour cream
.75 cup buttermilk, more if needed
8 sage leaves
.5 cup caramelized onions
Additional butter for serving
Method:
Preheat oven to 400°F. In a cast-iron skillet, melt butter over low heat.
In a small bowl, whisk together the cornmeal, flour, baking powder, baking soda, salt, and pepper.
In a separate bowl, combine the eggs, honey, sour cream, and buttermilk. Whisk the wet ingredients until smooth.
Once the butter has melted, increase heat to medium. Add sage and cook until the butter has stopped foaming, a few minutes longer. Meanwhile, you can finish the cornbread batter, keeping an eye on the skillet.
Fold the dry ingredients into the wet, being careful not to overmix. You can add more milk if it's too thick like I realized I needed to do here. I added about another 1/4 cup of buttermilk. It will vary from batch to batch depending on how accurately you measured the flour or the type of cornmeal used. Your batter should be about the consistency of pancake batter – lumpy and pourable.
Fold in the caramelized onions.
Back to the skillet. Once the butter has stopped foaming and the sage is crispy you should notice that it's starting to darken in color. If it's too difficult to see the color of the butter in your skillet, just splash a small spoonful onto a white dish. You're looking for a deep golden brown.
You can remove the sage or just leave it in the skillet. Carefully swirl the browned butter around the skillet to coat all of the sides.
Pour in the cornbread batter. It should sizzle slightly and the butter will seep around the edges.
Immediately transfer the skillet to the preheated oven.
Bake at 400°F for 25 min or until a knife inserted in the cornbread center comes out clean.
Let rest for 15 minutes after removing from the oven.
With the skillet in one hand, use your other hand to hold a large plate or cutting board over the top of the cornbread. Carefully flip them over so the cornbread can fall out.
Slice and serve.
Gluten-Free Honey Cornbread Muffins
(from All The Healthy Things)
These gluten-free honey cornbread muffins are perfectly moist and fluffy with just the right amount of delicious honey flavor. There is no need for a boxed cornbread mix when you make a fresh batch of cornbread muffins from scratch. All you need are a few simple ingredients and around thirty minutes to get perfect cornbread muffins every single time.
Ingredients:
1 cup gluten-free flour
1 cup yellow cornmeal
1 tablespoon baking powder
.25 teaspoon salt
.5 cup honey
.25 cup butter, melted
1 cup buttermilk
2 eggs
Method:
Preheat oven to 400 degrees.
In a mixing bowl, whisk together the gluten-free flour, cornmeal, baking powder, and salt until well combined.
In a separate bowl, whisk together the honey, butter, buttermilk, and eggs until well combined.
Pour the wet ingredients into the dry ingredients and mix until everything is just combined. No need to over mix the batter.
Transfer the cornbread batter to a greased or lined muffin pan.
Bake the muffins for 13-15 minutes at 400 degrees until a toothpick comes out clean and the tops of the muffins bounce back if lightly pressed.
Serve the muffins warm and with a drizzle of honey and butter.
Mexican Cornbread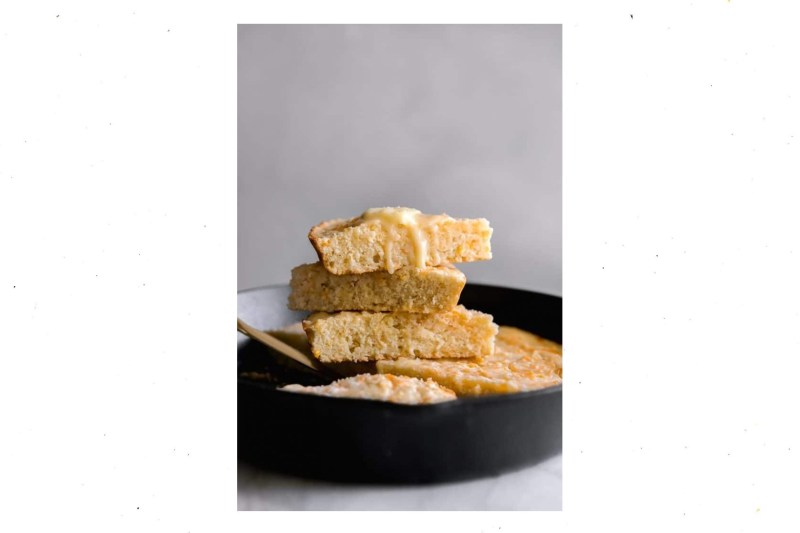 (from Grandbaby Cakes)
Traditional Mexican cornbread is made with a mixture of cheese, chiles for spice, and actual corn which gives it so much texture and added taste. It goes perfectly with comforting soups or as a fun side to your favorite Mexican dishes.
Ingredients:
1 cup all-purpose flour
1 cup cornmeal
1 tablespoon baking powder
.5 cup granulated sugar
.5 cup shredded sharp cheddar cheese plus more to sprinkle on top
.5 cup shredded pepper jack cheese plus more to sprinkle on top
2/3 cup buttermilk
2 large eggs
8 ounces cream-style corn
.5 stick salted butter melted
4 ounces diced green chiles
Method:
Preheat Oven to 400 degrees.
In a large bowl, whisk together all-purpose flour, cornmeal, baking powder, sugar, cheddar cheese, and pepper jack cheese until well mixed.
In a separate medium-sized bowl, whisk together buttermilk, eggs, cream-style corn, diced green chiles if using, and melted butter.
Slowly add wet mixture to dry mixture and mix until well combined.
Coat cast-iron skillet or baking pan with shortening or spray with non-stick baking spray until fully covered. Add cornbread mixture to skillet. Optional: Sprinkle additional shredded cheeses on top of cornbread batter.
Place in oven for 23-26 minutes until cornbread is done. Remove from oven and serve.
Barbecue Cornbread Muffins
(from Simply Lakita)
These Barbecue Cornbread Muffins are like an entire cookout plate in one bite. They are hearty, comforting, and perfect for those times when you need a meal in a hurry. With only 5 ingredients and 30 minutes, you can whip up these smoky, saucy, and filling savory muffins for dinner.
Ingredients:
1 pound ground beef
.25 cup onion, diced
.75 cup barbecue sauce
1 package (8.5 oz.) corn muffin mix
.5 cup cheddar cheese, shredded
Method:
Preheat the oven to 350 degrees F. and lightly spray a muffin pan with non-stick cooking spray.
In a large skillet on medium-high heat add in the ground beef and diced onions. Cook until the meat has browned and drained off the fat.
Stir in the barbecue sauce until the beef mixture is fully coated.
Prepare the corn muffin mix according to the package directions.
Spoon in about 2 tablespoons of the corn muffin mixture into each muffin well.
Top the muffin mix with the barbecue beef mixture and place into the oven to bake for 15 minutes.
Remove the muffins from the oven and top each with 1 tablespoon of the shredded cheddar cheese. Bake for an additional 5 minutes to allow the cheese to melt.
Allow the muffins to cool in the pan for 3 to 4 minutes before removing them.
Top with additional cheese if you prefer and serve hot.
Jalapeño Cornbread Waffles with Roasted Garlic and Rosemary (Vegan and Gluten-Free)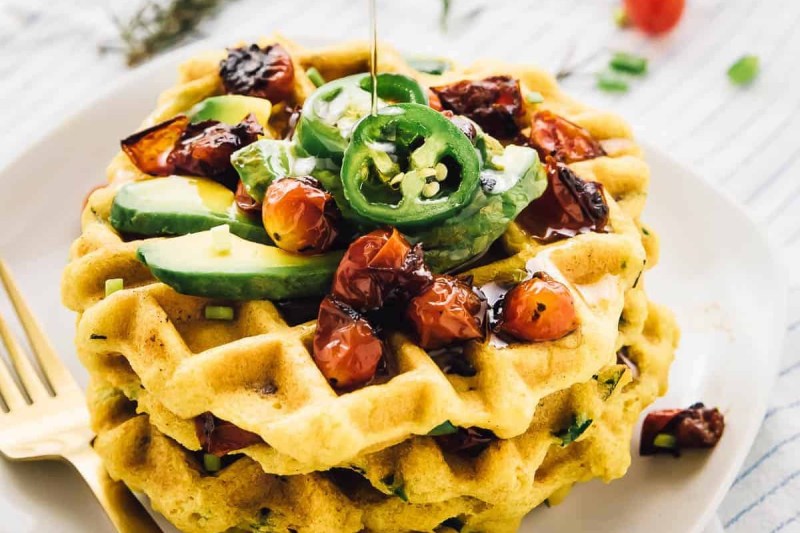 (from Jessica in the Kitchen)
These Jalapeño Cornbread Waffles allow you to enjoy cornbread in a new, absolutely divine, and tasty way, where you can pile all your favorite toppings on top. They're made with roasted garlic, freshly chopped rosemary, and topped with all the avocado, roasted tomatoes, and maple syrup to make the ultimate savory waffles that work for breakfast, brunch, or dinner.
Ingredients:
1.25 cups fine-grain cornmeal
1 cup all-purpose gluten-free flour mix
.5 teaspoon baking soda
1.5 teaspoons baking powder
.75 teaspoon sea salt
1 vegan egg replacer
1.25 cups nut milk
2 teaspoons apple cider vinegar or white vinegar
.25 cup unmelted melted vegan butter
1 jalapeño chopped and de-seeded
4 cloves roasted garlic
2 teaspoons freshly chopped rosemary
Method:
Mix the almond milk and apple cider vinegar. Let sit for at least 3 minutes to create vegan buttermilk.
In a large bowl, mix all the dry ingredients, including the rosemary, together. Set aside.
In a smaller bowl, mix all the wet ingredients, including the buttermilk.
Pour the wet ingredients into the dry and mix until combined.
Add in the diced jalapeños and mix gently.
Preheat your waffle iron in the meantime and grease according to the manufacturer's settings. I set mine two dials before max because I like mine crisp but also very fluffy.
Using a wooden spoon, scoop out some batter and pour into the middle of the greased waffle maker. Close and let cook until the steam has finished rising from the waffle maker. Don't open it before the steam is finished! Remove each waffle and place it on a baking sheet in your oven or toaster oven on "warm" or 200 degrees F to keep warm and crispy until finished with the entire batter.
Serve with your choice of toppings! I enjoy roasted tomatoes (I just sauté them in some coconut oil in a cast-iron skillet), sliced avocados and chopped scallions, and a drizzle of maple syrup on top. Enjoy!
Editors' Recommendations