Summer is the season for being outside and there's no better way to enjoy every moment of these sunny days than with an outdoor lunch. Whether you're in the park, at the beach, or just in the backyard, there are plenty of flavorful and filling dishes that will travel well, don't need to be chilled or reheated, and still taste delicious.
Sure, you could easily stick with the classics like burgers, hot dogs, and sub sandwiches, but if you'd like to get a little more creative with your alfresco feast then we've got 11 satisfying recipes that make the perfect outdoor dining spread. 
Salads
Layering your salad with ingredients that offer texture, taste and won't wilt on the hottest of days is the trick to making sure your salad doesn't turn into a soggy side dish. These recipes add grains, pasta and are lightly dressed so you can add them to your outdoor lunch menu and let your tastebuds do the rest.
Mediterranean White Bean Salad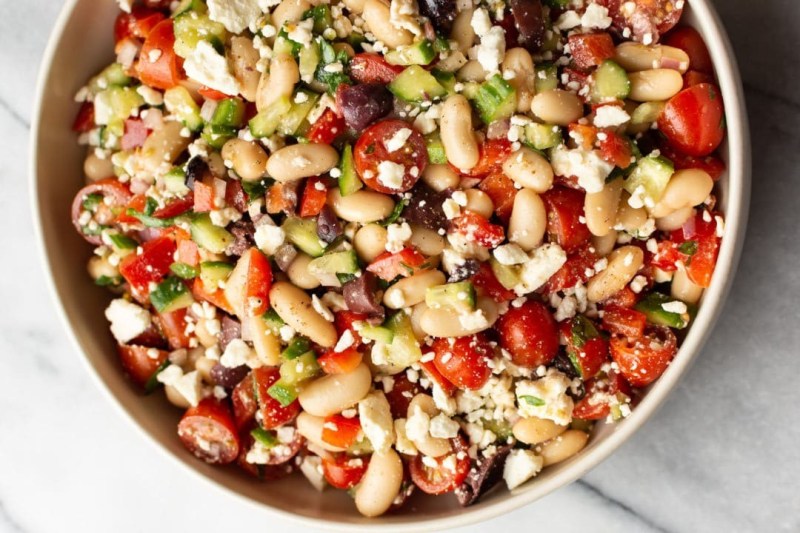 (From Salt & Lavender)
This Mediterranean white bean salad is healthy, simple to make, and packed with veggies and a tangy vinaigrette dressing. It's hearty enough on its own but light enough for a side dish.
Ingredients:
1

 

(15 fluid ounce) can 

white (cannellini) beans

 

drained & rinsed

2

 

mini

 

cucumbers (or 1/2 English cucumber)

 

chopped

1-2

 

tablespoons

 

red onion

 

chopped

1/2

 

red

 

bell pepper

 

chopped

10

 

ounces

 

little tomatoes (grape, cherry, etc.)

 

halved

1/3

 

cup

 

Kalamata olives

 

pitted & chopped

1

 

tablespoon

 

fresh parsley

 

chopped

1/2

 

teaspoon

 

dried oregano

1/2

 

cup

 

crumbled feta cheese

1

 

tablespoon

 

olive oil

1

 

tablespoon

 

red wine vinegar

Salt & pepper

 

to taste
Method:

Add all ingredients to a salad bowl and toss. Adjust ingredients as needed (e.g. more oil or vinegar). Serve right away or chill first (flavors will meld more).
Spicy Salmon Pasta Salad

(From Crumb Top Baking)
Every bite of this pasta salad tastes like summer. A combination of crispy salmon with a spicy coating tossed with fresh vegetables and gluten-free pasta, and covered in a creamy, tangy dill dressing is quick, easy, and full of flavor. Plus it's a great way to use leftover salmon or pasta noodles!
Ingredients:
1/2 cup

plain greek yogurt

4 tablespoons

crumbled feta cheese

1 tablespoon

 chopped fresh dill (or 

1 teaspoon

 dried dill)

1/2

 lemon, juiced

1

 clove garlic
pinch of salt (or more to taste)
For the salmon:
1 tablespoon

 extra virgin olive oil

8 ounce

 salmon fillet, skin on

1 teaspoon

 smoked paprika

1 teaspoon

 chinese 5 spice

1/4 teaspoon

 garlic powder

1/4 teaspoon

 kosher salt

1/8 teaspoon

 ground black pepper
For the salad:
3 cups

cooked pasta such as fusilli, macaroni, or rotini (I use a gluten-free quinoa fusilli)

3 cups

 of green leaf lettuce (or greens of your choice), torn

1

 English cucumber, chopped or sliced

1 cup

 grape tomatoes, whole

1 cup

 sugar snap peas, halved and strings removed
Method:
Add the yogurt, feta, dill, lemon juice, garlic, and salt to a blender and blend until smooth and creamy. Pour into a jar with a lid and refrigerate until ready to use.

Divide the tablespoon of oil. Add half to a frying pan and spread the other half on top of the salmon fillet. Turn the frying pan on low to pre-heat. Meanwhile, combine the spices, garlic, salt, and pepper and press the spice mixture on top of the salmon.

Lay the fillet face down (skin side up) in the frying pan and cover. Cook on low heat for 15 minutes, or until the salmon is opaque. The time will vary slightly depending on the thickness of the fillet.
Once cooked, let sit for a few minutes and then use a fork to flake apart into large pieces.
In a large bowl, add all of the salad ingredients, including the salmon, and toss with the dressing. Serve immediately.
Beetroot Salad (Poriyal)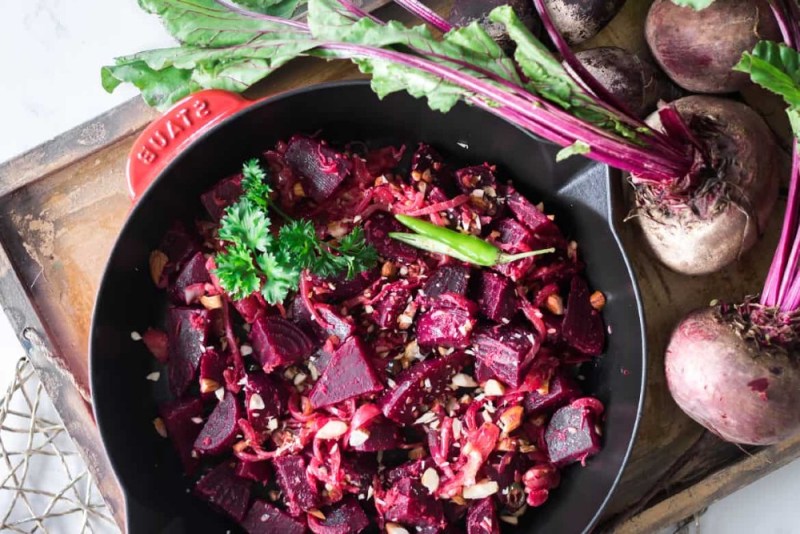 (From Desi~licious RD)
This Beetroot Salad Recipe, aka Poriyal, in South Indian cuisine, is fancy and flavorful. Perfectly balanced with cumin, onion, fresh ginger and lemon then garnished with crunchy sliced almonds to create a stunning presentation, that tastes as good as it looks.
Ingredients:
4

 

Beetroots

 

medium

2

 

cups

 

water

1½

 

tbsp

 

sesame oil

1

 

onion

 

medium, thinly sliced

1

 

tbsp

 

ginger

 

fresh, grated

1

 

tsp

 

cumin powder

1

 

green chilli

 

large

1

 

tbsp

 

lemon juice

 

fresh

1/4

 

cup

 

almonds

 

plain, chopped
Method:
Wash, peel and slice the beetroot into medium cubes.
Place beetroot cubes into a saucepan and fill with water to cover.
Place the lid and bring to boil on high heat. Reduce heat to medium, and cook for 20 to 25 minutes, until tender. Drain the water and set beetroot aside.
In a pan, add oil and saute onion and ginger for 2-3 minutes on medium heat.
Stir in beetroot, cumin and green chilli and cook for 1-2 minutes.
Finish with a squeeze of lemon and sliced almonds.
Wraps, Rolls, and Sandwiches
Sandwiches are the go-to outdoor lunch food because they are portable and require little to no cleanup. There are so many ways to stack or wrap or fold them beyond the basic ham and cheese.  From gorgeous cheese and veggie sammies that scream summer to low-carb BLT wraps made with sturdy collard greens, these sandwiches reign supreme.
Marinated Veggie Cheese Sandwich with Sun-Dried Tomato Pesto

(From Half Baked Harvest)
This roasted vegetable sandwich is a showstopping veggie option for summer outings. Grilled summer vegetables marinated in fresh herbs and spices, two kinds of cheese, homemade sun-dried tomato pesto, all sandwiched between crusty grilled ciabatta for a healthy and tasty handheld lunch.
Ingredients:
2 tablespoons balsamic vinegar
1 tablespoon fresh thyme leaves
2 cloves garlic, minced or grated
3 tablespoons extra virgin olive oil
1 pinch crushed red pepper flakes
kosher salt and pepper
2 zucchini or yellow summer squash, sliced thinly lengthwise
2 bell peppers, quartered
1 loaf ciabatta bread, halved lengthwise
1/2 cup sun-dried tomato pesto (recipe follows)
6 ounces creamy goat cheese
4 ounces provolone, sliced
1 cup baby arugula
Sun-dried tomato pesto
1 cup fresh basil
1/2 cup oil packed sun-dried tomatoes + 1/4 cup oil from jar
2 tablespoons toasted pine nuts
1/3 cup grated parmesan cheese
zest and juice of 1 lemon
kosher salt
Method:
 In a large bowl, whisk together the olive oil, vinegar, thyme, garlic, and a pinch each of crushed red pepper flakes, salt, and pepper. Add the peppers and zucchini, tossing to combine. Allow the veggies to marinate for 15 minutes or up to overnight in the fridge.
Preheat the grill to high.
 Spread each half of the bread with a tablespoon of pesto. Grill, cut side down for 3-5 minutes or until light grill marks appear. During the same time, grill the peppers and zucchini until light grill marks appear, 3-4 minutes per side. Remove everything from the grill.
Working with the bottom piece of bread, layer on the remaining pesto, provolone, grilled vegetables, and arugula. Sprinkle the goat cheese over the arugula. Add the top half of the ciabatta and gently push down on the sandwich.
 At this point, you can slice the sandwich and serve warm or wrap in plastic wrap and keep in the fridge for up to 1 day.
Sun-dried tomato pesto:  Combine all ingredients in a food processor and pulse until combined.
BLT Wraps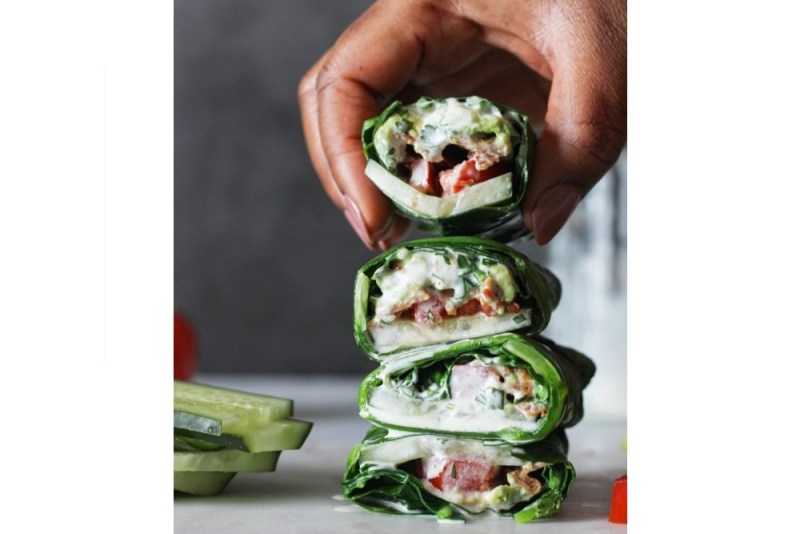 (From Clean Foodie Cravings)
Bacon, tomatoes, and cucumber wrapped in collard green leaves make for a fun twist on the classic BLT sandwich.
Ingredients:
Ranch Dressing 
1/3 cup paleo mayo
2 tbsp. freshly chopped cilantro (parsley works as well)
3 tbsp. filtered water
1 tsp. lemon or lime juice
salt and pepper to taste
Wraps
1 8 ounce packet no sugar bacon (approx. 8–9 slices)
2 tomatoes (sliced and cut in half)
1 cucumber (julienned or thinly sliced length-wise)
1 avocado, sliced
1 bunch of collard green leaves
Method:
To begin, add all of the ingredients needed for the dressing to a mason jar and shake to combine. Set the dressing aside for later.
Now, spread the slices of bacon onto a large baking sheet and place the baking sheet in a cold oven. Turn the oven to 400˚F. Cook the bacon until they are crisp (about 12-15 minutes).Remove the bacon from the oven and drain them to a plate lined with clean paper towels.
While the bacon cooks, prepare the vegetables and collard green leaves.
To prepare the collard green leaves, you will need to trim the stem, level the spine of the collard green so it's flat. Then blanch the greens. Submerge the greens one at a time in simmering hot water, then immediately transfer the greens to an ice bath. Remove the greens from the ice bath and pat them dry using paper towels. CLICK HERE for a full breakdown
Assemble the wrap by layering the cucumber, tomato, bacon, avocado slices and dressing in the middle of the collard green wrap. Then fold the bottom half of the collard green wrap over the vegetables, bacon, and dressing. Fold in the sides of the wrap and roll it up like a burrito. Cut the wrap in half and ENJOY!
Gluten-Free Falafel Pitas

(From From My Bowl)
This Falafel recipe is easy, gluten-free, and naturally vegan! It's packed with fresh herbs and flavor and you can prepare it in the oven, on the stovetop, or with an air fryer!
Ingredients:
16 oz

 dried Chickpeas/Garbanzo Beans, soaked*

1

 small Yellow Onion, sliced

2

 cloves of Garlic

1/2

bunch fresh parsley, chopped

1/4

 bunch fresh Cilantro, chopped

1 tbsp

 Cumin

1/4 tsp

 Cayenne Pepper
Black Pepper, to taste

1 1/2 tsp

 Salt
Juice of 

1/2

 Lemon

1/4 cup

 Chickpea Flour

2 tbsp

 Tahini
Optional Serving Suggestions: Hummus, Tahini Sauce, Pickled Onions, Tomato, Parsley, Pita
Method:
Preheat your oven to 400F, if you are using it. Place the Soaked Chickpeas, roughly chopped Onion, and Garlic into a large Food Processor. Process until the mixture is finely chopped, but not mush.
Next, add in the fresh Herbs, dried Spices, and Lemon Juice. Process again until well incorporated — the mixture should turn a bright green color.
Finally, add the Chickpea Flour and Tahini to the Food Processor, and pulse until well combined.
Transfer the falafel mixture to a large bowl, and use your hands to form round balls using ~2 tbsp of the mixture.
In the Oven: Bake at 400F for 18 minutes, flip, then bake for another 15-18 minutes.
In the Air Fryer: (recommended) Bake at 350F for 20 minutes. For extra crispy Falafel, spray the balls with some oil or a nonstick cooking spray before baking.
On the Stovetop: add 1 tbsp of heat-safe oil to the pan for every 5 Falafel balls. Pan-fry over medium heat, rotating the balls every 2 or so minutes, to brown all sides. This process took about 20 minutes for me.
Serve as desired. The Falafel will dry out slightly in the fridge but will keep well in a sealed container for up to 5 days.
Fresh Spring Rolls

(From Love & Lemons)
Spring rolls are a fun, fresh way to pack a lot of freshness into a small bite. Mix and match your favorite veggies, herbs, and noodles with tangy dipping sauce for a bright & refreshing meal on the go!
Ingredients:
For the mushrooms
1/2 teaspoon extra-virgin olive oil
1 cup enoki or sliced shiitake mushrooms
1/2 teaspoon tamari
For the spring rolls
4 ounces cooked soba or rice noodles
Peanut Sauce
4 Vietnamese rice spring roll wrappers*
1 avocado, sliced
Fresh basil & mint leaves
1/4 cup microgreens
Tamari, for serving
Method:
Heat the oil in a small skillet over medium heat. Add the mushrooms and cook until browned and soft, about 5 minutes. Remove the pan from the heat, add the tamari, and toss. Set aside.
Toss the noodles with a few spoonfuls of the peanut sauce until they're well coated.
One at a time, dip the rice paper wrappers into warm water for 5 seconds. Remove and place on a clean towel.
Place the noodles, mushrooms, avocado, herbs, and microgreens in the center of the rice paper. Wrap & tuck the sides, then the bottom flap, and then carefully roll until the wrapper is tightly closed.
Serve with extra peanut sauce and tamari for dipping.
Small Bites
For those times when you need more of a bite than a full plate, these skewers, sweets, and patties are perfect for a shareable situation.
Gluten-Free Jamaican Lentil Patties
(From Healthier Steps)
These Jamaican lentil patties are easy to make, vegan, and gluten-free without skimping on the seasoning. This recipe uses savory lentils cooked with aromatic herbs and spices in a buttery pastry for healthier take on the popular Jamaican beef patty. 

Ingredients:
1

 

tablespoon

 

coconut oil

1/2

 

cup

 

onion

, finely chopped

2

 

cloves

 

garlic

, minced

1

 

spring onion

1/2

 

teaspoon

 

dried thyme

1/4

 

teaspoon

 

turmeric

1/4

 

teaspoon

 

cumin

1/4

 

teaspoon

 

ground paprika

Pinch

 

allspice

1/2

 

cup

 

brown lentils

2

 

cups

 

vegetable broth

, or water

1

 

tablespoon

 

Bragg liquid aminos

, or Tamari sauce or coconut aminos

1/4

 

teaspoon

 

Cayenne pepper

, (optional)

Salt to taste
For the crust:
2

 

cups

 

oat flour

1/4

 

cup

 

tapioca flour

1/4

 

cup

 

potato starch

1

 

tablespoon

 

ground flax seeds

1

 

teaspoon

 

baking powder

1/2

 

teaspoon

 

salt

2

 

teaspoons

 

curry powder

1/2

 

cup

 

almond milk

1/2

 

cup

 

Vegan Butter
Method:
Heat oil in a medium saucepan over medium-high heat. Add onion, spring onion, and garlic and saute stirring constantly until the onion is soft. About 3 minutes.

Add thyme, turmeric, paprika, cumin, allspice, lentil, and stir to coat.

Add water or broth and bring to boil. Cover saucepan and reduce heat to simmer for 30 minutes until most of the liquid has evaporated and lentils are tender.

Stir in liquid aminos, cayenne pepper, and salt to taste. Remove from heat and allow to cool while preparing the crust.

Preheat oven 400°F. Line baking sheet with parchment paper and set aside.

In a large bowl, combine oat flour. flaxseed meal, tapioca starch, potato starch, baking powder, sea salt, and curry powder

Stir in vegan butter until the dough resembles crumbs. Stir in almond milk and use your hand to form a dough ball.

Further divide ball into 8 smaller balls. Roll out each ball in between 2 parchment paper sheets using a rolling pin, about a 4-inch circle.

Remove top layer sheet, add 1 tablespoon of lentil filling on one half of circle, making sure to leave edges clear. Fold over the other half, by folding parchment paper and seal crimping edges with a fork.

Transfer to baking sheet. Repeat with remaining dough. Bake for 20-25 minutes or until golden brown.
Carrot Cake Energy Bites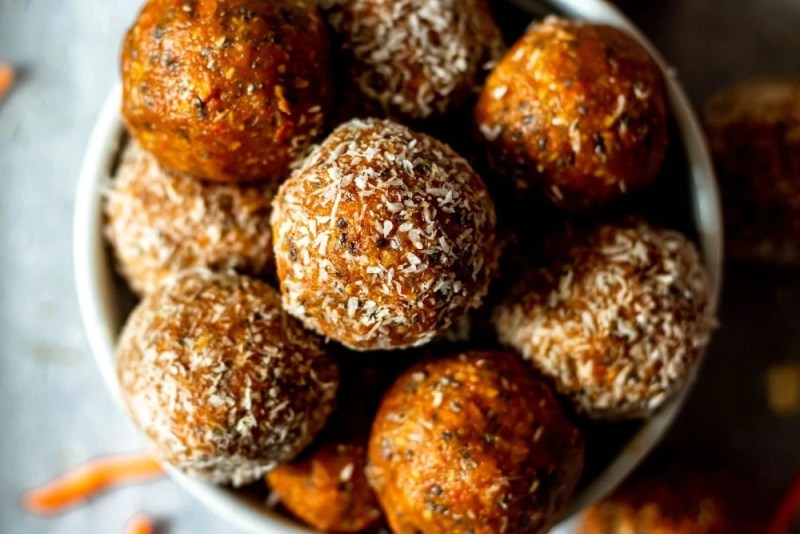 (From All the Healthy Things)
Healthy, no bake carrot cake energy bites packed with real fresh carrot, coconut, pure maple syrup, gluten free oats, and cashew butter. . They are gluten free, vegan, and a great healthy bite!
Ingredients:
2 cups shredded carrots
1 cup gluten free rolled oats
½ cup unsweetened shredded coconut
1 cup cashew butter
3 tablespoons chia seeds
⅓ cup maple syrup
1 teaspoon vanilla extract
Method:
Add the shredded carrot to your food processor and pulse until it is a finely grated texture. Then, remove the carrot from the food processor and transfer it to a small bowl.

Add the gluten-free oats and shredded coconut to the food processor and pulse until the oats are slightly broken down into somewhat of flour.

Add all of the remaining ingredients and the grated carrot to the food processor. Pulse the food processor until all of the ingredients are well combined and a dough has formed. Scrape down the sides of the food processor if needed.

Roll the balls in extra shredded coconut if you would like and then enjoy!
Antipasto Skewers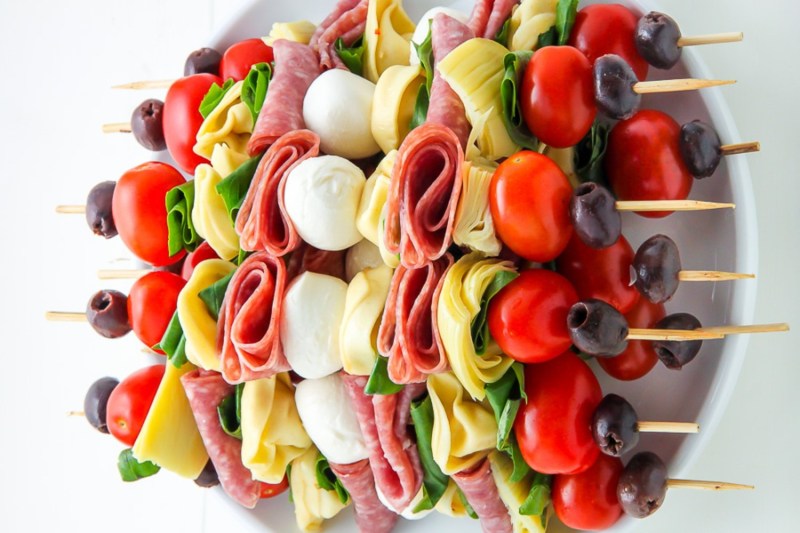 (From Baker By Nature)
These Antipasto Skewers aren't the average cheese and veggie on a stick. By adding cheesy tortellini to the mix, it makes an elegant and flavorful party or outdoor lunch dish.
Ingredients:
20

 

long wooden skewers

(1) 9 ounce package cheese tortellini

1/2

 

cup

 

zesty Italian salad dressing

1/2

 

teaspoon

 

tabasco sauce (optional, but it adds a nice kick)

40

 

olives (I used Kalamata but any kind you enjoy will work)

40

 

grape tomatoes

40

 

thin slices Genoa salami

20

 

baby mozzarella balls

40

 

pieces

 

basil, torn

20

 

pieces

 

chopped artichoke hearts
Method:
Cook tortellini according to package directions; drain and quickly rinse in cold water. In a large resealable plastic bag, combine the tortellini with salad dressing and hot sauce, seal the bag, and turn it around a few times to coat; refrigerate for at least 15 minutes and up to 4 hours.

When ready to assemble, drain and discard any remaining marinade.

For each skewer, I threaded an olive, tomato, basil, tortellini, basil, folded salami slice, mozzarella ball, tortellini, basil, folded salami piece, artichoke heart, tomato, olive. You can switch up the arrangement if you like, but I find this order is visually appealing and delicious.
Whole Wheat Spinach Cheddar Scones

(From Family Food On The Table)
Whole wheat spinach cheddar scones are fluffy, tender, and easy to make. They're loaded with spinach and cheddar cheese for a savory addition to your outdoor lunch or brunch.
Ingredients:
2 cups white whole wheat flour
2 teaspoons baking powder
3/4 teaspoon kosher salt
2 tablespoons cold unsalted butter, cut in small pieces
1 cup shredded cheddar cheese
1 cup fresh spinach, finely chopped
1 tablespoon onion, finely chopped or grated
1 cup milk of choice (I use skim)
1 tablespoon unsalted butter, melted
Method:
Preheat oven to 425. Line a baking sheet with parchment paper and set it aside.
In a large bowl, combine flour, baking powder, and salt and stir to mix well.
Cut in butter using a pastry cutter or two knives, until the mixture resembles small peas.
Add cheese, spinach, onion, and milk and stir until just combined.
Turn the dough out onto a floured service and use your hands to shape it into a large round disk, about 1 inch thick and 8 inches in diameter.
Cut into 8 even triangles and arrange on the baking sheet, leaving some room between each scone.
Brush the tops of each scone with the melted butter. Sprinkle with sea salt if desired.
Bake at 425 for 14-16 minutes, until scones are cooked through and tops are a light golden brown.
Editors' Recommendations