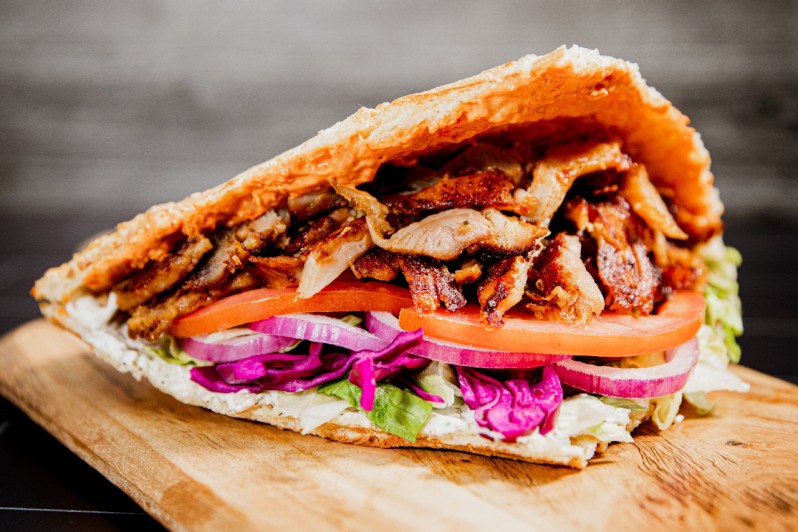 While German cuisine is famous globally for its savory Oktoberfest sausages and beer, such as Schwarzbier, a black lager, one favorite among Germans is a food with a decidedly non-German origin. Originally a Turkish dish, the doner kebab (or simply doner as it's called colloquially in Germany) has entrenched itself into German cuisine. Thin slices of meat are shaved from rotating, gyro-style vertical cones; all sandwiched in crispy bread with colorful salads and sauces — the doner kebab has become a quintessential part of German food culture.
One man passionate about bringing "the real German Döner" to America is German native Nikolaus von Solodkoff of Döner Haus restaurant in New York City. As an operator of an eatery dedicated to the German doner kebab, he here's to share his insights with The Manual on this German fast-casual favorite.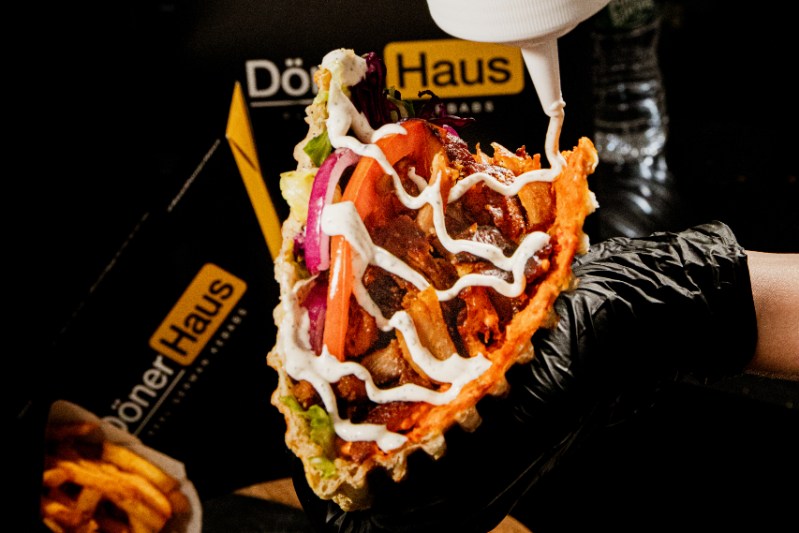 What is German-style doner kebab?
The popularity of the doner in Germany is directly connected to the arrival of Turkish immigrants to Germany in the 1950s. Turkish cuisine is famous for its grilled meats, including the aforementioned doner kebab and spicy adana kebabs. Over time, the German doner kebab has become distinct from the original Turkish version. In Turkey, doner kebabs are served with rice or a thin bread called lavash. German doner kebabs are generally served in a pressed triangle-shaped bread called pide (the bread pressing was adapted to suit the German palate for crispy food). The meat is also different. Turkish doner is generally lamb or a mixture of lamb and beef. German doner is not only shaved thinner; it's also usually beef, chicken, or even turkey.
One immediate visual difference between the two versions is the amount of vegetables and sauces. Besides traditional tomatoes and onions, German doner kebabs can contain a dizzying array of vegetables such as cabbage, pickled vegetables, and even sauerkraut. Germans also prefer their kebab heavily sauced with a dill-based garlic sauce (sauces depend on the region, such as a mayo/tomato sauce called "cocktail sauce," popular in some regions). As von Solodkoff proudly points out, "Germany's doner restaurant owners have a tongue-in-cheek saying: 'Doner was born in Turkey, but was perfected in Germany.'"
Because of how beloved the doner is in Germany, at Döner Haus, von Solodkoff is passionate about serving the best German-style doner. Careful attention is given to sourcing high-quality ingredients for their doner kebab recipes, with special attention to the meat. They use 100% halal chicken thighs and halal Nebraskan inside round beef with no fillers, all marinated for 48 hours in proprietary spice blends.
"For comparison, all our competitors use up to 50% filler in their meat," said von Solodkoff. "For example, [one] uses cones from a company called Kronos, which has 40% wheat filler. Our meat cones are custom-made for us and based on Turkish/German recipes."
How to properly enjoy a German doner
While the German doner can be enjoyed any time of the day, it's especially popular as a late-night munchie. Basically, it functions the same way as tacos, burgers, or pizza in America. Surprisingly, because of the fresh vegetables, the doner kebab is relatively healthy compared to other fast-food items. Von Solodkoff's recommendation? Get the mixed kebab — chicken and beef — the best of both worlds.
At Döner Haus, their kebabs are served in the Frankfurt style, containing red cabbage, lettuce, tomatoes, onions, and lots of garlic sauce. But for von Solodkoff, customization is key to the enjoyment of the German doner: "Every kebab is 100% customizable. No onions? No problem. More tomatoes? Easy."
Editors' Recommendations