The best Valentine's Day gift available might just be a pink pineapple. That's right, the tropical fruit long associated with candy-sweet yellow flesh now comes in pink. You can thank the folks at Del Monte for the fruit, which alleges to be juicier and sweeter than traditional pineapple.
Dubbed the jewel of the jungle, this relatively rare breed of pineapple hails from the jungles of Costa Rica. It's a stunning specimen, reminiscent of grapefruit in terms of color and great for snacking or mixing into a drink (after all, in the canon of good tiki drinks, pineapple is king).
It's a trademarked product from the California-based produce brand and even comes in a special Valentine's themed box. It may not exist in nature, but we can't help but be a little impressed. Like blue raspberry, it has a certain appeal, not to mention plenty of uses in the kitchen.
How it came to be
Yes, it's frankenfood. No, there is not a pink pineapple plant. A few genes have been modified in creating this type of pineapple, allowing the pink pigment to really shine. It's a project that took well over a decade and officially hit the market a few years back. Also called the Rosé pineapple, it's taken to Instagram by storm, especially around the V-Day season.
It's all about lycopene. That's the pigment that gives other edibles, such as tomatoes, their pronounced color. The result? A pineapple that looks like a regular old pineapple on the outside and is a dazzling pink on the inside.
How to Enjoy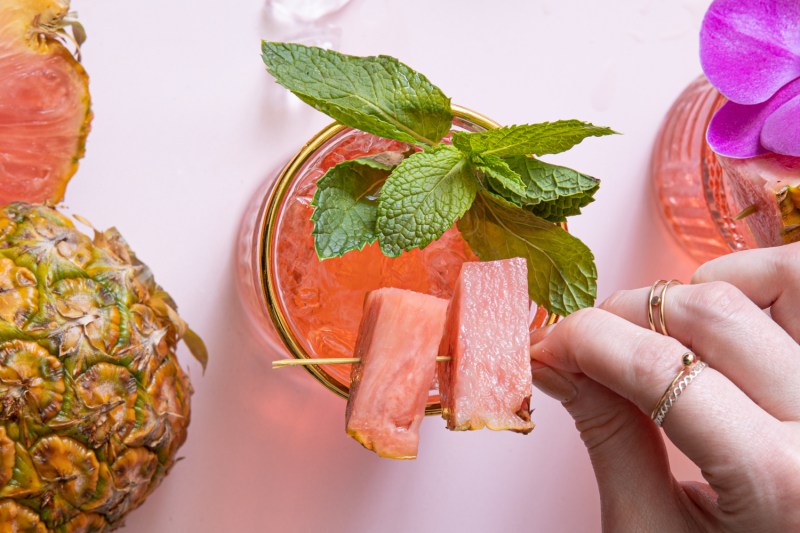 There's no wrong way to enjoy pineapple. We suggest grilling with it, topping pizza with it, and injecting it into your morning smoothies. Because of the higher juice content and eye-catching color, we think it's especially great in a good cocktail, like the fantastic Jungle Bird. You can juice it and put the liquid to use, or caramelize it and use it as a tasty dessert or cake topper.
We like how it can turn certain things on their head. For example, the Pina Colada has long been considered a pretty neutral-colored drink. Throw this pineapple in the mix, and you end up with something with a little more flair. It can shake up in a Margarita nicely and turn a traditionally yellow Painkiller cocktail into something with some persimmon. And while pineapples are available year-round, we're on the cusp of peak pineapple season, which generally starts around March and runs through the beginning of summer.
Oh, and in case you forgot, here's how to cut a pineapple. The stuff is not cheap, so you'll want to get your slicing down to maximize your fruit intake. Lastly, the Del Monte pink pineapple is available in both the US and Canada, for those keeping score.
Editors' Recommendations