When you think of Campbell's, you probably think of chicken noodle soup and Andy Warhol. Well, the classic American brand, founded back in 1869, also has a research and development team fit with culinary talent. Campbell's even has an executive chef, with whom we chatted about cooking, some special Cambell's Soup recipes, and general tips for an elevated eating experience.
Bryan Cozzi is an East Coast native and has been with Campbell's for a decade. He's helped the company innovate with fresh meals and sauces and currently focuses on soups and broth. After 10 years with Campbell's, he says he's still excited to go to work every day.
"My responsibilities are to create direct inspiration through food for each one of our brands," he says. "In doing so, I work very closely with cross-functional partners — marketing and research and development leaders. In addition, I work side by side with our talented product development team and help to make the most delicious food possible."
While most of his work is done behind closed doors, the chef offered some insights on cooking up deliciousness for mid-winter meals.
On winter cooking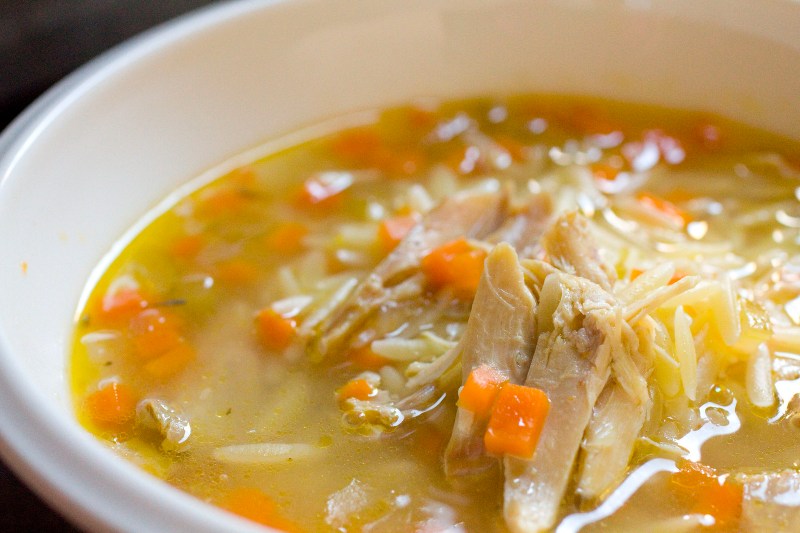 This time of year can be a tricky one. For starters, the days are short and finding energy is not always easy. Plus, the produce scene isn't actually jumping, but that's no excuse not to eat well.
"Like many chefs, cooking to what's in season and local, when possible, is where I draw my inspiration," Cozzi says. "I spend a lot of time in the grocery stores and typically start my planning around what fresh produce is available. Recently, I have been enjoying anything I can char or roast in the cast iron pan, like Brussels sprouts, broccolini, broccoli rabe, cauliflower, and delicata squash."
What can you make? Well, treat the food you make like the types of sensations you crave in the winter. Your dishes should function like a cozy weighted blanket.
"Also, this time of year, I tend to make warm and comforting dishes," Cozzi continues. "Two that have become weeknight staples are chicken posole soup and sausage, broccoli rabe, and orecchiette."
Part of the reason he likes these two recipes so much is that they're both people-pleasers and customizable. We've included the recipes, below, along with some of his other favorites.
On cooking with booze
Cooking with booze is an age-old and satisfying tradition, especially in the winter when we could use a good thaw. It works in so many ways, from the acid wine can bring to a dish to the addition of spirits, which can bring all the flavors together, like with a good vodka sauce.
"I like cooking with certain spirits, and they can provide great flavor enhancement," Cozzi says. "I only use those that I would drink on their own. My go-to saying is 'don't put it in your food if you wouldn't drink it on its own!'"
Of course, it pays to be somewhat careful, especially when working with spirits.
"When adding any type of high-alcohol or spirit into a hot dish or flame, it should be added away from an open flame," he advises.
What spirits, though?
"Lately, I've been trying to get into bourbon and whiskey," he says. "Like wine, there are so many different varieties and characteristics, like smokey, honey, caramel, grain, and dark fruit. I've found that they pair very nicely with barbecue (brisket & ribs), hard cheeses, smoked salmon, and chocolate, of course."
Whether you're looking for great winter dinner ideas or a satisfying beer cheese dip, the following recipes are sure to keep you warm through the rest of the winter season.
Chicken pozole soup
A good pozole soup is something worth holding near and dear, especially during the colder months. We like the many layers of flavor of this option, a favorite of Chef Cozzi. In terms of customization, try mixing up your toppings. Consider things like cilantro, red onion, avocado, and sour cream too.
Prep time: 20 minutes
Total time: 45 minutes
Yield: 8 servings
Ingredients
1 1/4 pounds skinless, boneless chicken breast halves, cut into 1-inch pieces
1/2 teaspoon dried oregano leaves, crushed
1/2 teaspoon paprika
2 tablespoons olive oil
1 large onion, chopped (about 1 cup)
1 jalapeño pepper, seeded and chopped (about 1 tablespoon)
3 cloves garlic, minced
1 carton (32 ounces) chicken broth
2 cans (about 4 ounces each) green chiles, drained
1 1/2 teaspoons ground cumin
1/2 cup chopped fresh cilantro leaves
1 can (about 15 ounces) white hominy, rinsed and drained
1 can (about 15 ounces) pinto beans, rinsed and drained
1 tablespoon lime juice
1 cup shredded green cabbage
6 large radishes, thinly sliced (about 1/2 cup)
Method
Season the chicken to your liking (we suggest adding some oregano and paprika).
Heat a single tablespoon of oil in a skillet over medium-high heat and add chicken. Cook until browned, stirring occasionally. Remove the chicken from the pan when it is cooked through.
Turn heat down to medium and heat a tablespoon of oil in pan. Add onion and pepper and cook for five minutes, stirring occasionally.
Add garlic and cook for another 30 seconds.
Add onion mixture to blender with 1/2 cup of broth, cilantro, and green chiles. Blend until the contents are nice and smooth.
Cook blended mixture over medium heat for five minutes, stirring often. Add cumin and hominy beans, then heat all until boiling.
Reduce the heat to medium-low and add chicken. Cook for five minutes.
Add the lime juice, stir, and season to taste.
Plate and top with cabbage and radishes. We suggest serving with hot pepper sauce.
Sausage broccoli rabe and orecchiette
This dish comes together quickly and is deeply satisfying in the heart of winter.
"I sometimes substitute the broccoli rabe with broccolini because it tends to be less bitter to my daughter but doesn't take away from the overall experience," Cozzi says. You can also sub in plant-based sausage, if preferred.
Prep time: 5 minutes
Total time: 20 minutes
Yield: 5 servings
Ingredients
12 ounces mild Italian pork sausage
8 ounces uncooked orecchiette pasta (about 2 cups)
3 cups water
2 tablespoons Campbell's FlavorUp! Caramelized Onion & Burgundy Wine Cooking Concentrate or Rich Garlic and Herb Cooking Concentrate
1/4 teaspoon crushed red pepper
1 bunch broccoli rabe, cut in 1-inch pieces (about 6 cups)
Method
Add sausage to a skillet over medium-high heat and cook until browned, stirring often. Remove any fat.
Stir in pasta, water, concentrate, and red pepper. Cover and heat the contents to a boil.
Reduce the heat to medium-low and cook until the pasta is tender — about 10 minutes.
Add the broccoli rabe and cover. Cook until it is both tender and crisp — about three minutes.
Add black pepper and serve with grated parmesan cheese.
Spicy beer cheese dip
Beer and cheese — they're what you need this winter, and likely beyond. This big batch of dip is perfect for hosting, whether you're just having dinner with friends or putting on a Super Bowl party. A pro tip? Try cooking it in the slow cooker for an extra-cozy batch.
Prep time: 10 minutes
Total time: 30 minutes
Yield: 30 servings
Ingredients
1 can (18.8 ounces) Campbell's® Chunky® Spicy Steak and Potato Soup
1/2 cup lager-style beer
1/2 teaspoon garlic powder
8 ounces cream cheese
5 ounces shredded cheddar cheese (1 cup plus 2 tablespoons)
3 green onion, chopped (about 1/3 cup)
Method
Set oven to 400°F and combine soup, beer, and garlic powder. Put cream cheese into a baking dish and top with the soup mixture as well as a cup of cheddar cheese.
Bake for about 20 minutes. Whisk everything together and top with what's left of the cheddar cheese and green onions. Serve with something good for dipping, like pretzels.
Editors' Recommendations