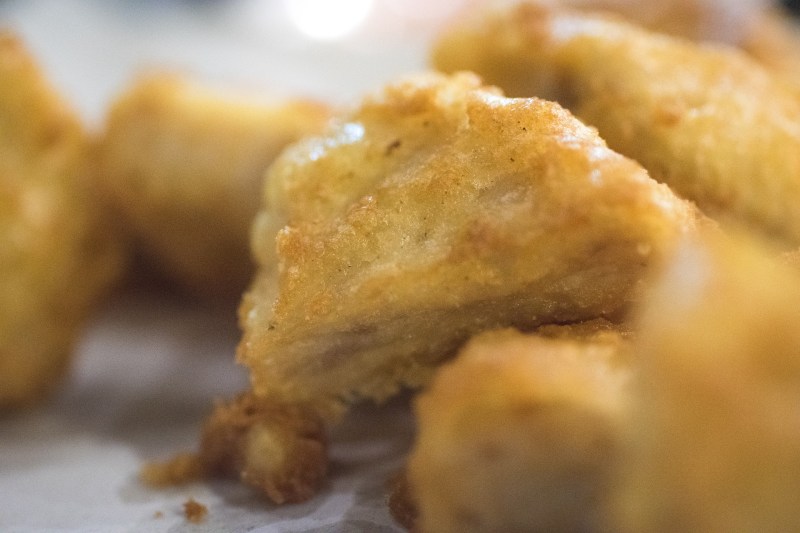 It's a given that most American families survive on chicken nuggets. Whether they're our saving grace on a night when cooking sounds unbearable and it's drive-thru to the rescue, or a big bag of the store-bought variety direct from the freezer, we love our nugs. We love them for our frustratingly picky young children, for our post-cocktail late-night munchies, for our feeling-lazy-but-we-tried salad toppings. We love them for their salty, crunchy reliability that reminds us of simpler times.
And because this menu item is our saving grace, our life raft, our rock of stability in a sea of culinary confusion, we know full well that not all chicken nuggets are created equal. Of course, we could go round and round for days debating who reigns supreme in the world of fast-food chicken nuggets, but that's another article for another day. The issue at hand is which is the best frozen variety, and we have the answer.
Costco chicken nuggets are the winner
It should be no surprise that the answer can be found under the popular label we all know and love – Kirkland. Costco has been serving up most of our favorite things for years, from jumbo trampolines to big-screen TVs to chocolate-covered cashews, so it only makes sense that they should also be the bearers of the absolute best frozen chicken nuggets.
Costco's Kirkland Signature Lightly Breaded Chicken Breast Chunks are one of the newest additions to the mega warehouse store's popular freezer section, and people are talking. Fully cooked and breaded, these chicken pieces are made from boneless, skinless chicken breasts and pack a hefty 16 grams of protein per serving. Better still, they're made from chickens that have been raised without steroids, antibiotics, or added hormones. And while all of these facts are great, what's even more sublime is that they're nearly indistinguishable from the greasily delicious fast-food versions we all adore, like Chick-fil-a nuggets.
Some shoppers are also noting the similarities between the Costco chicken nuggets and the tremendously popular (and pricy) Just Bare chicken nuggets. Gone are the days of mushy, flavorless mystery meat nuggets, served up with a side of heartburn and regret. These are the real deal.
Of course, some Costco stores receive new products more quickly than others, so not every location may have Kirkland Signature Lightly Breaded Chicken Breast Chunks in stock just yet. And as for those that do, you'd better get there fast!
Editors' Recommendations