Spring is an exciting time for eaters. More and more fresh produce shows up at the market and store and the days begin to beg for lunches at the park and evening dinner parties. But it's not always simple to know what's in season and how to maximize flavors during these months that guide us toward summer.
One thing we do know is that we love a good spring cocktail, like a Cherry Blossom Sour, during the spring season. There are more spring fruits and vegetables to work with than you might think, and the warmer weather thaws the soul.
As we tend to do, we reached out to somebody in the know about spring cooking tips. Specifically, Vikas Khanna, a Michelin Star-awarded chef, restauranteur, and host of MasterChef India (and if that's not enough, he just launched his own spice line). Once homeless, Khanna went on to run the kitchen at NYC's Junoon. He's since become a celebrity culinary figure, both in his native India and here in the States.
"We tend to jump from winter to summer too quickly," Khanna admits. "Spring has such a subtle and calm feeling that we should hold on to it a little longer." He adds that in India, they celebrate Holi at the beginning of the spring season. Otherwise known as the festival of colors, it's an emerging time when lots of new ingredients come to the fore.
We caught Khanna right after he bought some fresh cherries. He likes to turn them into preserves, which he says only get better over time. What else does the award-winning chef like to cook up this time of year?
"Stir-frying asparagus and making rhubarb chutney are at the top of my list," he says. "For dessert, I like to make apricot crisps or cobblers and absolutely anything with strawberries."
Khanna likes to liven up his cuisine this time of year, too, taking advantage of some fresh fruit that's now in the mix. "I find myself using a lot of dried mango powder to add sour-citrus tones to my food this time of year," the chef says. "Also, spring marks the beginning of the fresh mango season."
As he says, we tend to focus ahead on summer and wait it out for things like sweet onions, watermelon, and the like, but there are lots of great spring staples. Strawberries, peas, and spring onions are all peaking (or about to) as we speak. With the berries in particular, Khanna loves to mix them up with fennel seeds, sugar, chili flakes, and a punch of salt for a delicious snack. When it comes to peas, he likes to stir-fry them and treat them to a little tadka spice infusion, being careful not to overcook.
How else can cooks at home better embrace the bounty of spring? "Visit the farmers market as often as you can," Khanna advises. "The huge selection of flowers, fruits, and vegetables will inspire your cooking. I think of spring's bounty of ingredients as the reward for surviving a harsh and unforgiving winter. In my opinion, it's the best change of season."
Ready to cook? Khanna offered us one of his go-to recipes, below.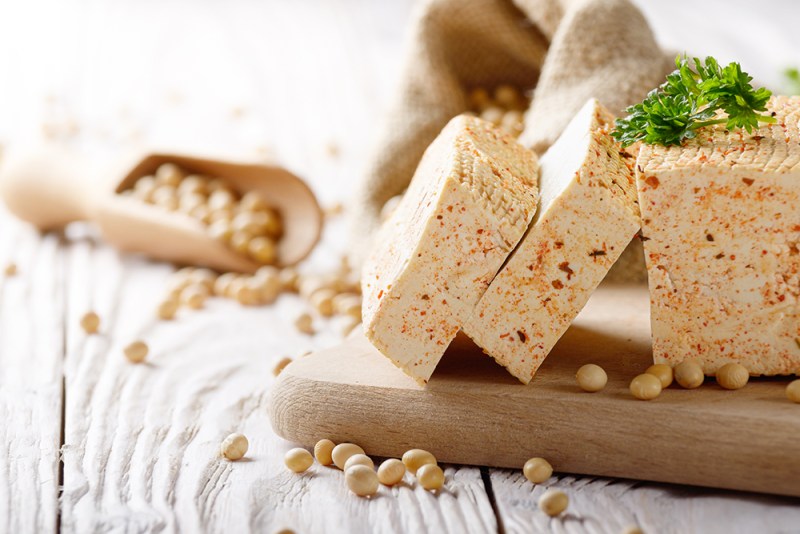 Easy tofu stir-fry
Here's a great recipe from the chef that breathes life into tofu and is, of course, all the better with fresh green beans from the farmers market (or your backyard). Try it with a zippy sauvignon blanc or a dry pink wine (here are our favorite rosé wines).
Ingredients
400 grams firm tofu (must be firm or extra firm, not soft)
2 tablespoons cornstarch
2 tablespoons sesame oil
1 1/2 cups chopped green beans
2 shallots (about 1/2 cup finely chopped)
2 tablespoons water or vegetable broth
2 1/2 tablespoons organic sugar
1/2 teaspoon ground ginger
1 tablespoon VAHDAM® India Black Pepper (whole)
Fresh Thai basil (optional)
Method
To begin, slice the block of tofu in half and press it between two towels or two paper towels. Let the tofu sit for 10 minutes to soak up any excess moisture.
While the tofu is being pressed, chop up the green beans and shallots and make the black pepper sauce. To make the black pepper sauce, simply whisk together the soy sauce/tamari, sugar, ground ginger, and freshly ground black pepper in a small bowl and set aside.
Once the ingredients are prepped, cut the pressed tofu into 1-inch cubes and add them to a large bowl. Add the cornstarch to the bowl and use your hands to evenly coat the tofu in cornstarch.
Next, add 1 tablespoon of sesame oil to the work and turn on the heat. Once the oil is hot, add in the tofu and stir-fry for 10-15 minutes until the tofu is browned and crispy on the outside. Remove the tofu from the wok and set aside in a bowl.
Add the remaining 1 tablespoon of sesame oil to the wok, followed by the chopped shallots and green beans. Stir fry for about 5 minutes until the shallots are translucent. Then, add the black pepper sauce and tofu. Cook all the ingredients for an additional 3-5 minutes to help thicken the sauce.
Remove the wok from the heat and serve the black pepper tofu and green beans on top of white rice. Garnish with Thai basil if desired.
Editors' Recommendations