Feasting is our column dedicated to cooking, grilling, eating and discovering what's on the menu across America and the world.
Sustainable meat is important to us here at The Manual. Not only does it make a difference in the worlds of animal welfare and environmental issues, humanely-raised meat always tastes better. From buffalo to chicken, there are amazing companies out there who are changing the landscape of raising livestock for the better; Cochon555 is here to do that for heritage pig breeds.
If you're not familiar with Cochon555, now's the time to get acquainted. Every year, Cochon555 embarks on a tour of the United States by visiting 20 cities and throwing 60 events that are focused on hyper-local food and raising awareness for heritage pig breeds through a nose-to-tail cooking competition. Five chefs are chosen from each stop on the tour to compete against one another by cooking a whole heritage hog using their own innovative techniques and flavor profiles. A mere week before the event, each participating chef is presented with a 180-200 pound pig and tasked with preparing a "Judge's Plate" of six dishes that are scored on categories like technique and flavor. The winner from each city is dubbed the "Prince or Princess of Porc" and invited to compete in the national championship Grand Cochon, which is going to be held in Chicago this fall. Anyone can buy tickets to the epic nose-to-tail feast, and a portion of the proceeds are donated to Cochon's sister charity Piggy Bank, a nonprofit foundation that strives to help emerging family farmers by providing resources like sales tactics, scientific best practices and retail and chef connections.
Related: You Love Bacon Because of Josh Ozersky
In addition to the 30 competing chef's dishes—which utilize about 1,500 pounds of heritage pork from family farms—the communal feast will include treats like farmhouse cheeses, a salami snack bar from Creminelli and Divina, a ramen noodle bar paired with the Wines of Germany, and organic pâté from Les Trois Petit Cochons. To wash it all down, libations like Breckenridge Bourbon Smoked Old Fashioneds, an Angostura Rum Tiki Bar, a Courvoisier tasting with hand-crafted caramels, and wines from around the world will be served.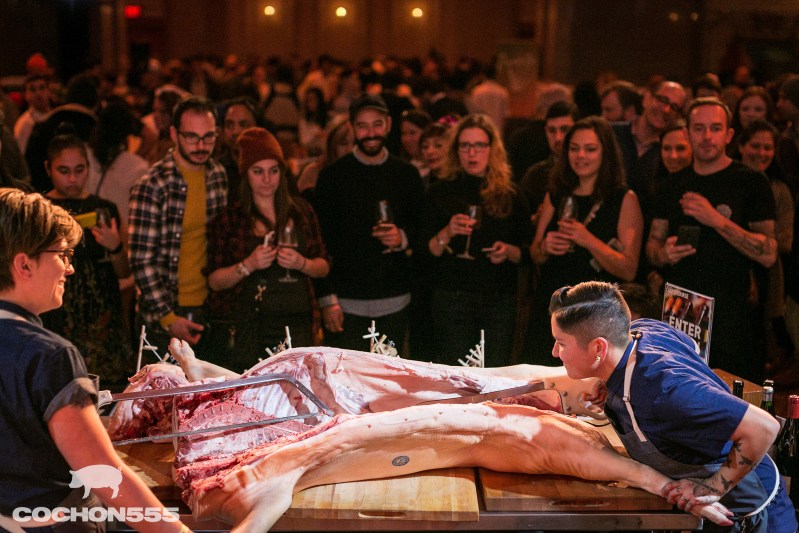 The first stop on the Cochon555 tour is New York City, and we couldn't be more excited to check out the epic feast for the first time. Five chefs from some of our favorite restaurants were chosen to participate and include Nicole Gajadhar of Saxon + Parole, Ryan Bartlow of Quality Eats, Greg Baxtrom of Olmsted, Aaron Hoskins of Birds & Bubbles and Chris Szyjka of Chef's Club by Food & Wine. If you're interested in supporting sustainable farmers and want to join us at the event, tickets start at $125 and can be purchased here. Our friend Chef Angie Mar of The Beatrice Inn took home last year's title, so we can't wait to see what's going to happen in 2017. But if you can't make it to the Big Apple, there are 17 more stops on the tour from Miami to Los Angeles and everywhere in-between. Best of luck to all the chefs and may the best pork win!
Images courtesy of Galdones Photography / Cochon555
Editors' Recommendations