Feasting is our column dedicated to cooking, grilling, eating and discovering what's on the menu across America and the world.
Fried chicken and champagne is the most delicious, luxurious, fun combination, which is why we can't get enough of Birds & Bubbles, the latest eatery from southern food goddess Sarah Simmons. As the restaurant—situated in NYC's Lower East Side neighborhood—is about to celebrate its second birthday this month, Chef Simmons has quite a few reasons to live it up. Since opening her first culinary venture CITY GRIT in 2011, she was named one of "America's Best New Cooks" by Food & Wine magazine, a "New & Notable" chef by the Charleston Wine + Food Festival in 2013 and one of the "100 Most Creative People in Business" by Fast Company that same year. And now, with one year under her belt at Birds & Bubbles, Simmons is talking about returning to her South Carolina roots to open a new concept at home.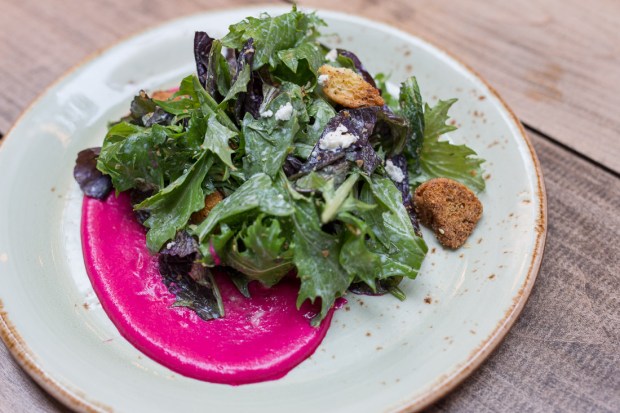 Birds & Bubbles is way more than fried chicken and champagne. With the concept that every day should be a celebration, Sarah's menu takes classic party dishes from her childhood and reinvents them into elevated, modern versions of the classics. Curated by Service Director Ariel Arce, a veteran of The Aviary and Pops in Chicago, the bubbles menu is made to complement Sarah's rich southern cuisine with refreshing champagnes that don't take a degree in viticulture to understand. We caught up with both Sarah and Ariel after the meal to get the inside scoop on how they've developed the Birds & Bubbles concept.
Sarah
You grew up in the south, so you have a deep understanding of the culture and cuisine ingrained. Was there a lot of cooking going on in your home? Could you share some of the recipes and traditions that have really stuck with you to this day?
My mom is an amazing cook and was always trying something out new. I give her credit for giving me a strong foundation in the kitchen. She taught me how to make most of the master sauces before I was 10. My dad has a very bland palette, so it wasn't until I moved out of the house that I really started experimenting with different flavors and ingredients.
I feel like people associate eating in the south with fried food, but I think of fresh produce when I think about southern cooking – like there's nothing better than a field pea from North Carolina or okra from Georgia. I think what has stuck with me has been taking the food in season and letting it shine by adding simple flavors to it.
What are some ways you've taken true southern recipes from your childhood and made them your own for the Birds & Bubbles menu?
There are so many dishes right now on the menu that are elevated versions of things I grew up with. The pineapple casserole is based off something my Aunt Edna made for Easter Supper. And the Vidalia Onion Souffle is a dish my mom served every Thanksgiving and Christmas. My Aunt Kathy loves to entertain and the Curried Rice is something she served at almost every luncheon I can remember.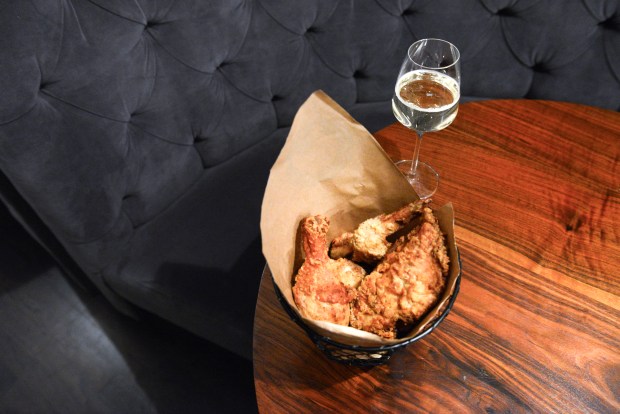 Your chicken is pan fried (and very deliciously so). How does this make it different than deep frying? Did you choose this method out of tradition or because you think it's just plain better?
My grandfather was in charge of the fried chicken when we would have it on Sundays. And he died without any of us writing down how he made it. We all have our own ideas about how he did it – chicken fry versus buttermilk dip/flour dredge, egg white only versus whole egg in the buttermilk dip – but we all agree he pan fried it in cast iron. So in trying to recreate his chicken, one thing was certain – I was going to pan fry it!
Pan frying provides a more gentle environment for creating a light, golden crust. When you use a deep fryer, the chicken jostles around in the basket, potentially breaking the crust and letting oil get under the skin and into the chicken.
Ariel
Birds & Bubbles is all about finding celebration in the everyday, so champagne makes a lot of sense. But what makes it such a great libation to pair with fried chicken and southern food in general?
At Birds & Bubbles, we love to celebrate. This is a restaurant where you can eat and drink with excitement every day. Champagne is inevitably about brightness and freshness. It is intended to be a pleasing and refreshing accompaniment to a variety of foods, and drinking Champagne with chicken has always been a classic pairing. It is not unusual to pair high acid wines with rich, full flavors because the brightness of the acidity cuts the decadence of spice and savory.
Related: Pro Tips on How to Serve & Enjoy Champagne
You spoke about how a new generation of winemakers isn't just overseeing family businesses but actually becoming very involved in the process. Do you think this is creating a new crop of fresh, original wines?
Absolutely, but sometimes it's not about making a new or original wine but producing a wine that has been made for generations in a more thoughtful way. The region of champagne is currently home to thousands of small producers, and we only see a small percentage imported to the American market. What we're seeing though is an abundance of new wine being produced with care for the product and the earth.
Some of these winemakers work with their families still, and some are starting from scratch. I think there are some wines that are very original, mostly because they are nontraditional. There are plenty of young people taking over for their fathers or mothers and producing the same style of wine, but perhaps they are cultivating the soil differently, using less sulfur, adding less sugar or deciding to return to the fundamentals of winemaking where their hands touch as much of the process as possible, or sometimes as little as necessary. At the end of the day, we are seeing a more diverse and unique crop of Champagnes in the American market, and that's giving our guests more options to try a larger spectrum of bubbles.
When choosing a new champagne or sparkling wine, what are some factors you consider before adding it to the menu? Can you speak to a few of your favorites that make a good transition from summer to fall?
The first question I ask is 'Is this delicious?' The second is 'How will this pair with our food?' In the current wine landscape, there is always an option to find something new and cool, but I always have to think about my clientele and if they will find pleasure in the Champagne or wine they are drinking. There are plenty of Champagnes I'm crazy about, but unfortunately they might clash with the flavors we currently have on the menu. It is important our wine list is a positive gastronomic pair.
Some lovely wines I think transition from summer to fall are full bodied roses. In the summer, they have some refreshing fruit and in the fall they don't feel as robust on a cool afternoon, more like a treat after a hard day's work.
Editors' Recommendations