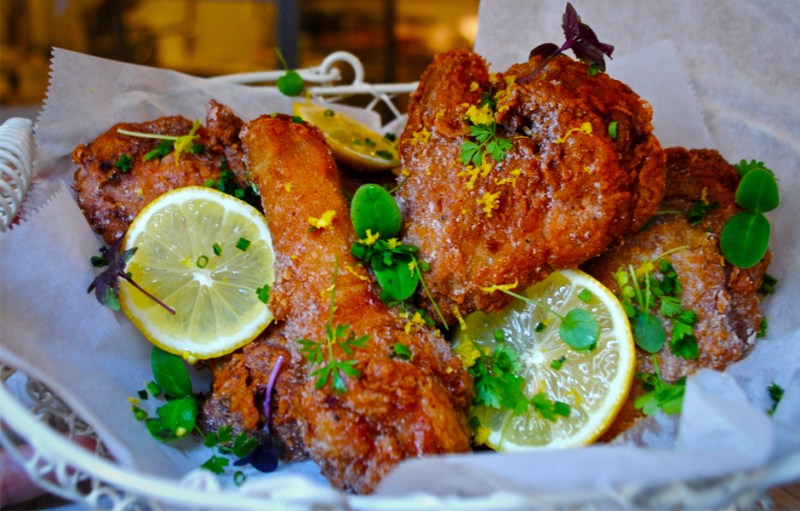 Do you like fried chicken? Wait, who are we kidding—everybody loves fried chicken! However much you enjoy the crispy goodness of an excellent, fried bird, you may not know the tricks of the trade that go into making something so simple, so delicious. Since we know many of our readers like to try things out at home, we decided to present you with our own crash course in Fried Chicken 101.
For our own edification, we stopped by one of New York's hottest new restaurants, Root & Bone, to try their much-talked about fried chicken (full disclosure: we also had waffles, carrot cake and a cocktail). Located in the heart of Alphabet City, Root & Bone is dishing out high-grade Southern cuisine on a nightly basis to throngs of satisfied city-dwellers.
After we had polished off our meal and recovered from a food coma, we spoke to Chef de Cuisine (and former Top Chef contestant) Janine Booth about the basics of fried chicken and what has made the bird at Root & Bone so popular.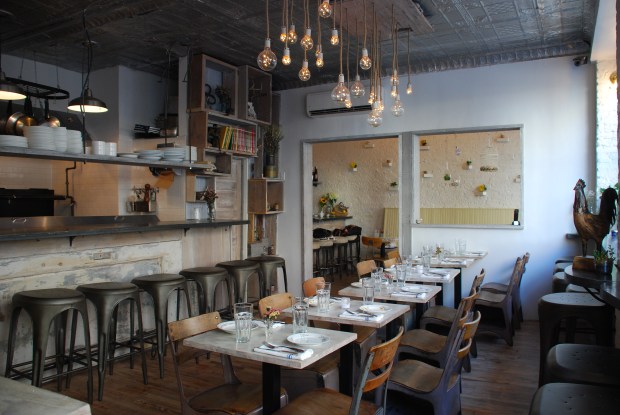 What are the essential aspects of frying chicken?
In my opinion, starting with a good bird is of the utmost importance. We get our chicken out of Pennsylvania. There's a bunch of small, free-range Amish farms out there and the chickens are collected and put into a co-op, which is where we buy our birds.
The brine is also really important. And basic brine is just water, salt and sugar. You want to brine the chicken for twenty-four hours. Also, you have to make sure that you are controlling the temperature of your fry.
And what is a good temperature for frying?
We fry our birds between 325 and 350 degrees.
How would you recommend frying chicken at home?
If you don't have an open fryer, you want to make sure you are using a cast-iron pan, which controls heat better than any other pan. It also helps circulate the oils around the bird.
For someone frying at home do you recommend soaking the chicken in buttermilk?
I definitely like using buttermilk and we tested it out for the restaurant. It helps tenderize the meat and creates a thicker crust. We decided not to use it at Root & Bone because we were looking for something crispy, but on the lighter side.
It's definitely a good technique and I would recommend it for anyone frying at home because it does help bring a really great crust to the chicken.
What do you think separates your chicken?
First, we add a bunch of spices to our brine: paprika, onion powder, garlic powder, bay leaves, and black peppercorns. We also do something different, which is that we take our sweet tea that is made daily and use that as the base for the brine.
How did you come up with the tea brine method?
We really wanted to get as much flavor into our bird as possible, so the brining process was obviously going to be key. Our approach was just inspired by the taste of sweet tea and its Southern tradition. When I drink sweet tea, I like a lot of lemons and that is what inspired a key part of our dish, which is that after the chicken is brined, dredged in flour and fried, the outside is covered with our special seasoning. The seasoning is made from dehydrated lemon slices that turn into chips basically, which we pulverize and combine with sugar and salt. So you get this amazing bright, sweet and salty flavor for the outside.
Basically, we were trying to create a lemon sweet tea flavor for a chicken.
How did you develop the Tabasco honey sauce?
Coming from Australia, I've been exposed to a lot of Asian cuisines, so just the balance of sweet, spicy, salty and tart is always in my mind. So for the chicken, we wanted something spicy but also a little sweet to go along with the sweet tea vibe. So we experimented with a lot of different sauces—orange blossom and honey, bourbon and peppercorn—but in the end it was just the balance of spicy and sweet with the Tabasco and honey that made up our minds.
Were there any influences for your fried chicken? Any bar you were trying to top?
We've definitely had our fair share of fried chicken, especially since we've been in New York. ABC Kitchen does a boneless version with waffles that was really interesting, since we serve all of our chicken on the bone. Obviously, David Chang does a great fried chicken at Momofuku; we've also tried a lot of Korean fried chicken, which is always really good. And we went to a really cool event this year at Hill Country Fried Chicken where we tried an Indian fried chicken that was just awesome. There were intense flavors of curry leaves, coriander and that blew my mind. It was the same technique, but just a completely different flavor profile, which really inspired me.
There's no one method or recipe that we really wanted to "beat"; everyone has their own approach and we think that's really cool.