Feasting is our column dedicated to cooking, grilling, eating and discovering what's on the menu across America and the world.
When Bryan and Betsy Babcock moved to upstate New York a decade ago, they decided it would be fun to raise chickens. They bought five baby chicks, which grew into their first flock. Their little farm expanded with the addition of a sheep and calf, and they decided to start a Farmstay Bed and Breakfast where they would serve fresh eggs to guests, mostly coming in from NYC. After rave reviews on the breakfast staple, they did some research on why their eggs were superior to those sold in most grocery stores. The results shocked them, so they decided to put their truly pasture-raised eggs on the market to make a change.
Handsome Brook Farm places sustainability and animal welfare first. Their chickens are raised in humane, safe living conditions and are free to roam the land to graze, hunt and peck as they please. When it came time to grow the business, they put together a network of Amish farms with the same values and strict pasture-raised standards, so you know you're getting a delicious, happy egg every time you open a crate. We caught up with Betsy to learn more about how they got started, why pasture-raised is best and what they've been cooking up for their B&B guests this year.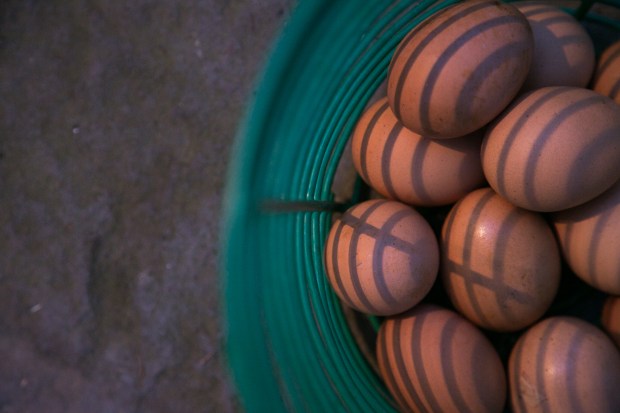 Handsome Brook Farm got started when you opened a bed and breakfast and guests would rave about your eggs. You did some research on what cage-free and free-range really means in this country, and some of the results were scary. What information did you find that inspired you to put your own pasture-raised eggs on the shelves?
As you mentioned, it was our bed and breakfast customers who noted the exceptional taste and quality of our eggs. As we did our research as to why our eggs are different from eggs customers can get at grocery stores, we quickly learned that contrary to our expectation, eggs available in groceries – even cage-free, organic and free-range – come from hens that are kept exclusively indoors in tight, cramped conditions. Chickens become stressed easily when confined, so these farms debeak them to prevent them from pecking each other to death and keep them in darkened conditions. I think the most surprising thing to us is how the large egg industry has created marketing terms such as free-range, free-roaming and even organic that imply an outdoor environment for the hens, when in fact the chickens are factory farmed. Once we came to understand a truly humanely raised option was not available to customers through their grocery stores, we decided to move forward with getting our eggs on shelves!  Here's a video of pasture-raised Handsome Brook Farm hens at play.
Pasture-raised eggs taste better because the chickens are free to eat bugs, grass and other things they wouldn't have access to in a barn. What else do your chickens feed on to make their eggs taste so good?
It is essential for our hens to have a balanced diet to keep them happy and healthy. Our chickens feed on bugs, grass and outdoor "salad" during the day. In the evening, they get a nutritious diet of non-gmo grains like corn, wheat and either soy or peas for protein. We are so committed to the quality of our hens' nutrition, we have our own Handsome Brook Organic Feed Mill, with a Ph.D. poultry nutritionist, which supplies organic feed to our farms.
Related: Feasting: Pasture-Raised Eggs From Vital Farms
You work with a network of small family farms who believe in your high standards. How do you choose the farms with which you work and sure they're upholding their commitment to your methods?
The quality of our farms and commitment by the farmers to our philosophy and practices is essential to us. First of all, we have detailed standards and protocols each of our farms is required to follow. Many of our farms come to us by referral from current farms, and we find word of mouth referral to be our best method of farm recruitment. Once a farm approaches us, we interview them extensively, do an onsite farm pre-audit and make sure they understand and agree to follow our policies and procedures, which are incorporated into their contract with us. We have a full-time compliance officer who does scheduled and unscheduled visits to the farms to provide support and ensure adherence to our practices. In addition, we have third-party auditors that provide annual visits to the farms.  In addition to providing regular updates and information, we have annual all-farm best practices meetings where we provide education, outside speakers and an opportunity for farms to share knowledge and experience with each other.
Because you run a bed and breakfast, we bet you make some delicious egg dishes for your guests. Would you mind sharing one of your recipes with our readers?
Our pasture-raised eggs are show-stoppers, especially when served sunny side up or over easy. One of our guests' favorite recipes is a flan we make for dessert. It's easy, and the quality of our eggs shines through in this custard.
Ingredients
1 cup white sugar
3 eggs
1 (14 ounce) can sweetened condensed milk
1 (12 fluid ounce) can evaporated milk
1 tablespoon vanilla extract
Directions
Preheat oven to 350 degrees F (175 degrees C).
In a medium saucepan over medium-low heat, melt sugar until liquefied and golden in color. Carefully pour hot syrup into a 9 inch round glass baking dish, turning the dish to evenly coat the bottom and sides. Set aside.
In a large bowl, beat eggs. Beat in condensed milk, evaporated milk and vanilla until smooth. Pour egg mixture into baking dish. Cover with aluminum foil.
Bake in preheated oven 60 minutes. Let cool completely.
To serve, carefully invert on serving plate with edges when completely cool.
Also, my husband's favorite hamburger features a fried egg on top!
To learn more about Handsome Brook Farm, visit them at handsomebrookfarm.com.
Photo credit: Conor Harrigan
Editors' Recommendations