Feasting is our column dedicated to cooking, grilling, eating and discovering what's on the menu across America and the world.
It's no secret cured meat is one of our favorite things to talk about at The Manual. So when we have a chance to get some expert knowledge from a true pro, we're all ears. Enter Cristiano Creminelli of Creminelli Fine Meats, an artisan salami producer based in Salt Lake City who was born into a family of award-winning salumieri that has been curing meats since the 1600s. He moved from his hometown of Biella, Italy in 2006 to bring his handcrafted salami to America and has been recognized by Bon Appétit, USA Today and won several national food awards since. We chatted with him to learn more about his favorite heritage breeds, how he's putting a modern twist on classic family recipes and tips for the at-home curer.
You began curing meats when you were a teenager as your father's apprentice. Was the family business always something that interested you, or did your passion for it really begin when you started working in the shop?
I always say to people my work isn't really work. It's my passion. I'm really lucky I get to do my hobby – something I really enjoy – as my job every single day. It's like someone who loved golf got to play golf for a career. That's how much I love it.
I didn't even consider anything else because I always knew I wanted to be a salumi artisan. My family has done it since the 1600s. I grew up in my father's workshop – in fact, I was almost born in there!
Your products are made using only heritage meats that are humanely raised and fed vegetarian diets. Can you speak about some of the farmers from which you source products? Are these people you've worked with for decades, or will you source from new farms as well if their ethics are in line with yours?
I've been making salumi in the United States for only about eight years, and in the beginning we only worked with one or two farms in Utah. I worked with them because they raised heritage breeds I like (Duroc, same breed I worked with in Italy) and they raised them as they should be: NEVER in confinement cages (pigs are social creatures and like to be active and have their spaces to play, nap, eat and sleep), never treated with antibiotics and fed good food. One farm, Ballard Family Farms in northern Utah, is a great example of how good pig farming should be. They even raise all the feed for the pigs.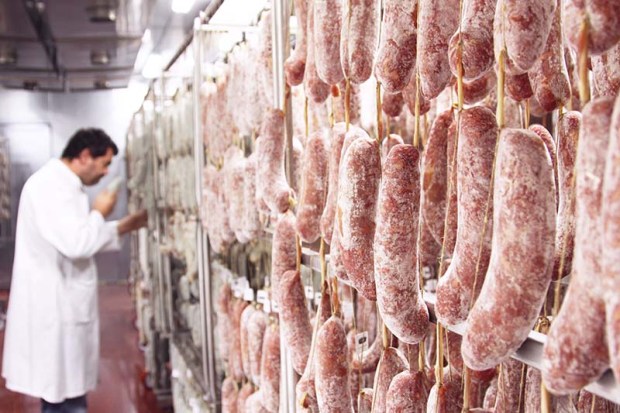 As demand for the salumi grew, we had to look for more pig farmers who did the same thing, and we were lucky to find them in Iowa. So right now we work with a network of pig farmers who are raising great pigs. We're always looking for farmers who do it correctly and to our high standards.
Related: How to Cure Proscuitto at Home
Creminelli meats are made using traditional family recipes and techniques. Do you ever experiment with new ingredients for a modern take on the classics?
All the time! I learned everything from my father and he learned from his family. In all, we probably know how to make about 800 different types of salumi. Tradition is a huge part of what I do. You see that in most of what I make, like the Tartufo that grinds whole black truffles with the heritage pork or Sopressata that's beautiful with wine and garlic.
But being in America, I feel like I'm making my own traditions. Here I can be a bit more creative and experiment with things, and people are willing to try them. A lot of the ideas are inspired by tradition. I know a great recipe for Grappa salami, but being in America, I didn't know any grappa producers like I did in Italy. But High West Distillery was close by, and they make a great bourbon-rye blend called "Son of Bourye," so I adapted the recipe and Whiskey Salami was born.
It also can happen on the farmer level. I once met pig farmer who raised beautiful Berkshire hogs. When he invited me over for dinner and cooked up a simple meal of pork chops seasoned with nothing but salt, I was inspired by the flavor. Berkshire meat is a bit than Duroc, and his pigs were fed apples from his orchard. I had just moved to America and thought what a great homage to my new home – American pigs raised on apples, juicy and sweet, a flavor that pairs great with ground cinnamon and ground ginger. As American as apple pie. So that's how American salami came to be.
We're really interested in curing meats at home. Do you have any tips for the first timer on how to do it safely and effectively?
I am seeing so much excitement from people to make their own salumi, it's wonderful. People can definitely try it at home. These are the tips I give:
1) If you are new, start with whole muscle cures. Prosciutto, lomo/lonza, coppa – they are a great way to understand fresh meat, how it interacts with salt and aging. Plus, it's pretty safe and you can get some great flavor.
2) I know nitrates are considered bad, but if you're going to cure meat, I don't mind telling people to be safe and use the curing salt, sometimes called "pink salt." It has a bit of nitrate in there as insurance against any bad bacteria that may be lingering in the atmosphere and on food contact surfaces of where you're aging. In the end, it's not very much added nitrates for some extra safety.
3) Don't be afraid of mold. I know meat and mold make people uncomfortable, but mold is beautiful in aging. White mold is perfection.
3) Salami is probably the hardest thing to do because it's not just carefully dried but actually fermented with the use of a starter culture. I know everyone wants to do it, but it takes a lot of practice and could be dangerous if you don't know what you are doing.
Lactic acid is what cheesemakers use to turn fresh milk into cheese. I use that to make fresh pork into salumi. It took me years to perfect, and I'm always learning and adapting as well. If fermenting meat is something you want to do, I would say to get comfortable with whole muscle aging. Then if you want to try, refer to guides such as those found in the book "Salumi" by Michael Ruhlman. Other than that, watch your humidity and air temperature.
To learn more about Creminelli Fine Meats and their products, visit creminelli.com.
Editors' Recommendations