Bacon gets a really bad rap these days. And for good reason. Have you heard how big brands like Hormel treat their pigs? Don't ever watch the video. This is the reason many meat lovers simply don't support these mass meat markets and their poor standards of living and health. Don't get us started on Perdue and Tyson for their deplorable chicken care.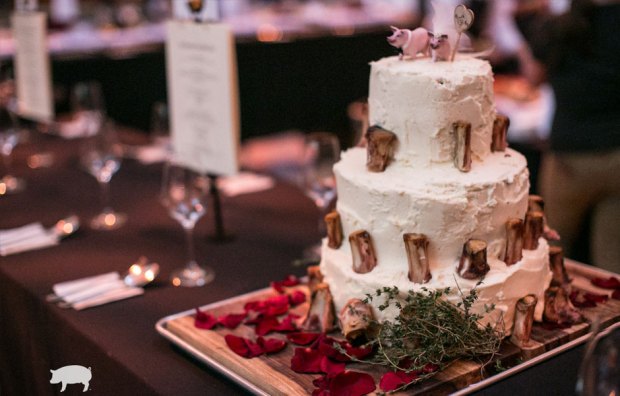 Cochon 555 is here to change all of that. Started in 2008, their mission is to educate the chefs and the consumers about the benefits of heritage breed pigs. They host a US tour that brings together notable chefs and a hungry public to learn more about the modern day 'good food' movement and it has been 'hog' wildly successful.
Our main meat matriarch, Angie Mar, executive chef at New York City's prestigious The Beatrice Inn, competed last week and WON!
She wrote us a little diary of her experience we are happy to share with our readers below.
Enjoy.
As told to us by Angie Mar:
One of my goals in life is to offend at least five people a day. I say this only half jokingly because its quite true. If I can make food that will shock, awe, offend and also be so delicious that it will change people's perception of whatever food I've cooked then I've done my job. When we were asked to compete in Cochon 555 we were both thrilled and flattered- What an honor to compete amongst some of the most accomplished chefs in New York. But then began the real task- What could we do that no one had done in the eight years of this competition before?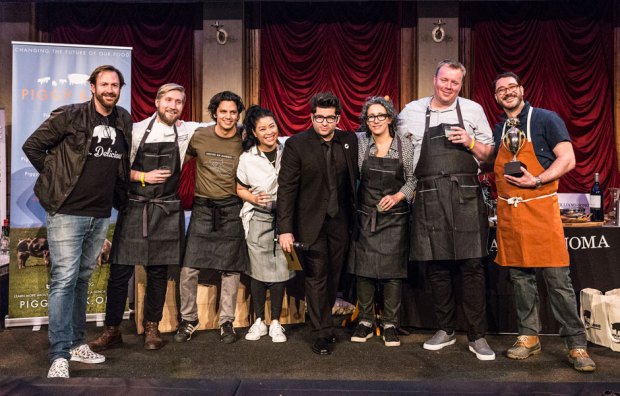 The answer was simple- Let them eat cake! A pork cake that is. I knew that I wanted to make a lavish wedding cake, and that it would be three tiered with frosting made from lard whipped into a sugared frenzy. I also knew that I'd fill it with candied guanciale in the inner layers of each tier. But what cake batter to use? Adoni Aduriz of the Michelin starred Spanish restaurant Mugaritz, is currently making macrons out of pigs blood and that inspired me to beg the question- What other desserts could we do? I researched it tirelessly and realized that there were several desserts with both pigs blood and chocolate in them that originated in Italy.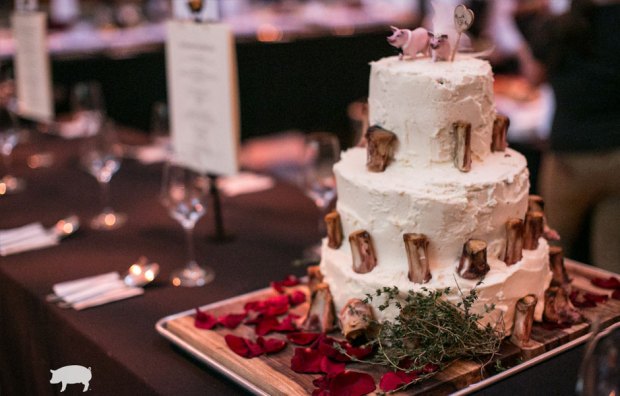 Blood and eggs are chemically similar in that they both contain aluminum. We tested recipe after recipe for a cake and found that by replacing roughly 70% of the egg whites with its equal weight in blood, we were able to achieve the most lovely textured and beautifully colored red velvet cake. It was the color of a rich oxblood and moist like the most decadent dessert you can imagine. Just to top it off we decorated the tiers with pork marrow-bourbon creme brulee, baked right into the bone, and then poured a pork neck caramel right over the top in front of the judges for added effect. Shock, awe, deliciousness, and the use of four different porc ingredients- We managed to accomplish all of that with this cake, and luckily- it was a hit! "
Editors' Recommendations