Everyone knows bacon is delicious. As are pork chops. As are ribs. As are just about every other cut of pork we've ever tried. But do you know what part of the pig is delicious and you may not have tried yet? Pig tails.
A staple in Southern cuisine, pig tails have been cooked now for centuries in a variety of ways. Whether they're smoked or brined, served with black-eyed peas or collards, they're a cut of meat that, while you may not have ever contemplated eating before, are worthy of your attention.
This recipe — which takes pig tails and kicks them up a notch thanks to a piquant and citrusy chili lime marinade — comes to us courtesy of chef Marcus Jacobs of Marjie's Grill in New Orleans.
Charred Pig Tails with Chili Lime Marinade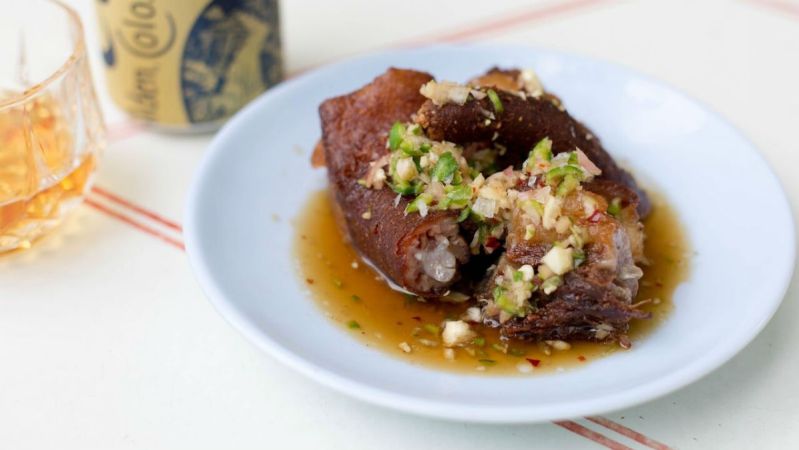 Ingredients:
8 pig tails
Seasoned boil*
Chili lime marinade**
Sea salt
Fresh herbs:

Mint
Cilantro
Thai basil
Scallions
Method:
Combine ingredients of seasoned boil* and bring to a rolling boil over a high flame. Turn down and simmer for about 30 minutes.
Strain seasoned boil into a clean pot large enough to accommodate the tails and bring to a boil.
Add tails and reduce to a light simmer. Simmer for about 2 hours or until tails are totally tender, but not falling apart. (It's important not to boil the tails too much or the skin will split.)
Once tails are braised, remove from the boil and allow to cool to room temperature. (Once cool, the tails can be kept in an airtight container in the fridge for up to 6 days.)
Light half a chimney of charcoal.
Once coals are completely lit, transfer to one side of your grill so that you're set up for two-zone grilling.
Make sure your grill grates are clean and well-seasoned and start grilling the tails in batches over the charcoal. If they flare up too much from the fat dripping off of the tails, move them to the cooler zone. This is definitely a hands-on grilling project. You must flip the tails around every couple of minutes until you have them nicely charred, but not burnt the whole way around.
Once your first batch is done, move them to the cooler side of the grill and cook the rest of the tails.
Once all of your tails are cooked, roughly cut them up into 1-inch pieces and pile them onto a warm serving plate.
Smother with the chili lime marinade** and fistfuls of chopped herbs.
Dig in with your hands, get messy, and pair with a bone-dry Riesling or ice-cold cheap American beer.

Seasoned Boil*
Ingredients:
10 dried chilis
5 heads of garlic, split
3 onions, peeled and cut in half
3 lemons, cut in half
3 oranges, cut in half
3 gallons water
2 cups crawfish boiling spice
2/3 cups soy
1/2 cup fish sauce
Method:
Combine all ingredients in a large mixing bowl and whisk together.
Season to taste.
Chili Lime Marinade**
Ingredients:
12 stalks of lemongrass, cleaned and sliced thin
6 cloves of garlic, sliced thin
2 Thai chilis, sliced thin
1 cup fish sauce
3/4 cup soy sauce
3/4 cup lime juice
3/4 cup cane syrup
3/4 cup toasted chili powder
Method:
Combine all ingredients in a large mixing bowl and whisk together.
Season to taste.
Editors' Recommendations