There was a battle in the City of Angels — an epic showdown in the shadow of the historic Pico House for the title of the best burger in Los Angeles. This is a tough crown to win. Despite being full of skeletal celebrities and detoxes, Los Angeles is serious about burgers. And the winner is … revealed at the bottom of this post! See if you can predict the outcome before then.
The Lowdown
Time Out named the 50 best burgers and readers narrowed it down to a mere 11, which all competed in the September 24 event. Each restaurant had a booth sounded by green space filled with live music and games to provide some form of physical activity to break up the burger eating.
The bars were fully stocked with cold bottles of Guinness, including a 200th Anniversary Export Stout and a Blonde American Lager, which was a smooth compliment to the savory and spice the battle offered. Designated drivers were not forgotten; cold bottles of Topo Chico, the hippest water on the planet, were available.
Pollo Campero offered up refreshing Street Corn Salad, and Harlowe's French Dip dished out their Salt Brine Kennebec Fries, both the perfect palate cleanser between bonkers burgers. Somehow, people had room left for dessert because the line for Blast Ice Cream was insane, though well worth it.
Cholula Hot Sauce was on hand with their flavor station to liven up the sides and burgers (hell, even the ice cream if you're that bold). Sure, this is an event of culinary perfection, but Cholula is a magical sauce that enhances and brightens flavors.
The Competitors
These are burgers with a heavy metal attitude. Grill 'Em All started out as a food truck, traveling around serving bodaciously bold burgers, and they brought the big guns to Battle of the Burgers: the Napalm Death Burger. This thick, juicy patty is served with pepper jack cheese, pickled jalapeños, cream cheese, jalapeño poppers, and habanero aioli. One bite out of this bad boy and you'll be shouting their slogan "Death to false burgers!" with satiated devil fingers.
This serene little bistro sits on the edge of Echo Park lake, where you can indulge in simple but high-end dishes as you watch the boaters and ducks paddle on the water. Beacon offered up to discerning burger battle guests the Wagyu Burger made of 100 percent American wagyu beef, caramelized onions, house garlic aioli, and gooey brie on a toasted brioche bun. It tasted like nirvana.
The Koreatown spot may be better known for their craft cocktails and perfectly moody atmosphere, but they showed up to the Battle with the proof their burger is destined to become legendary. The Lock & Key Big Burger is an Angus beef patty on a buttered brioche bun with pickles, heirloom tomatoes, arugula, bacon, onion, American cheese, and an egg sunny side up. It may be messy, but that egg is the … key … to this scrumptious burger.
Haché is the French word for ground steak, and the French word for their burger is magnifique. Their 100 percent Angus steak is hormone- and antibiotic-free, so you'll be able to taste the difference. They brought karma to the battle with their Karma Burger topped with Karma sauce (their riff on Thousand Island), American cheese, lettuce, tomato, and onion.
The Counter was a rather unique entry in the competition given they're the guys with the fully customizable burgers. They've got a burger menu, sure, but the fun is getting to put together whatever combination of their 85-plus fresh, delicious ingredients your heart desires. With over a million combinations, you literally never need to eat the same burger twice, but they brought just one: Bison is Gouda. An organic bison patty comes with smoked gouda, bacon onion marmalade,a sunny side up egg, spinach, scallions, and house-made Thousand Island dressing on a brioche bun. Count us in…
This is a restaurant who figured out what Americans really love and gave it to us: bacon, burgers, and beer. They use a patty made of 50 percent Holstein beef and 50 percent ground bacon for a flavor combination that is 100 percent perfection. For the battle, they made their Original 50/50 Burger with that special, flavorful, tender patty blend topped with pepper jack cheese, avocado mash, and chipotle adobo mayo on a brioche bun. At Slater's restaurants, you can build your own, but we're not sure it gets better than the Original. [Just a bit of editorializing, but this one got my vote].
We've raved about The Oinkster before — the Eagle Rock, fast-casual-yet-fine-dining restaurant famed for their pastrami. They showed up with the Royale burger, a carnivorous masterpiece made up of a half-pound of Nebraska Angus topped with bacon, chili, pastrami, dill pickles, onions, tomato, lettuce, and Thousand Island dressing. If that's not enough, top it off with your choice of American, sharp cheddar, or Gruyere.
This Pasadena mainstay has one of the best drinks menus in town, with interesting cocktails, great craft beers, fantastic happy hours, and Wine Wednesdays. Keeping it simple, and therefore trickier to pull off, they brought the Single Burger: prime beef chuck, Tillamook cheddar, and dill pickles stuffed between an egg brioche bun. It's a classic cheeseburger all grown up.
Pono is the Hawaiian word for "do things the right way," and whatever they are doing in the kitchen is absolutely right. These are burgers made with fresh, organic beef courtesy of pasture-raised, grass-fed cows and local, organic ingredients from the farmer's market. Their entry, the Kuawa Crunch Burger, perfectly showcases their unique spin on Hawaiian flavors; their organic beef is topped with Hook's one-year cheddar, purple potato chips, lettuce, coleslaw, and a spicy guava rum sauce that'll having you saying "mahalo" over and over between bites.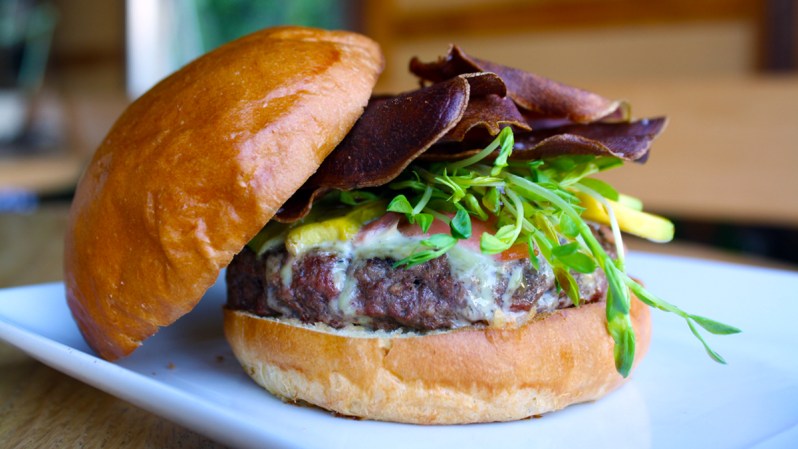 Belcampo is refreshing because it's a farm, butcher shop, and restaurant, so you know exactly where your food is coming from. They pride themselves on their transparency and ridiculously high standards of ethical practices. They raise the animals on their farm, practice whole animal butchery to ensure nothing is wasted, and offer a vast amount of information on their practices, meat cuts, and recipes. Their Belcampo Burger comes with cheddar, caramelized onions, butter lettuce, and house sauce, all of which enhance the juicy, tender meat. The only guilt you feel when eating the burger is just for your waistline.
These guys are old school. They've been dishing up burgers in LA since before James Dean was brooding on the screen. Like all good Hollywood citizens, they may have gotten a bit of a facelift, but the goods are still the same. Cassell's Patty Melt went toe to toe with the young burger whippersnappers, and this classic held its own. Served on toasted rye, the house-ground, Colorado Angus whole chuck is topped with Swiss or cheddar and grilled onions. If it ain't broke, don't fix it.
The Winner
After getting to sample each burger, guests were given the damn-near impossible task of voting for their favorite. And the winner was…
Beacon Echo Park! Did you call it?
Featured image by Jakob N. Layman/Time Out Los Angeles.
Editors' Recommendations