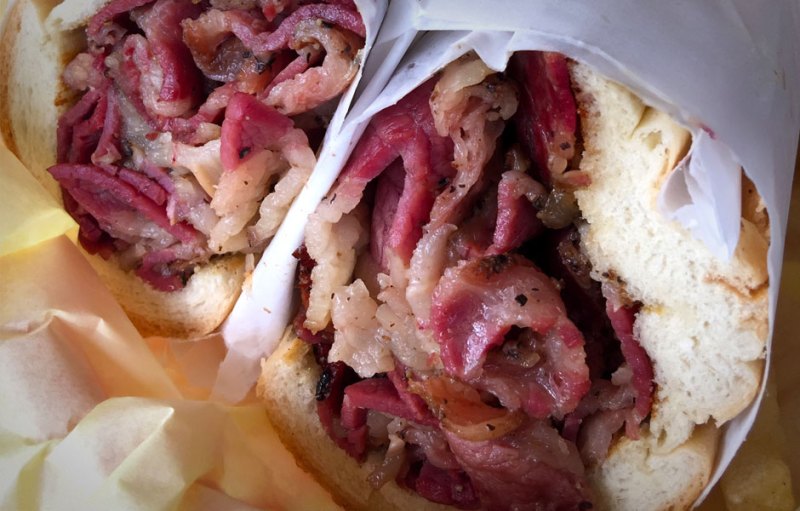 The pastrami we know and love today is thanks to a wave of Jewish European immigration in the 19th century, but the concept of smoking meat for preservation is ancient. The Romanian recipe used goose breast for pastrami until it hit New York where beef was cheaper. Voila, the pastrami sandwich made of smoked beef brisket is born.
Los Angeles offers two types of pastrami sandwich: the thicker-sliced pastrami found in long-lived, traditional delis and the thinner-sliced sandwich roll creation of diner/grill-type places. If you find yourself in LA craving a hearty, meaty pastrami sandwich, you'll find one at any of the below:
Delis: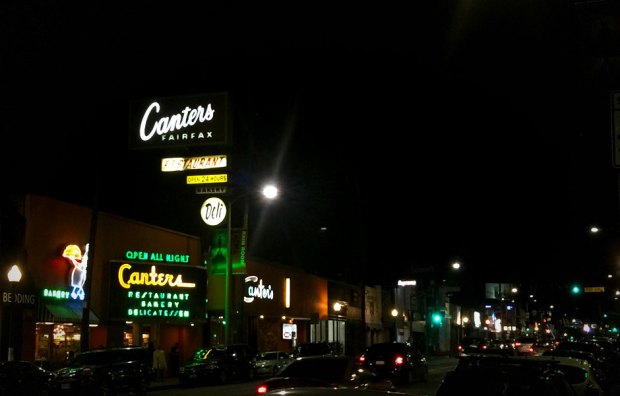 419 N. Fairfax Ave. LA 90036
Wrestling with a 3 a.m. pastrami craving? We've all been there. Head to Canter's Deli, ready and willing to fill you up 24 hours a day. Family owned since it opened in 1931, Canter's isn't lacking on taste or personality. It's famously the hangout of Guns n' Roses, and is still beloved by celebrities, families, starving artists, and set dressers alike ("Mad Men" fans will recognize it from season 7). As if this isn't enough cachet, Canter's also has the Kibitz Room, an adjoining cocktail lounge added in the '60s. The list of bands and artists who've hung out in and performed at the Kibitz Room is impressive and long, but we're talking pastrami here. Sliced with medium thickness (not quite at the Katz level in NYC), it's incredibly tender and often makes the best-of lists. It takes almost no effort to eat this sandwich. The rye bread is thinly sliced, barely able to contain the mounds of smoked meat, edged with a thick layer of the blackened rub, giving a nice hit of flavor. Slather on some mustard (they have every conceivable type) and you're in for a treat. Incredibly fast and friendly service, perfect vintage decor, vibrant history, and amazing food (both pastrami and otherwise), Canter's is a must visit place.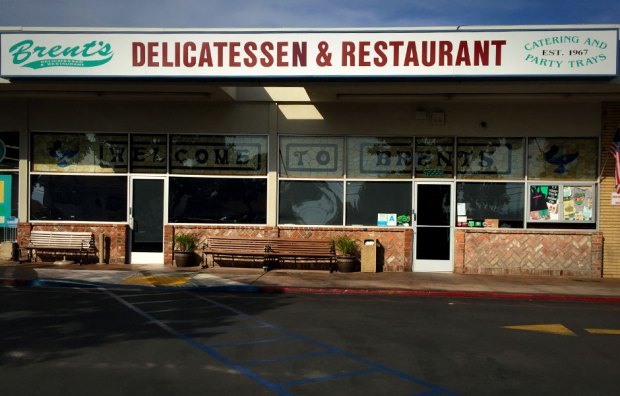 19565 Parthenia St, Northridge, CA 91324 (two location options)
You better really want pastrami as Brent's is a bit of a hike, but never will a hike be so well rewarded. Since the late 1960s, Brent's has been making almost everything on their massive menu from scratch each day and their deli counter tempts you with most of it when you first walk in. Holding court in a strip mall, Brent's boasts an impressive stained glass window sign and fabulously dated decor. There's something very welcoming about the dark wood, carpeting, mirrored walls and rotating dessert cases. Their pastrami is sliced on the thin side for a deli, piled high on perfectly crusty rye bread. It's got a great hit of salt with each bite, but doesn't leave you gulping down water. The fat keeps it tender and juicy, but is largely trimmed away, making each bite the perfect texture. Dress it up in either of the housemade mustards, tangy or sweet, and you've got yourself a helluva sandwich. If you've got room, (even if you don't, be a champion) finish it off with some blintzes.
8017 Sunset Blvd, Los Angeles, CA 90046
Greenblatt's is unusual for a number of reasons: it opened this location in 1926 when Sunset Boulevard was still a dirt road; it has fed the likes of Marilyn Monroe, Billie Holiday, F. Scott Fitzgerald (the august list goes on); and in addition to being a deli, it's also a wine store. Their slogan is "The Wine Merchant that Fronts As A Deli," so if you've had your fill of pastrami at this point, you can still peruse their impressive inventory. It's a narrow entrance of tables, wine shop on one side, deli counter at the other, more tables on the second floor, giving you the sense you're in a cramped New York deli. As for the pastrami, it's piled onto freshly baked rye bread with particularly crispy crusts. The meat is delicately flavored, holding up against the brown mustard and enhanced by taking a bite of the thick-cut pickle. According to Colman Andrews, a guy who definitely knows his food, Greenblatt's pastrami is "Better than New York." Take that, east coast.
Restaurants:
2005 Colorado Blvd. LA, 90041
"Slow fast food" is the Oinkster way. This place defies labels: it's like a diner meets a restaurant meets a fast food joint, but it's the best of all of those. It takes classic American food, uses quality ingredients, house-makes whatever possible, and serves it up faster than a restaurant, slower than a fast food joint, and offers you the atmosphere of a diner. Oinkster pastrami is moist, tender, and very peppery. The House Pastrami Sandwich is their own two-week cured, house-rub pastrami piled high on a white bread roll. They have homemade sauces you can add, but it's highly recommended you try their Oinkster Mustard. It's rich and smooth, offering a sweet counter to the pastrami's intense pepper flavor. It's probably the thinnest sliced pastrami on this list and it's bordered by more fat, but it's a damn good sandwich.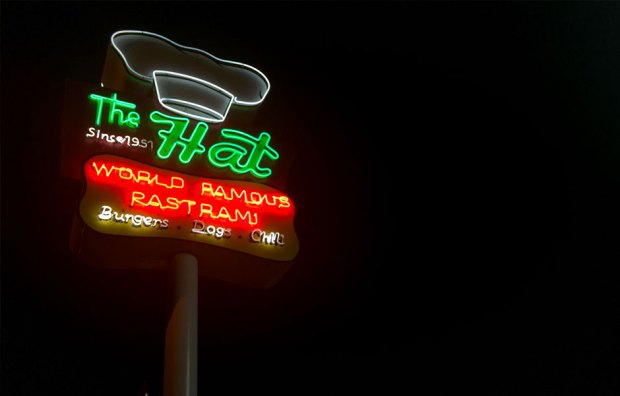 491 N. Lake Ave. Pasadena, CA 91101 (multiple locations)
This charming little diner looks straight out of the 1970s, with wood paneled walls, a massive painted menu behind the open grill, and potted greenery. The Hat is an institution in Los Angeles, the original opening up in 1951, serving up what they call the Pastrami Dip, served au jus or with gravy. Their sandwich piled generously, dressed with pickles and yellow mustard on a French bread roll, edges towards roast beef in terms of texture, which makes it somewhat unusual for pastrami, but it works. The Hat also offers the Pastrami Burger, just to keep the options coming.
Editors' Recommendations