The NFL season is still a ways off and the NBA postseason is winding down. But as the summer approaches, Major League Soccer comes alive. America's top footy league is now well underway and fans are supporting their clubs, from Los Angeles to D.C.
MLS is still relatively new to the States, but you'd never know it by the packed stadiums and wildly devoted fan bases. Soccer supporters have a long history of being vocal, assembling en masse, and donning the jerseys and raising the scarves of their favorite clubs.
Soccer fans also appreciate a good drink, whether it's a pint of lager or a three-ingredient cocktail. Sure, you can sip in the stadium but chances are good you'll be charged a lot and miss out on a good selection. We suggest taking an ever-so-slight detour for something truly delicious.
With the season really picking up over the next few months, we assembled a list of some of the best bars fans can visit en route to a game (or on the way home to celebrate a victory). These are soccer bars set right next to MLS stadiums, where fans can enjoy a good beverage and safely stroll to the pitch to catch the game.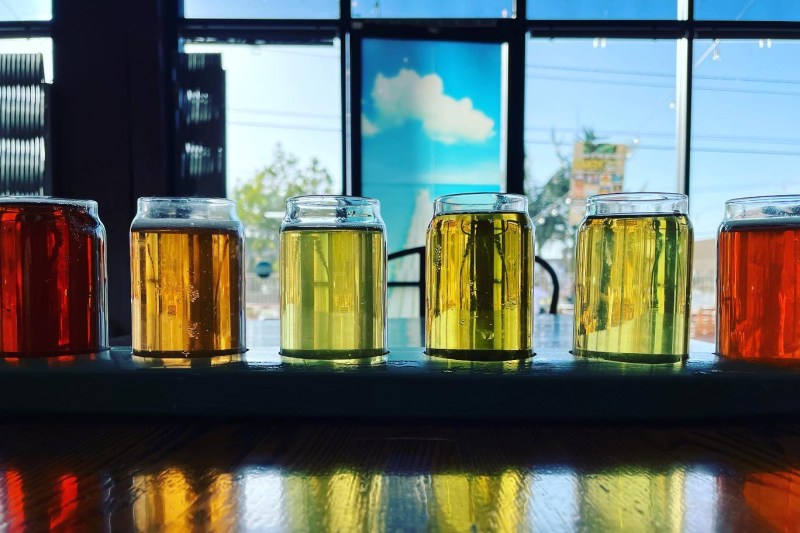 LA Galaxy
Everything is a drive away in Los Angeles, it seems. At least when you get to the Galaxy's home field in Carson on the outskirts of the city, you can ditch the car and wander to a few worthwhile watering holes. SoCal Vibes is a short walk away and lives up to its name, offering beach-y decor and house-made beer, cider, and hard seltzer. For Mexican-inspired drinks like a generous house margarita and corresponding grub, check out El Pescador. If you prefer something right on-site, check out the mezcal speakeasy within Dignity Health Sports Park.
New York City FC
NYCFC is getting a new soccer-centric stadium but not until 2027. In the meantime, the team will continue to play in The Bronx at Yankee Stadium. Bronx Brewery is a safe bet, with an exceptional patio where you can enjoy a City Island Sour IPA or Well Earned Pilsner. Look out for great West African food in the vicinity and hike over to G Bar (less than a mile away) for some Italian fare and a tasty cocktail.
Inter Miami CF
Inter Miami fans have plenty to chat about over drinks, from a celebrity owner in David Beckham to ongoing rumors that the GOAT Leo Messi will ultimately play for the club. Near DRV PNK Stadium there are a few solid bar options, such as The Grand Bar & Grill for a cocktail or a burger and beer at the delightfully retro Moonlite Diner. For some Peruvian flair, check out Ceviche Barrio, known to even have some South American craft beers available.
Seattle Sounders FC
Per the Pacific Northwest, Seattle loves its food and drink. That's no different for the Sounders faithful en route to and from Lumen Field. The stadium is a bit of a stretch from downtown but there are still plenty of places within walking distance worth exploring. For starters, try Damn the Weather for a great cocktail, like the High Side Highball or the Rain Delay, made with rye, sherry, and banana liqueur. Central Saloon is a classic bar usually full of happy game-goers and simple but satisfying drinks and under a half mile from the stadium. If you want extremely close, take a few steps over to Gantry Public House for banter with fellow fans and a taste of the local beer scene.
Atlanta United FC
The 2018 MLS champs Atlanta United play at Mercedes Benz Stadium, sharing the venue with the Atlanta Falcons. While they section off the upper quadrant, the place still holds a whopping 42,000 shouting fans. Being in the heart of town, there are plenty of options for thirsty United supporters. Wild Leap has all the drinks, from local suds to spirits and wine. Also of note is Der Biergarten for that Oktoberfest feel (just a mile away) and No Mas! for a satisfying margarita, set just four blocks away.
Portland Timbers
Timbers fans have lots of options thanks to a centrally located stadium set in a city known for great craft beer and excellent wine. A classic stop is the Marathon Taverna, set a few blocks from Providence Park and a real hangout for Timbers Army members. With more than 20 televisions in the place, you can even catch the game here if you don't have a ticket. Elsewhere, Pope House in the nearby Alphabet District makes impressive whiskey cocktails while The Civic Taproom is about as convenient as it gets, a stone's throw from the match with 22 taps showcasing local breweries and wineries.
Los Angeles FC
It's no surprise that L.A. hosts two MLS franchises, both popular and successful. LAFC has made waves recently by signing big-name international talent, like Carlos Vela and Griorgio Chiellini. The club has a slick field at the relatively new BMO Stadium, set right next to the University of Southern California. Fans are wise to check out The Lab Gastropub for some quality SoCal beer or Greenleaf Kitchen & Cocktails for a great happy hour filled with top-notch cocktails and a good glass-pour wine list.
D.C. United
One of the original guard clubs in the MLS with a storied past, D.C. United has a strong following. On match day, fans like to go to Blue Jacket Brewing and Due South on their way to or from Audi Field. The former is about a mile from the pitch and home to a broad spectrum of intriguing beers while the latter is even closer in proximity and features exceptional Southern food alongside respectable beer and cocktail lists and an outstanding whiskey menu.
Where to watch soccer? The above bars answer that question, catering beautifully to the mobile MLS fan, on their way to the match. Not a fan of the game? We have some tips on how to enjoy soccer, even if you're not a devoted follower. Just want a great watering hole without the crowds? Read our best bars in America story.
Editors' Recommendations