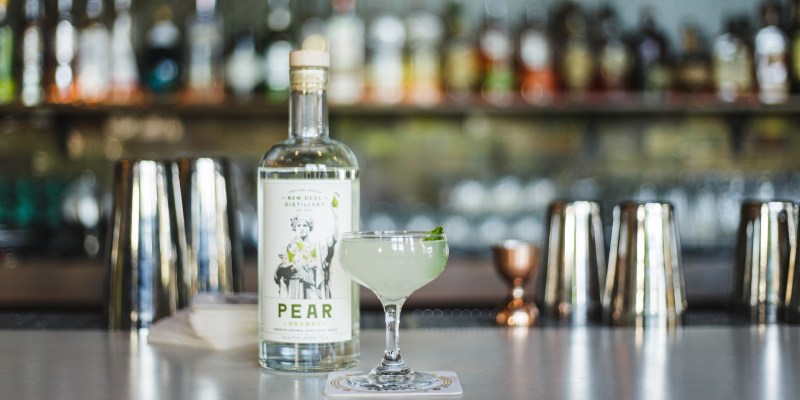 The Manual Spirit Awards recognize the best damn booze in America. Across nine categories — Bourbon, Rye, Single Malt Whiskey, Unaged Rum, Aged Rum, Vodka, Flavored Vodka, Gin, and Brandy — we blind-tasted multiple products from around the country to determine our champions. Each of the winning bottles was judged on appearance, aroma, palate, finish, and how well the product represented the category as a whole. Our focus on smaller craft distillers in the U.S. allowed us to highlight spirits that, we hoped, our readers have not tried yet.
Best Brandy
New Deal Pear Brandy
Brandy is a spirit made from the fermented juice, mash, or wine of a fruit that is at least 80 proof upon bottling. For a brandy to be considered a fruit brandy, it must be made from fermented juice or mash only, allowing for an addition of 20 percent by weight of fruit pomace or wine. Although many different fruits can be used, apple, grape, and pear are among the most popular brandies produced in the country.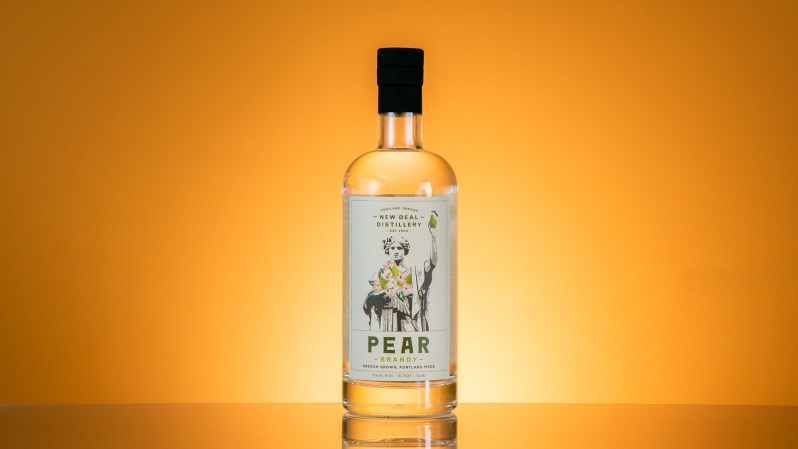 New Deal Pear Brandy, produced by New Deal Distillery in Portland, Oregon, is made with 100-percent estate-grown Hood River Bartlett pears from the Pereday Orchard in the Columbia River Gorge of the Pacific Northwest. From the first sniff to the last sip, this brandy is like walking through a pear orchard and taking a bite of the juiciest, freshest pear you could ever imagine. Not only do you get the sweetness of the fresh pear, but you also get the earthy beauty of the skin and the orchard around you.
The vibrant nature of this spirit helped it win out over the others in the category. It is 40 percent alcohol by volume and available in 10 states, the Washington D.C. area, Singapore, Shanghai, and online.
Tasting Notes
Appearance: New Deal Pear Brandy has the slightest tint of ripe Bartlett pear flesh.
Nose: Smelling this brandy is akin to standing in a pear orchard. Fresh, ripe pear notes — the ripest pears you can imagine — mingle with an earthy, almost mineral-y core.
Palate: While overwhelmingly pear-flavored, the brandy exhibits other notes as well. Hints of oak and dried hay present themselves, but to a lesser extent. On the end, there are vegetal notes which make it seem like you're actually chewing on a pear.
Finish: A medium finish, the fresh, sweet fruit flavors give way to some of the earthy, hay-like notes from the palate.
About the Distillery
Founded in 2004, New Deal Distillery's motto is: "Made right. Made right here." Founder Tom Burkleaux and then-co-founder Matthew VanWinkle set out with a simple goal: selling one bottle to a complete stranger in a liquor store. New Deal Distillery was the second licensed distillery in Portland (after Clear Creek Distillery) and produces vodkas, flavored vodkas, gins, liqueurs, and a whiskey.
How to Enjoy it In a Cocktail
Pear Brandy Sidecar
While many brandy drinks feature grape-based brandies, we wanted to find a cocktail that could utilize a base recipe but be altered to really highlight the chosen spirit. When we settled on a pear brandy as our Spirit Awards winner, we knew that the citrus of a Sidecar would be perfect. The addition of mint helps to highlight the earthiness of New Deal Pear Brandy.
Glass: Coupe glass
Tools: Shaker, strainer
2 oz New Deal Pear Brandy
.75 oz triple sec
.75 oz lemon juice
Mint leaf
Method: Pour all ingredients into a shaker with ice. Shake well. Strain into a chilled coupe glass. Garnish with a mint leaf.
Best Brandy Runners-Up
Best Flavored Vodka Runners-Up
| | |
| --- | --- |
| Clear Creek Apple Brandy | Charbay Brandy No. 89 |
| Clear Creek Distillery | Charbay Distillery |
| Portland, Oregon | Ukiah, California |
| | |
| Founded in Portland, Oregon, Clear Creek Distillery produces a wide range of brandies. The base Apple Brandy is aged for eight years in Limousin oak, giving it plenty of apple and oak flavors. | One of the oldest craft distilleries in the country, California's Charbay boasts a brandy distilled in the winter of 1989 and aged for 24 years in Limousin oak. Layer upon layer open up over time. |
Editors' Recommendations