I love Ben & Jerry's ice cream a lot, but unfortunately most of my favorite flavors are no longer around. Doonesberry, named after the comic strip Doonesbury, combined raspberry and blueberry sorbets. Dublin Mudslide was a concoction of Irish Cream liqueur ice cream with chocolate chocolate chip cookies and a coffee fudge swirl. Oatmeal Cookie Chunk combined sweet cream cinnamon ice cream with chunks of oatmeal and fudge. The Vermont-based company recently came out with a new limited edition flavor that I just can't get enough of: Ben & Jerry's One Love.

"One love, one heart…" Bob Marley sang those lyrics in hopes of a better world. The Marley family contributed to Ben & Jerry's interpretation of Bob Marley's famed lyrics and vision, concocting a mixture of banana ice cream, caramel and cookie swirls, and chocolatey peace signs. Best of all — a portion of the proceeds from each One Love pint sold will benefit Jamaica's One Love Youth Camp, a program run by The Bob Marley Foundation and Partners for Youth Empowerment.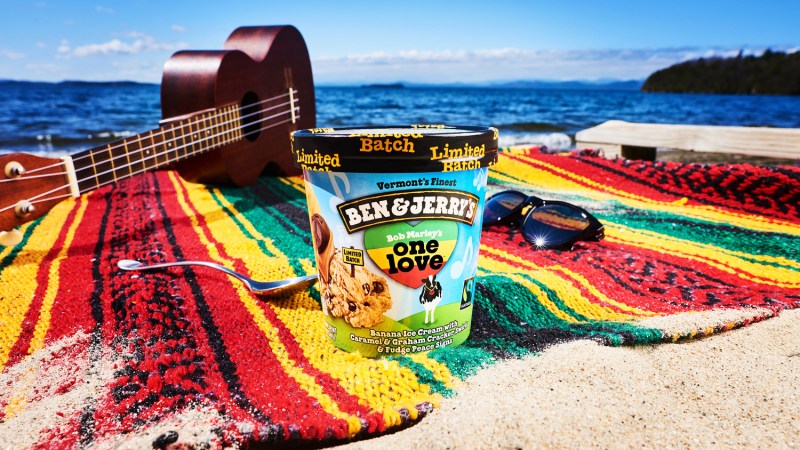 "The One Love Youth Camp positively affects youth in Jamaica, providing social and interpersonal tools they can use throughout life," said Ziggy Marley. "The youth are our future and we are thankful for our partnership with Partners for Youth Empowerment and Ben & Jerry's."
The whole purpose of One Love not only fits the late reggae legend's ethos, but it's also in tune with Ben & Jerry's, which is committed to "a greater calling than simply making a profit for selling its goods." The Vermont-based company also only uses non-GMO ingredients and fair trade items whenever possible.
In a time when so much of the world is falling apart, it's nice to see something positive in the world, especially if it's an amazing new Ben & Jerry's flavor that's committed to a good cause. Get it while you can! It looks like it will only be around through the fall.
For more information, visit Benjerry.com/onelove.
Editors' Recommendations