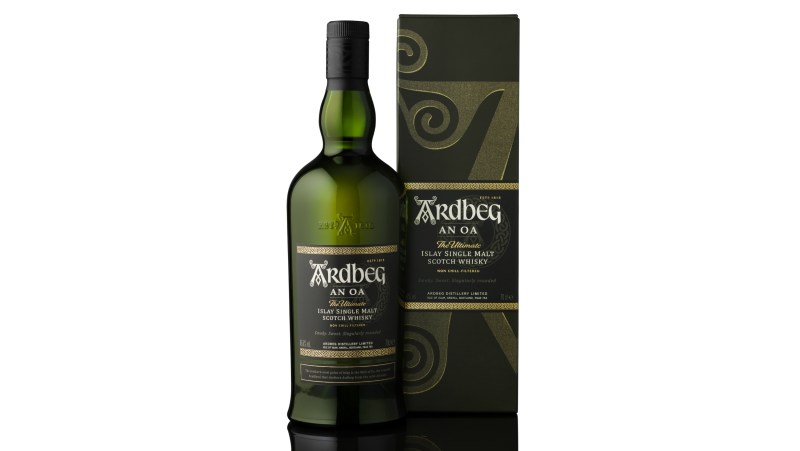 Peaty, smoky Scotch whisky fans, rejoice. Ardbeg — arguably the leader in big, smoky Scotch whiskies — has recently released its newest permanent expression: An Oa.
Before we get to the whisky, roll that name around your mouth for a few seconds. Let the Scottish accent you think you're good at take over. An Oa. How did you say it? Three syllables? An. Oh. Ah? Wrong.
Pronounced "an oh," Ardbeg An Oa is the first permanent expression released by the brand in almost a decade. If you're not celebrating yet, you should be. We are. Oh, we are.
An Oa follows on the heels of Corryvreckan, which was released in 2009 as a permanent expression. Before that, the brand released Uigeadail in 2003 and Ardbeg 10 Years Old in 2000.
An Oa is named after the cliffs (the Oa) that protect the southwest portion of Islay against the ocean. The whisky pays homage to the untamed portion of the island around those cliffs while also giving a nod to the safety provided by said cliffs.
The flavor of the whisky comes from, as you might expect, multiple factors. Perhaps most important to the process are the barrels. Not only are you getting the richness that comes Pedro Ximénes sherry casks, but you're also getting spice notes from virgin oak and intense wood notes from ex-bourbon barrels.
On the nose, you're going to find a subtle smoke that mixes with toffee and anise with an undercurrent of peaches and bananas. Ardbeg's director of distilling, Bill Lumsden, suggests adding water to bring out the Ardbeggian elements that Scotch lovers have come to know and embrace: lime, pine, fennel, and a resinous tar note. On the palate, you're met with sweetness and creaminess that delivers chocolate and toffee (again) followed by orange and smokiness. Spice character blending with smoke and tobacco round the mouth out. The finish is fairly long and carries licorice, hickory and more smoke.
If you've had Ardbeg before, you know what to expect. This is a big Scotch whisky that manages to be delicate and deep. It isn't a beginner's whisky, but that is part of the appeal. You don't want to give this to your friend that is just starting to get into Scotch (unless you're trying to jealously guard an entire category of whisky).
Ardbeg An Oa is non chill-filtered and bottled at ABV 46.6 percent. It retails for around $60.
Editors' Recommendations