To us, cask strength bourbons are great. They pack a punch (of both flavor and strength) and, because of their usual price points, make excellent gifts when you need to impress someone (or make up for something you did while drinking cask strength whiskey).
As with their previous cask strength limited releases, Angel's Envy finished this year's edition in port casks. Once the bourbon has aged on its own in new American Oak barrels, the Louisville-based distillery uses 60-gallon ruby port barrels that are made from French oak and imported from Portugal to finish the liquid for anywhere from three to six months (depending on the taste).
In total throughout 2017, 10,000 bottles of the cask strength release were produced — a jump from the 8,000 produced last year.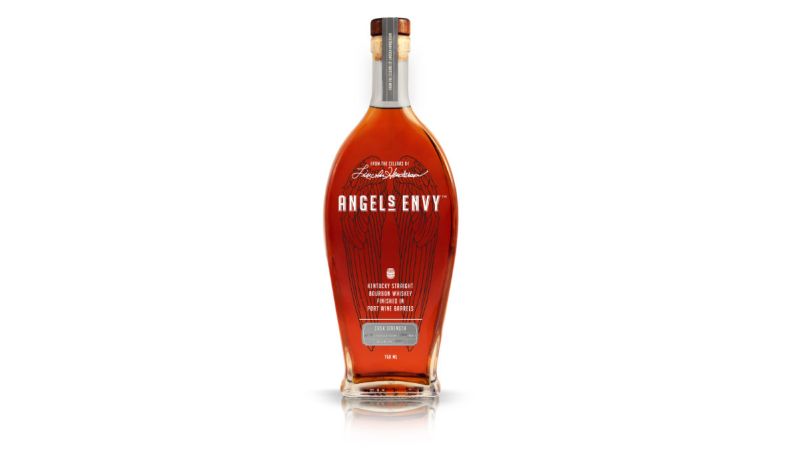 Appearance: Deep copper with a slight crimson hue.
Nose: Caramel corn and cinnamon spice are present up front, with hints of vanilla and raisin shortly thereafter. On the end there's a little bit of wine sweetness that evokes the barrels this bourbon was finished in.
Palate: Much like the nose, caramel is one of the first and foremost flavors here, though here it is bolstered by some cassis notes. There is a nice amount of vanilla, too, with fruit flavors that end up resembling fruit cake. Clove and baking spice act as a nice balance to the sweeter notes. Some oaky tannins come through, with dark chocolate overtones near the end.
Finish: Dark chocolate and oak again to finish this out. The finish is long, smooth, and pleasantly tingles the gums.
Final Thoughts: The port wine sweetness blends well with the sweetness that comes from the bourbon. If you like the cask strength bourbon or the port cask-finished bourbon from Angel's Envy, this is definitely one you need to try and get your hands on. The price may scare some people away — especially for a bourbon that is only around six or seven years old and sourced rather than made (though that will hopefully be changing soon now that Angel's Envy has its own facility) — but if you're looking to splurge a little, then this is one to splurge on.
Angel's Envy Cask Strength 2017 is 62.25 percent ABV and retails for around $200 (though most online outlets are selling it for $400).
Feature image courtesy of Angel's Envy/Facebook.
Editors' Recommendations