Infrared sauna blankets are portable and compact devices that are designed to provide the benefits of traditional saunas using infrared heat technology. Often referred to as "infrared sauna sleeping bags," these gadgets use infrared heating technology, which is a form of electromagnetic radiation that can penetrate the skin and warm the body directly without heating the surrounding air. Many infrared sauna blankets have adjustable temperature controls and safety features like automatic shut-off timers.
There are so many kinds of sauna blankets on the market today, so if you're trying to narrow down your choices, here are some of the best.

HigherDose Infrared Sauna Blanket
The Infrared Sauna Blanket from HigherDose is currently rated at 4.88 stars based on over 2,500 reviews, so if that doesn't convince you, I don't know what will. Made with water and high-temperature-resistant Polyurethane, this blanket offers far infrared rays, which are meant to encourage a detoxifying sweat, help increase your heart rate slightly (about the pace of a jog), and contribute to glowing skin. This year, HigherDose has improved on their blanket's design by replacing the velcro closure with a zipper.
Hydragun Heatpod Sauna Blanket
Hands down, one of the best infrared blankets on the market today is the Hydragun Heatpod Sauna blanket, which retails for about $550. Since this sauna blanket is made from premium SGS-certified vegan leather, it's sweat and odor resistant. With a timer that has a range of 5-60 minutes and a temperature range from 86-176 degrees Fahrenheit, you'll be able to tailor your sweat session to your needs.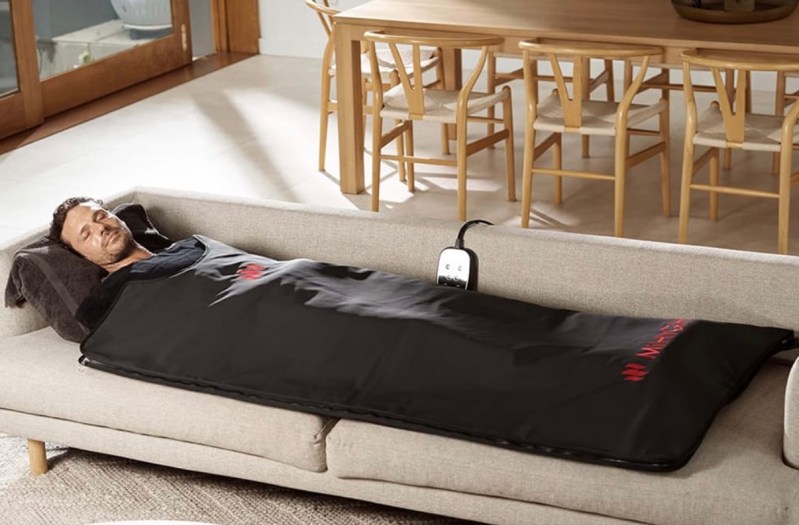 MiHIGH Infrared Sauna Blanket V2
The MiHIGH Infrared Sauna Blanket V2 is another great option. Retailing at $499, this infrared sauna blanket comes with a PU leather exterior, a nontoxic and waterproof inner layer, and a carrying bag for easy transportation. To clean, just lay it out flat and wipe the sweat away with a towel. Then, use a natural cleaning spray.
Rejuva Wrap Infrared Sauna Blanket
This sauna blanket has a range of 77-176 degrees Fahrenheit, and comes with a head towel, carrying bag, and a controller. It also comes with a 100% lifetime warranty and retails at $400.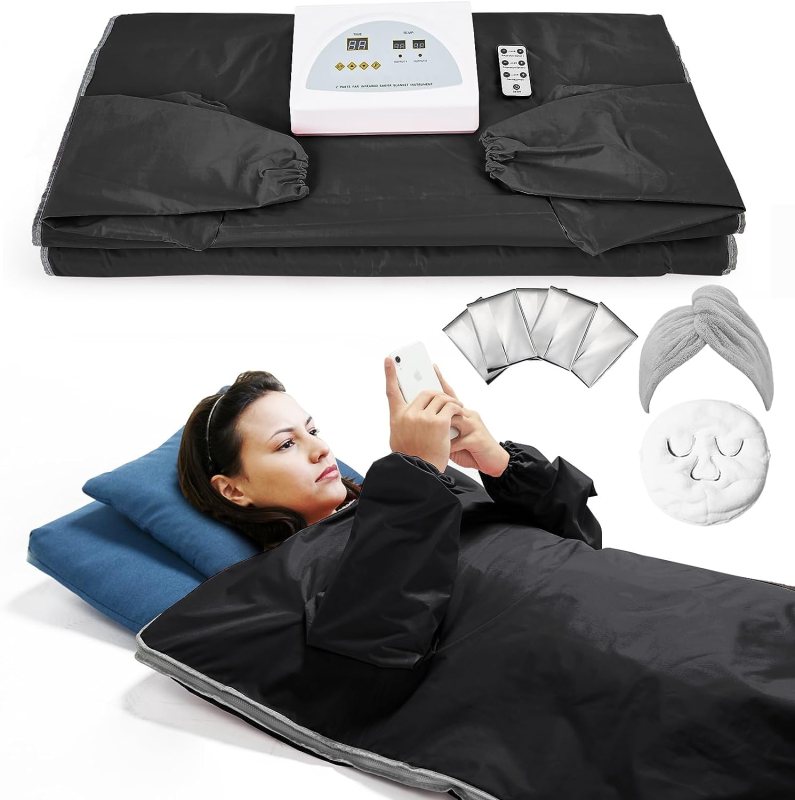 Surnuo Sauna Blanket
For a less expensive option, consider a Surnuo Sauna Blanket. For convenience, this infrared blanket has sleeves. While the sleeves don't have the infrared therapy technology, they do help retain heat. With a timer of 15 to 60 minutes and an adjustable temperature, this is a great budget-friendly option at around $160.
Ultimately, the best infrared sauna blanket for you will be one that enhances your well-being, promotes relaxation, and fits seamlessly into your lifestyle. If infrared sauna blankets aren't for you, perhaps try an at-home sauna instead. But before incorporating this wellness practice into your routine, consider consulting with your healthcare professional, especially if you have underlying conditions.
Editors' Recommendations