If the mere mention of the words "cocktail attire" leaves you sprinting for your man cave or terrified that you'll make a fool of yourself at your best friend's wedding, fear not. We're here to help you decode the enigma that is this somewhat misunderstood look to ensure you'll be the most dashing and debonair gentleman at any soiree.
Before we dive headfirst into the world of this mysterious style, let's start with the basics and answer the question, "What is cocktail attire?" It's an ideal blend between formal and casual, a combination of opulence and ease that's suitable for a range of evening occasions.
When you're strolling into a fine dining establishment or mingling at a classy work party — that's where cocktail attire shines. This look draws inspiration from the glamour of midcentury Hollywood, but it's really a style that has stood the test of time. Today's cocktail attire incorporates modern trends, creating a unique blend of eras — we're talking oversized plaid suits that nod to the 1950s and cufflinks from the Roaring '20s.
Elements of cocktail attire: The ultimate style guide
Now, let's talk shop — or should we say wardrobe. When it comes to cocktail attire, your options are as diverse as the drinks on the menu. Here's the breakdown.
Suits with a twist: Elevate your attire with personality
When it comes to cocktail attire, you're not just reaching for any suit in your closet; you're selecting an ensemble that tells your unique story. This is where suits go beyond the ordinary and venture into the realm of the extraordinary. Cocktail attire calls for suits that are more than just fabric and stitches — they're an expression of your individuality. Imagine a canvas waiting for the artist's brushstrokes — that's your suit. Explore patterns, textures, and colors that mirror your personality while adding a touch of sophistication to your overall look.
From houndstooth checks to subtle pinstripes, these patterns can give your suit a dash of visual interest. You can experiment with textured fabrics like tweed, linen, or wool blends that add some depth. While black and navy are timeless, consider shades of charcoal, deep green, or even rich burgundy to make a statement. Remember, the goal isn't to steal the spotlight but to stand out with an understated elegance that demands attention without shouting for it.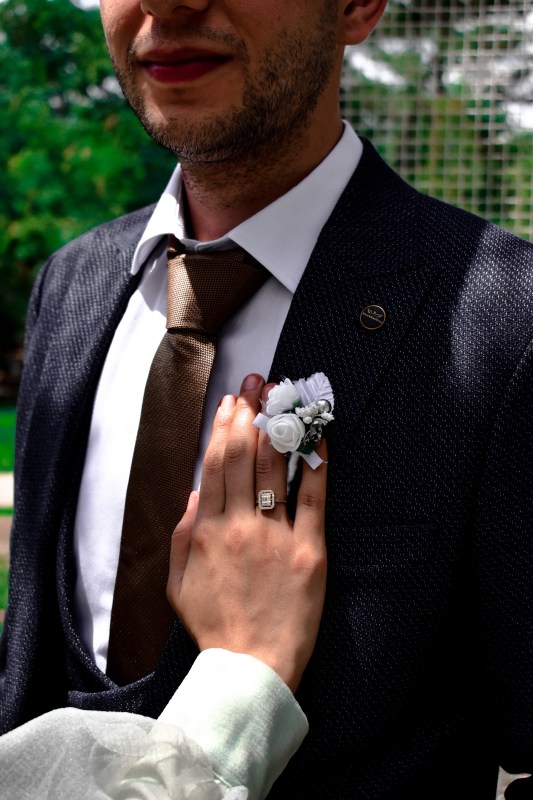 Collars that command attention: The art of dress shirt mastery
Your dress shirt is more than just a canvas for your tie; it's an opportunity to make a statement in its own right. Opt for collars that break away from the conventional, showcasing your commitment to style excellence.
Consider the cutaway collar polo shirt — it's the epitome of merging comfort with formality. This ingenious fusion creates a look that's crisp yet approachable, sophisticated yet relaxed. It's as if you're saying, "I take my style seriously, but I also know how to have a good time." And that's precisely what cocktail attire is all about — finding the perfect balance between classic elegance and contemporary charm.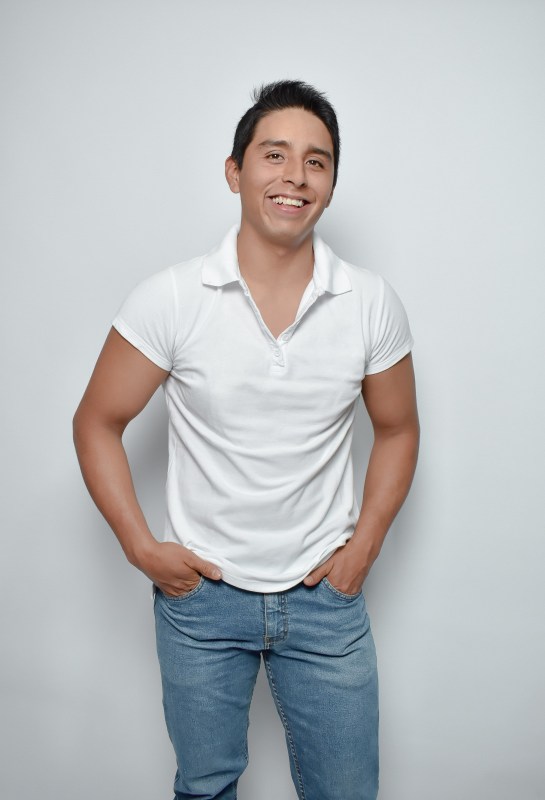 Polo shirts: Redefining smart-casual
Polo shirts have come a long way from the golf course; now, they're a key player in the world of cocktail attire, bridging the gap between casual comfort and refinement. But how do you elevate a polo shirt to cocktail-worthy status? It's all in the details.
Opt for polo shirts with a formal touch — think structured collars and high-quality materials. These aren't your everyday polos; they're designed to make a statement. Paired with well-fitted dress chinos or suit pants, a polo shirt becomes the centerpiece of your smart-casual look. It's a combination that's effortlessly stylish, proving that comfort and luxury can indeed coexist harmoniously.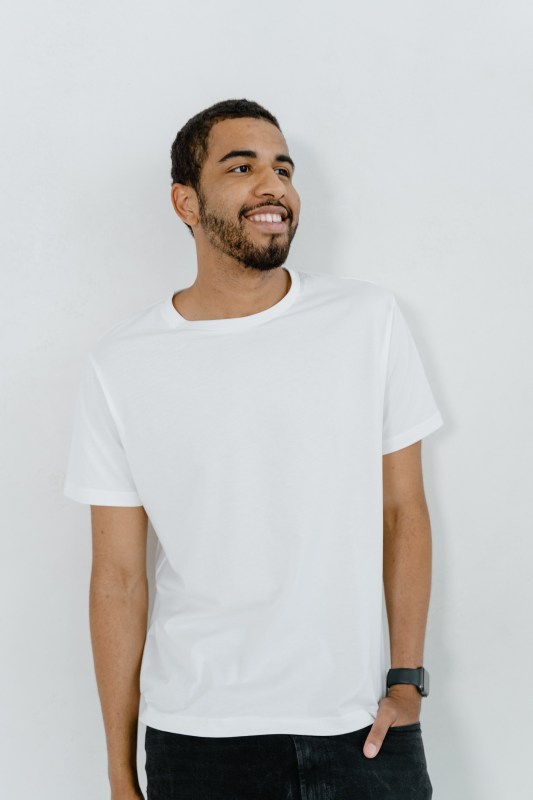 Timeless crew-neck tees: From casual staple to cocktail charm
Yes, you read that right — crew-neck tees are making their way into the realm of cocktail attire. But how do you transform a casual staple into something worthy of an upscale gathering? It's all about context and pairing.
Think of your crew-neck tee as the canvas upon which you build your ensemble. When matched with the right pieces — a tailored blazer, well-fitted pants, and polished accessories — it becomes a subtle nod to relaxed refinement. This unexpected pairing brings a touch of modernity to your cocktail attire, demonstrating that even the most timeless pieces can adapt and thrive in different sartorial contexts.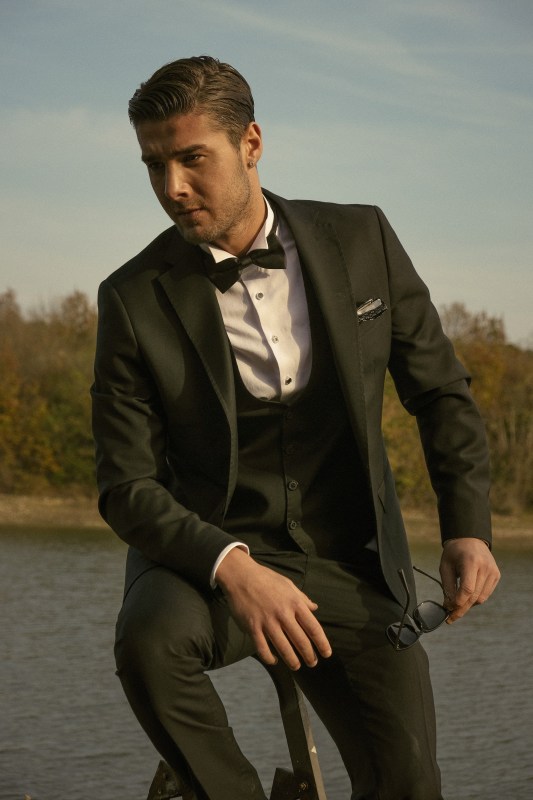 Neckties and bow ties: Start a conversation with style
Neckties and bow ties aren't mere accessories; they're conversation starters that allow you to express your personality while staying within the bounds of cocktail attire. The key here is to choose a tie or bow tie that complements your outfit's color scheme. Whether you opt for a classic silk tie or a quirky patterned bow tie, let it do the talking for you.
It's your chance to add a touch of flair without overwhelming your overall look. The tie you choose can be a subtle reflection of your style philosophy, making it clear that you're a man who pays attention to detail.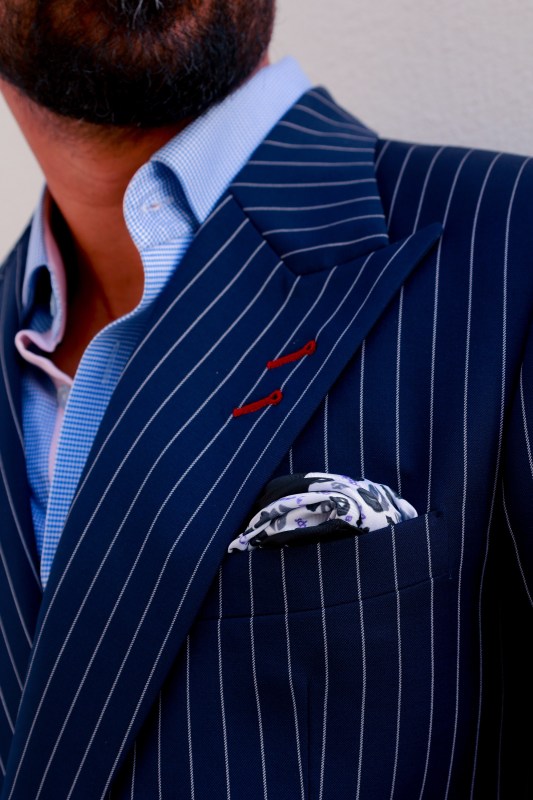 Pocket squares for a pop: Adding color and personality
Don't underestimate the power of pocket squares. These seemingly small pieces of fabric have the ability to inject a burst of color and personality into your cocktail attire ensemble. While they may seem like purely decorative elements, pocket squares serve a dual purpose. Not only do they add a visual flourish to your outfit, but they also show that you're a man who understands the nuances of style.
Play with different folds and arrangements to find the one that best complements your overall look. From classic white linen to vibrant patterns, pocket squares give you a chance to express yourself boldly within the world of refined fashion.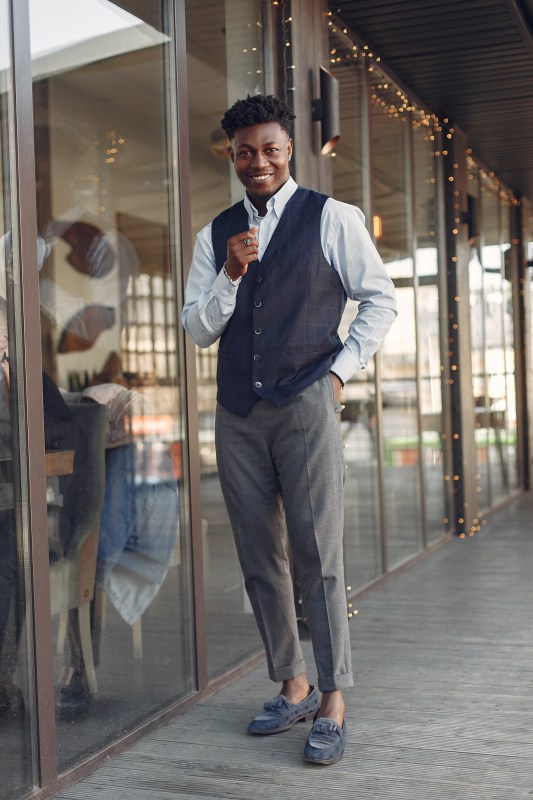 Shoe game strong: Dress shoes and loafers
Your footwear is the foundation of your cocktail attire, and it's where comfort meets sophistication — dress shoes and loafers are your trusted allies in the world of refined fashion. The key is to select a pair that aligns with the level of sophistication your outfit demands. For a formal occasion, such as a wedding, polished leather dress shoes complete the look with elegance.
On the other hand, if the event leans more toward the relaxed end of the spectrum like a birthday party, loafers can strike the perfect balance. Whatever your choice, ensure your shoes are maintained and impeccably polished — after all, attention to detail is what sets your cocktail attire apart.
Timekeepers and cufflinks: Subtle details of refinement
Watches and cufflinks are the embodiment of subtlety and refinement. These accessories whisper sophistication without overpowering your overall look. A carefully chosen watch can elevate your ensemble, showing that you value both style and functionality. Cufflinks, on the other hand, are a canvas for your personal taste.
From classic silver to intricate designs, they're an opportunity to express your uniqueness within the boundaries of cocktail attire. These details are the finishing touches that showcase your attention to high-end living. Remember, it's not about making a statement; it's about making the right statement.
Editors' Recommendations