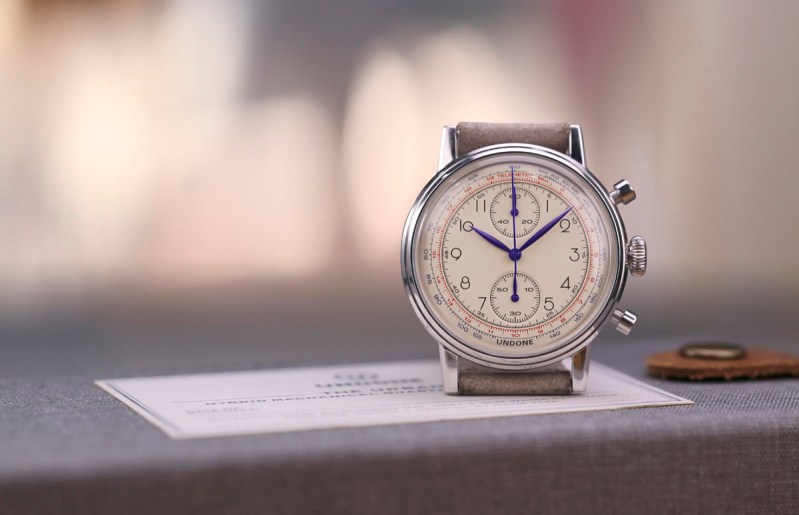 A year ago, a small upstart watch company named Undone had just broken into the timepiece industry, offering potential customers a uniquely personal experience.
Instead of offering an array of their own styles and collections, Undone gave people the opportunity to fully customize their purchased watch right down to the color of the minute and second hands. If it was a leather banded, matte black brushed face of a watch, so be it — the Undone Customizer put the power in the hands of its customers. This year, the brand decided to take its novel approach even further, launching a customizable retro chronograph watch via the popular crowdfunding site, Kickstarter.
Dubbed the Urban Vintage Collection, Undone's latest addition to its lineup is a figurative time machine to what it calls the "golden age of horology," otherwise known as the 1960s. Though its Kickstarter campaign allows potential backers the opportunity to pledge money toward several fixed designs, the company's full customizer is also available for people to use to craft their own personal timepiece.
"The Urban is a fusion of modern and vintage," reads the Kickstarter campaign. "[It] comes in a highly detailed bespoke watch case that retains all signature vintage watch features, such as the super domed watch crystal, convex dial, stepped bezel, stepped round chronograph pushers, big crown, and straight lugs. While maintaining the retro look, the new Urban Chronograph has certainly incorporated our modern touch with subtle improvements."
Featuring inspiration from watch classics such as Breitling's Navitimer, Heuer's Autavia, and Omega's Speedmaster, Undone's fixed style Urban Chronographs ooze old-school style. Concerning its Kickstarter tenure, it's apparent there are many who share this same sentiment. As of this writing, Undone's campaign had already raised a whopping $155,950 to its goal of just $19,313 with 11 days left. What's perhaps most impressive about these numbers is the fact the project was 300 percent funded in just 72 hours on Kickstarter — in other words, retro is in.
There are few — if any — watch brands committed to allowing buyers full control over what a finished product looks like, yet Undone has taken this formula and perfected in just a year of operation. With its recent release of the Urban Chronograph not only does the brand appear actively focused on continuing what set it apart from the competition but it's doing so in an extremely inexpensive way for its customers. For just $180, anyone has the option of making a wholly original Undone watch that will be built in the same factories used by high-end Swiss firms — that's something even moderate timepiece enthusiasts can get excited about.