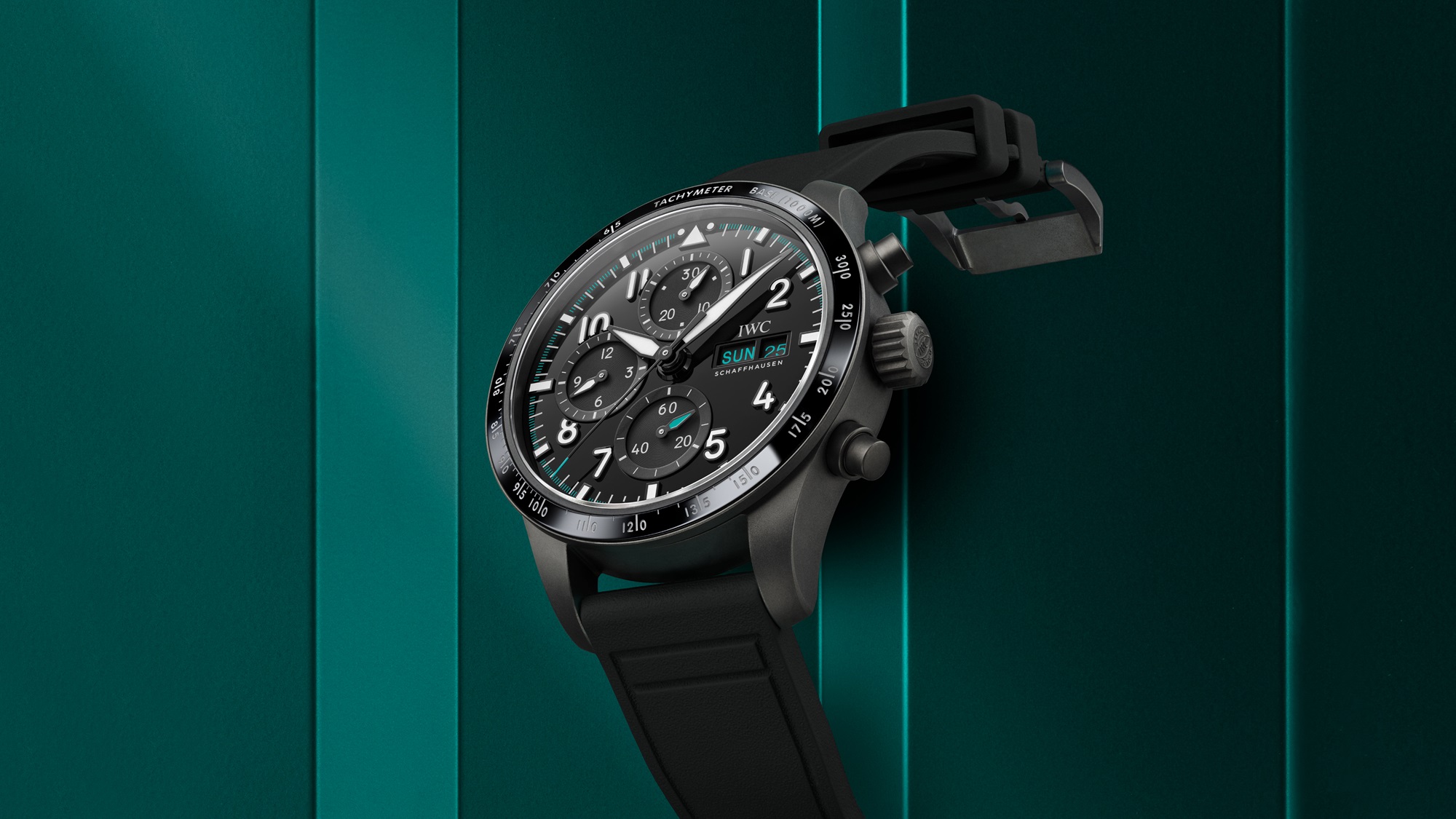 Gentlemen, start your engines! IWC Schaffhausen, the maestros of haute horlogerie, have dropped a horological bombshell just in time for the F1 Las Vegas Grand Prix. Brace yourselves for the adrenaline-fueled arrival of not one, but two performance chronographs dedicated to the speed demons of Mercedes-AMG and the Mercedes-AMG PETRONAS Formula One Team. These timepieces are not just watches for men; they are precision instruments designed for those who live life in the fast lane.
Racing DNA fused with Swiss mastery
IWC Schaffhausen's legacy of crafting instrument watches is deeply ingrained in the DNA of the company. High accuracy, robustness, reliability, and durability aren't just criteria; they're a way of life for these Swiss watchmaking wizards.
In a poetic union of racing prowess and Swiss craftsmanship, IWC watches initiated a partnership with Mercedes-AMG in 2004, venturing into the world of high-performance cars. The relationship blossomed, and in 2013, IWC became the "Official Engineering Partner" of the Mercedes-AMG PETRONAS Formula One Team. Now, in 2023, the saga continues with the launch of two performance chronographs, a testament to the enduring bond between precision timekeeping and high-speed motorsports.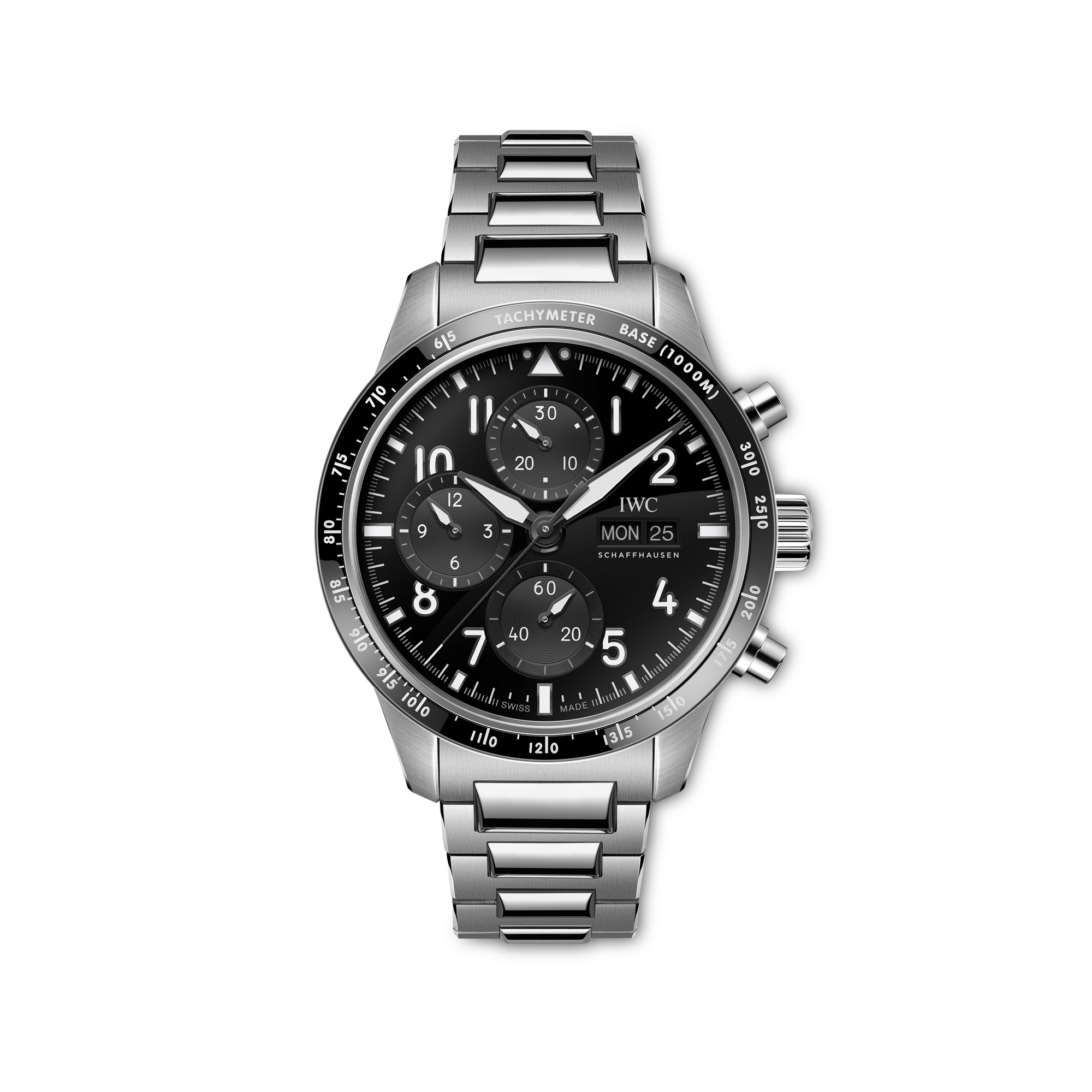 Titanium triumphs: AMG edition
Crafted from the illustrious realms of titanium and cutting-edge Ceratanium, the Pilot's Watch Performance Chronograph 41 AMG is a symphony of speed and style. The ceramic bezel adorned with a tachymeter scale is the secret weapon, allowing you to measure the average speed based on the distance covered. It's like having an F1 dashboard on your wrist.
The Pilot's Watch Performance Chronograph 41 AMG takes the lead with a case, crown, and pushers crafted from robust yet lightweight titanium. IWC's mastery in machining titanium dates back to 1980 when they unveiled the world's first wristwatch with a titanium case and bracelet. The grade 5 titanium alloy used in this chronograph is 45% lighter than steel, ensuring agility without compromising strength.
Choose your battlefield with two distinct versions of these watches for men – one featuring a robust black rubber strap and the other donning a titanium bracelet with H-links and an integrated folding clasp. It's a watch that not only keeps time but also keeps up with your dynamic lifestyle.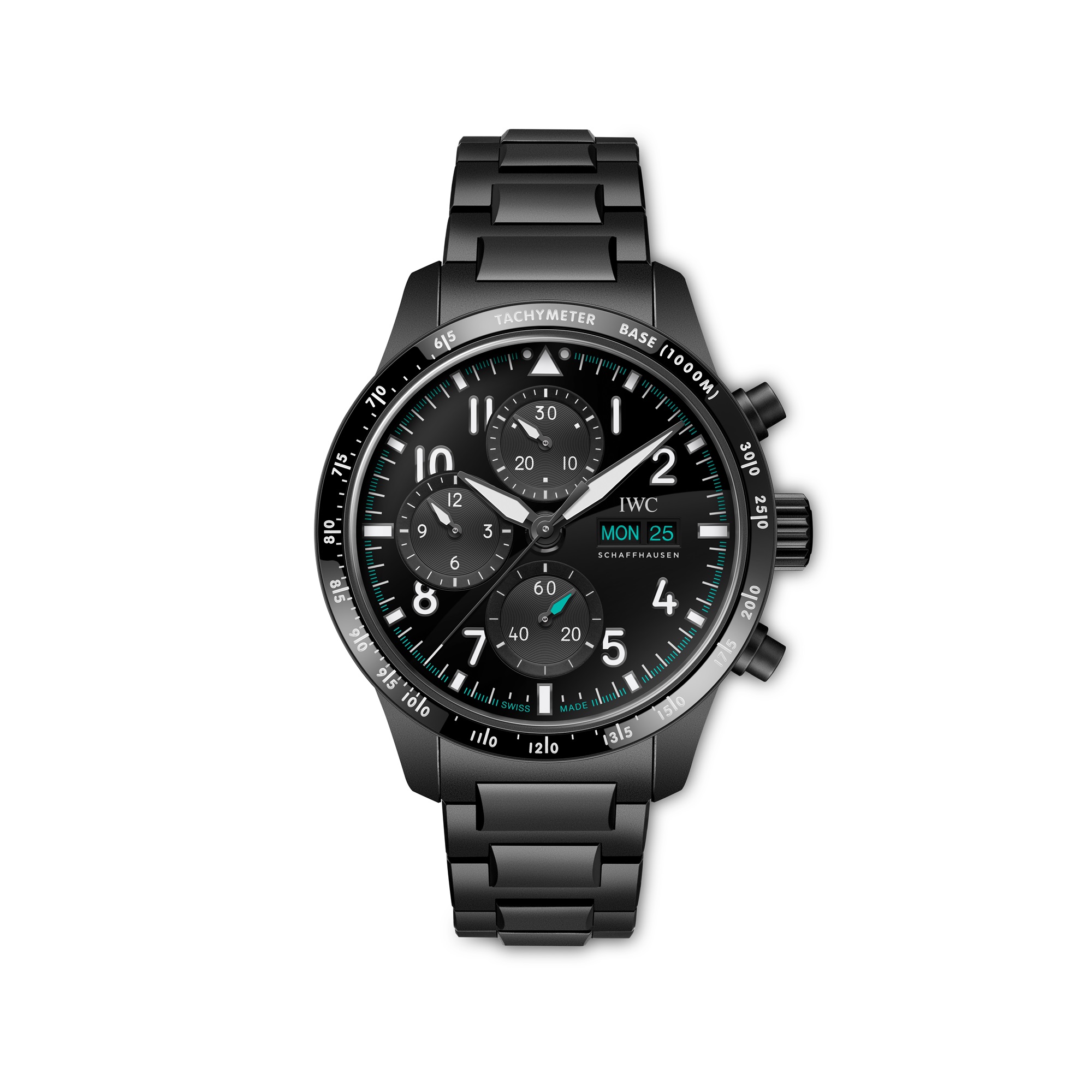 Ceratanium: The stealth warrior
For those who demand nothing less than extraordinary, enter the Pilot's Watch Performance Chronograph 41 Mercedes-AMG PETRONAS Formula One Team. This beast boasts a case crafted from Ceratanium, a material born in the labs of IWC. Imagine the lightness of titanium dancing with the hardness and scratch resistance of ceramic. That's Ceratanium for you – a material forged to IWC's specifications, taking the matte black finish to a whole new level of stealth.
What sets these chronographs apart is the ceramic bezel with a tachymeter scale. Imagine being able to measure your average speed on the fly. Push the start button, cover a kilometer, stop the chronograph, and let the central seconds hand unveil your speed on the rotating tachymeter scale. It's not just a watch; it's a speedometer on your wrist.
The black lacquered finish on the dials is no ordinary feat; it's a meticulous process. The recessed totalizers, applied indices, and numerals filled with Super-LumiNova not only add depth but ensure your watch is a beacon of readability even on the darkest of nights.
The heartbeat: 69385 Calibre movement
Powering these IWC watches is the IWC-manufactured 69385 calibre movement. With 242 parts working in harmony, this mechanical chronograph is engineered for resilience and dependability. The bi-directional pawl winding system builds a power reserve of 46 hours, ensuring your watch doesn't tap out before the checkered flag waves. Whether you're an F1 racing enthusiast or a watch connoisseur, these timepieces encapsulate the thrill of the Grand Prix on your wrist.
Editors' Recommendations