It's not often that a watch can lay claim to being the watch of the moment. But not every watch comes from a partnership between Timex & American designer Todd Snyder, who've teamed up to launch the perfect summer watch. Available exclusively via Snyder's Web site and already on backorder, the Timex x Todd Snyder Mod Watch is an everyday timepiece inspired by a vintage Timex design, and it provides a stellar value and styling potential — not to mention demand that's through the roof.
It certainly represents a lot more to the designer than just an average watch — and it's got the striking looks to back it up. Snyder has a particular affinity for Timex, the same brand worn by his grandfather.
"I always like to work with brands that have great stories," Snyder, an avid watch collector, said in New York City the day before his New York Fashion Week: Men's show. The watch will be appearing on models as he previews his Spring/Summer 2017 collection, further solidifying the partnership. "There are very few iconic American brands that have stayed true to their heritage … and Timex is one of them."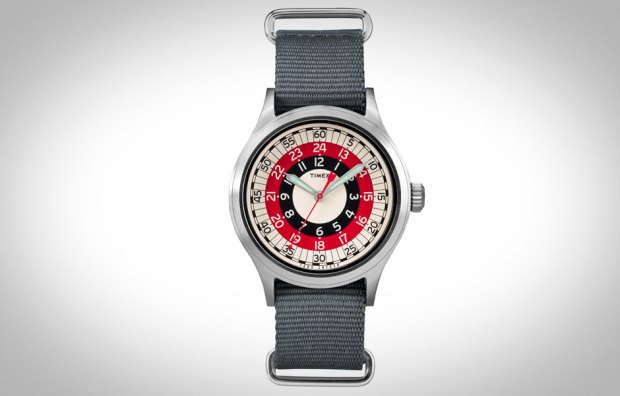 It's part of an effort by Snyder and Timex to complement the designer's rugged-refined style essentials with accessories that look the part — that means your favorite crewneck sweatshirt now has a vintage-inspired timepiece to go along with it. It's the first co-branded watch between the two companies, and Snyder said there's "a lot more to come," hinting at new watch styles that play off Timex's design sensibility and Snyder's love of heritage classics with edge.
The Mod Watch draws on a design from a 1970's-era Timex (part of the designer's extensive watch collection), yet it's a decidedly modern take when interpreted by Snyder and the watch company's creative team. And lest you think vintage-inspired means wildly expensive, rest assured — it's more than affordable, yet there's no quality lost. The Mod Watch retails for just under $140, but that price gets you a lot of bang for your buck.
"We have great respect for Todd's work," said Giorgio Galli, Timex's Global Design Director. "(The Mod Watch) really blends perfectly the DNA of … Timex and Todd Snyder."
The two first connected via email and quickly realized (via Pinterest and other platforms) each had an appreciation for quality and crisp design that's reflected in the resulting watch. And the effort shines in its versatile styling potential — Snyder recommends pairing the watch with everything from a tee and dark denim to a sharp suit.
The 40mm diameter and military nylon strap make this a watch for most situations — not to mention most outfits, particularly in the warmer temperatures of summer. There aren't many timepieces that would work as well with a lightweight navy blazer and a white Oxford as they do with a classic Todd Snyder pocket tee and chino shorts, but the Mod Watch is one of them. The NATO strap in particular gives the watch an element of utility while still keeping it decidedly wearable, Snyder said.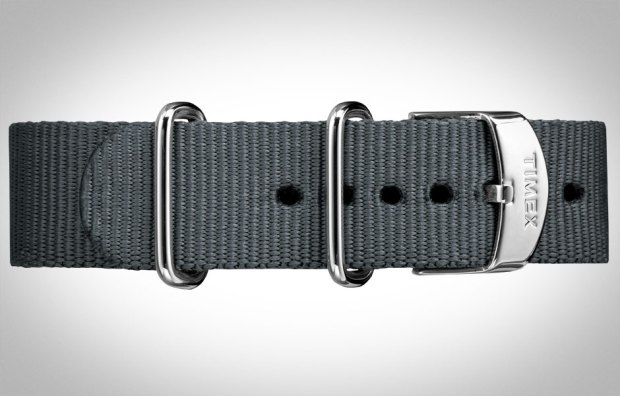 And the eye-catching mod red and black bullseye design? Unlike anything else on the market right now. It blends in seamlessly with other collaboration pieces put forth by the lauded designer in recent seasons, from his crisp, classic sneaker collaboration with P.F. Flyers to an ongoing partnership with Cole Haan — Snyder said the watch reflects an ethos that's timeless, functional and stylish without veering too far from staples that all guys can wear.
Snyder noted "it's really hard to find unique Timex pieces" that are in good working order, and when it came time to put pen to paper, he wanted to update a classic design for the modern era.
The blending of the classic and modern is particularly prominent in Snyder's namesake line, which has drawn praise and plenty of accolades across the menswear industry since Snyder formally launched the collection in fall 2011. The buzz is about to build even more — Snyder is set to open his first U.S. flagship this fall in New York City. And what's to come for the partnership between Timex & the award-winning designer?
First — a restock of the fast-selling Mod Watch, with backorders set to ship as soon as stock comes in. "It's a good problem to have," Snyder said of the quick sellout.
And it's great news for menswear fans that more timepieces — both the Mod Watch and new styles — are on the way from the partnership.
Editors' Recommendations