Originally designed for durability in the military in the 1970s, today, NATO watch straps serve a variety of purposes — including style. Most quality watch manufacturers allow and encourage you to change your band to fit the situation and your comfort. No matter what collection of straps you already have, a NATO strap or two should be part of that collection.
NATO straps are comfortable, and the unique construction prevents the metal from coming in contact with the skin. Investing in a well-made NATO strap will enhance and grow your collection. With our top choices for the best NATO watch straps, you'll have one that fits your lifestyle and your personality. Let's find the perfect one together.
Related Guides
Best Apple Watch Bands for Men
Editor's Choice: Omega 5-Strip NATO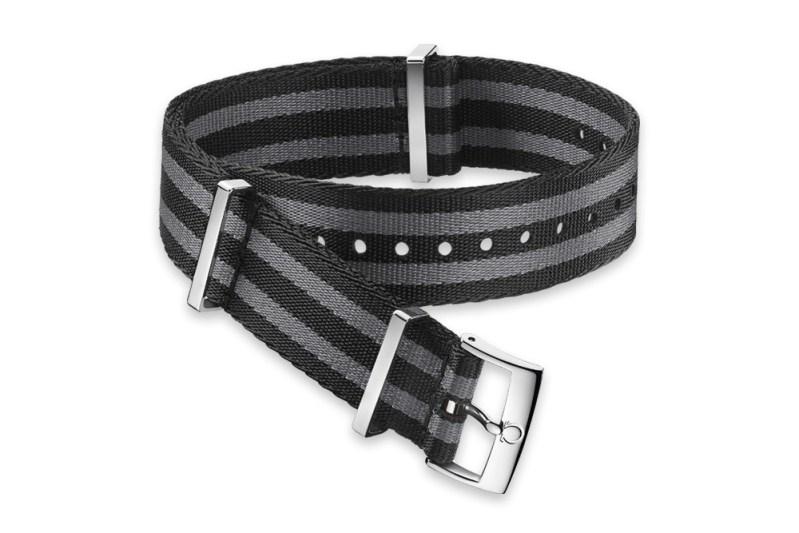 This Omega NATO strap features a thick black and gray stripe inspired by the Second World War styles. The stainless steel buckle and fitted keepers are long-lasting features while the tightly spaced holes ensure a perfect fit.
Polyamide material is ultra-durable and easy to wipe clean. It has a contemporary vibe that fits well with a range of watch styles — from your divers watch to the latest smartwatch. It's a bigger investment, but you gain versatility and small luxe details.
Best Budget Choice: Benchmark Basics NATO Strap
Don't be fooled by the price point. This durable NATO strap features a lightweight nylon weave that's waterproof and snag resistant. Heat-sealed edges keep their shape while a range of sizing holes ensures a comfortable fit.
The keeper and buckle use stainless steel, and the band is fully washable, making upkeep easier. It's available in four widths (18mm, 20mm, 22mm, and 24mm). The price gives you a chance for quantity — it's available in multiple colors and styles — and you don't have to remove the spring bars to install.
Best Rolex NATO Strap: Worn and Wound ADPT Strap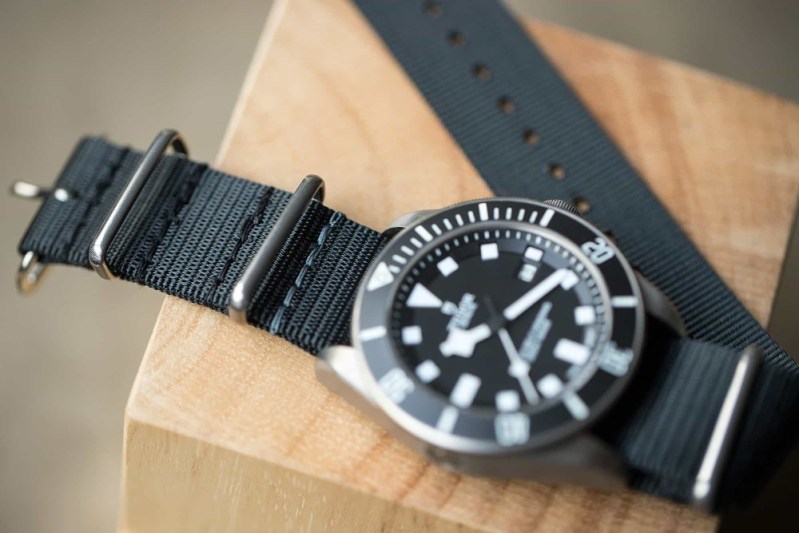 Pair a NATO with your favorite Rolex? It's not impossible. This small-batch strap features a simple military-inspired design with lightweight weaving. It stays on your wrist even if the spring bar fails, and the company sources and manufactures in the United States.
The company spares no detail. The strap features 316L stainless steel hardware with bonded nylon thread. A sewn-in label is comfortable and secure, while the shuttle loom material is tear and rip-resistant. It comes in several colors and three widths (18mm, 20mm, and 22mm).
Best Watch and Strap Combo: Hamilton Scuba NATO Strap Watch
This statement watch from Hamilton upgrades your watch to a scuba compatible option. It features an easy-to-read watch face with a numeral bezel and quartz movement. It's water-resistant to 100 meters, and the stainless steel housing and buckle are durable.
The bright blue NATO strap features lightweight, comfortable nylon weaving. It's rip and fray resistant and features well-spaced attachment holes for a customized fit. The watch itself is 40mm, and the band width is 20mm. It's an exciting addition to your watch collection or as a first official timepiece.
Best Thin Option: MZBUTIQ Classic NATO Strap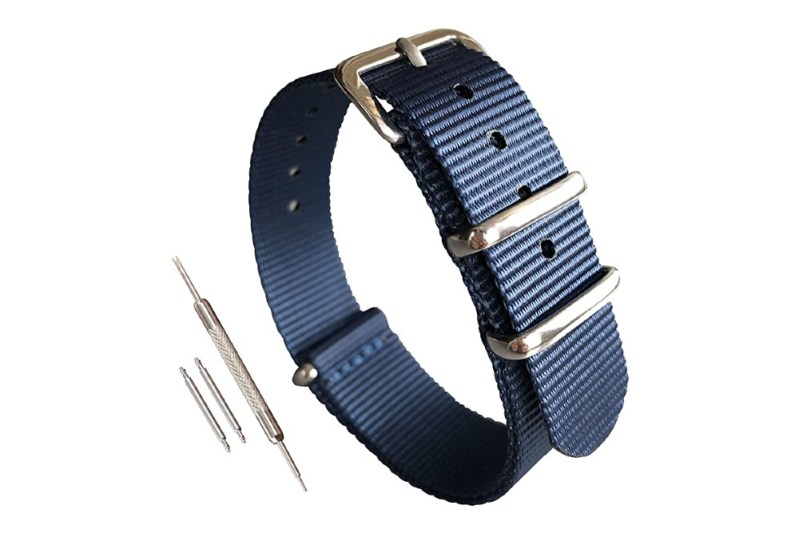 If there's nothing worse than a bulky watch strap, this option is the one for you. It features a classic NATO design using nylon that's just 1.1mm thick. The stitching is securely sewn, not glued, and it fits straight lug-end watches.
Laser cutting provides a clean, rounded edge that won't fray or tear while the hole spacing is suitable for a variety of sizes. It comes in over ten different widths and several different colors to suit your preferences. It flexes easily and holds your watch in place even in an emergency.
Best Seatbelt Style: PB Code Watch Strap
Seatbelt style straps feature the smooth and shiny fabric reminiscent of seatbelts and the same tough as nails construction. It has a polished steel buckle and keeper, while the standard sizing fits most wrists. It's suitable for diving and has excellent tensile strength.
It comes in four widths and quite a few color combinations. You'll also receive all the tools you need to replace your strap. The sheen is unmistakable, giving you a slightly flashier option for your favorite watch.
Best Nylon Alternative: Barton Leather Nato Strap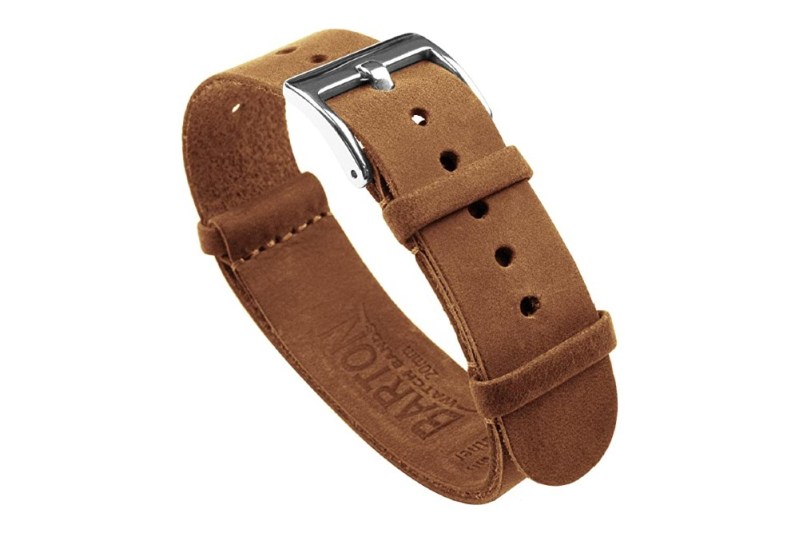 So you can't quite get around the idea of woven nylon. This Nato inspired strap features a well-worn leather that ages well over time. The stitching is reinforced at critical points and has a 316 stainless steel buckle.
With hand-selected top leather and compatibility with many standard watch styles, this choice is a refined look for those of you who want a comfortable Nato style band but in soft leather. It comes in 18mm, 20mm, and 22mm widths and several colors of quality leather.
Best Military Option: MWC Ballistic Nato Strap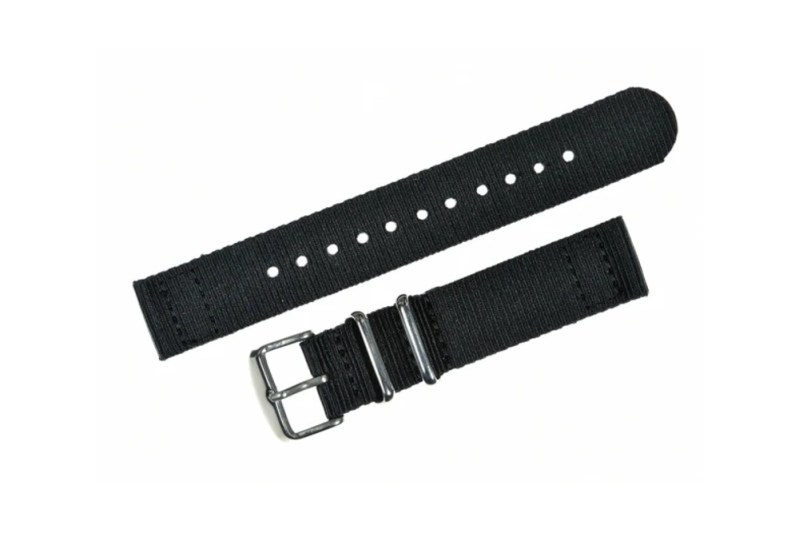 MWC's simple NATO strap is a two-piece choice using fast drying ballistic nylon and stainless steel fasteners. They're easily washable and fit watch styles that require two pieces. The edges are heat sealed to keep their shape.
It's a robust choice suitable for military contractors or civilian watch brands as well. It comes in a 20mm width, and the classic black blends with a variety of watch styles. Plus, with the simple installation and neutral coloring, you'll be able to wear it from the office to the gym.
Why Nato Straps Are Best
The military designed Nato straps to relieve soldiers of common complaints wearing standard watch straps out in the field. They offer a comfortable and safe alternative to traditional traps by using a loop to separate your skin from the hardware.
Plus, many Nato bands feature a safety mechanism that holds your watch in place if one of the spring pins happens to break. While the cheapest Nato bands feature the same construction and comfort, investing a little more into top-notch materials ensure nearly lifelong durability.
With the choices on our list, you have a wide range of options to fit your personality and style. These are excellent investments and will make wearing your favorite watch comfortable again.
Editors' Recommendations