It's not secret at The Manual that we're pretty big fans of United By Blue, not only for their casual, clean-styled, masculine clothing, useful outdoor gear, and unique home products, but also because the company gives back in a big way.
A certified B-Corporation, United by Blue was founded on the idea that an outdoor brand should be serious about environmental conservation. And so, in keeping with that founding principle, for every product sold, United by Blue removes one pound of trash from the world's oceans and waterways. This is direct action, sponsored and organized by the company and staffed with both volunteers and employees alike. They remove everything from tires, to Styrofoam, to plastic, and used syringes.
Beyond the very visible environmental clean-up component, the company also opts for products that are easy on the environment to begin with–and they do this through the use of recycled polyesters, organic cottons, and wool whenever possible.
And it's that amazing wool that has gone into The Manual and United by Blue's Holiday Wool Socks gift pack. We met up with United by Blue at this year's Outdoor Retailer in Salt Lake City and, over a cup of very strong coffee, we thought it would be a fun idea to combine both companies' love of the outdoors with an environmentally friendly sock gift set that will help you get into the outdoors.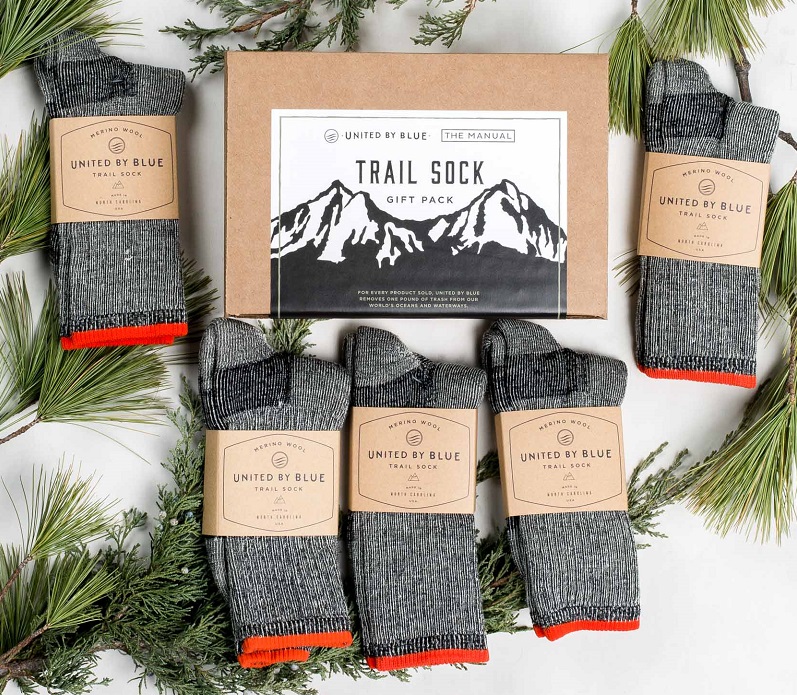 Made from 73 percent Merino wool, these five pairs of socks all come in the same color and size. You have your choice of red, orange, navy, or olive and your pick of sizes between small and large.
The set retails for $50, which is an amazing $20 savings.
Shop now and we totally understand if you simply buy a box for yourself. We did.