When you're throwing on your favorite t-shirt, do you ever stop and wonder what you're really wearing? Sure, you might know the brand, fit, and color, but do you actually know what it's made from? Better yet, do you even know where it's made? If you answered no to all of the above, you need to take a look at Outerknown. While some brands wipeout on those questions, this one gets a perfect ten. Founded by 11-time World Surf League Champion Kelly Slater, Outerknown is giving consumers transparency through each level of the supply chain.
Related: Kelly Slater Launches Sustainable Menswear Brand Outerknown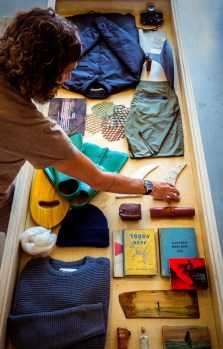 Kelly Slater and acclaimed menswear designer, John Moore, partnered to create a contemporary menswear brand that is functional, stylish, and makes sustainability the spearhead of their business model. Moore stated, "We're surfers who grew up with surf brands, but we grew out of logos. And we want to wear clothing that's made better, fits better and looks better." Along with their eco-friendly supply chain, they have partnered with the Fair Labor Association and Bluesign to protect workers, promote proper working conditions, and eliminate harmful substances from the manufacturing process. Their commitment to Outerknown's purpose shows that it is possible for a brand to be both fashionable and environmentally conscious. While it's hard for anyone to replicate what Slater and Moore have done, they are hopeful that Outerknown will inspire change within the fashion and apparel industry.
So, what's next on Outerknown's agenda? They're taking over Wittmore, a popular menswear store in the Arts District of downtown Los Angeles. It's a forward-thinking company for men who appreciate smart, high quality designs from established, niche, and emerging brands. Many in the LA area flocked to Wittmore this past Thursday to celebrate the partnership. Owner of Wittmore, Paul C. Witt, sees promise in the brand's vision. "Outerknown's minimal and modern take on surf inspired clothing really goes beyond that inspiration in many ways and appeals to the ageless guy. I'm a big fan of John Moore's aesthetic and the direction he's taking the line." This will be Outerknown's first retail installation in the United States, and both Slater and Moore are stoked to have the opportunity to bring their brand's story and purpose to life.
Related: Shop Class – Wittmore
You can shop the collection at both Wittmore locations as well as online. The Outerknown Takeover only lasts through mid-November, so hop on your board and ride the wave of sustainability.
Editors' Recommendations