Kelly Slater, the same dude who's been crowned the ASP World Tour Champion a record 11 times, is launching his first-ever sustainable menswear brand, Outerknown.
Born out of Slater's personal mission to create a clothing brand that seamlessly blends function and style while establishing sustainable manufacturing processes across its supply chain, Outerknown has released its debut collection featuring shirts, pants, outerwear, accessories, and more.
"I created Outerknown to smash the formula, to lift the lid on the traditional supply chain, and prove that you can actually produce great looking menswear in a sustainable way," says Slater on the vision for Outerknown. "The last two years have been a huge eye-opener for me. It's clear now just how challenging it is for any brand to put sustainability at the forefront of their business and I'm proud that we're one of the few taking the lead."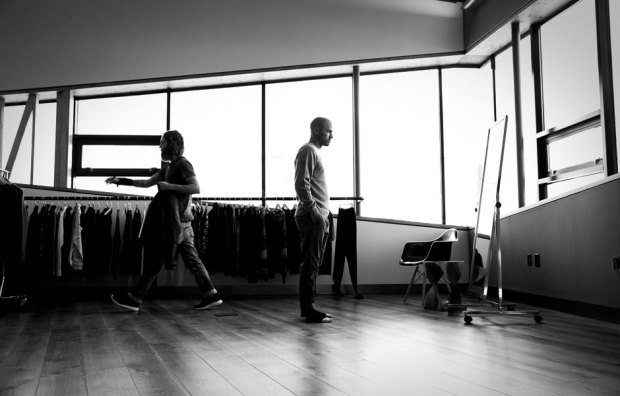 Making sure to staff his creative team wisely, Slater enlisted acclaimed menswear/surfwear designer John Moore as Creative Director–he, himself the founder of retro-cool surf label M.Nii.
"The learning curve on using sustainable textiles and manufacturing processes is immense," explains Moore. "In the past, I was able to use any fabric that inspired me and work with anyone who could make what I was looking for.  This is no longer the case.  Today, there are only a few global resources for us where we can purchase textiles with sustainable, organic and recycled fibers and verify their global origin and trace their logistics to make sure we are getting what we're paying for."
Related: Get a Clean Shave With a Safety Razor
Tasked with picking a favorite piece amongst the collection, Moore chooses the Evolution Shirt Jacket that they built in collaboration with ECONYL utilizing a textile made from recycled fishing nets and other nylon waste. "I grew up wearing heavier shirts as jackets along the California coast and this style takes this concept to the next level. It's the perfect layering piece. Where I live in Venice, it will be the perfect top-layer throughout the season, but if I'm traveling to colder climates the Evolution Shirt Jacket is the perfect middle layer to be worn over a sweater and under your topcoat. It's one of the most versatile styles in the collection."
Outerknown has also extended their partnership overseas to Italian manufacturer Aquafil S.p.A and use of their breakthrough ECONYL® fibers developed from 100% regenerated nylon materials including reclaimed fishing nets.
Check out everything they have to offer, all of which includes free shipping, by visiting outerknown.com.
Editors' Recommendations