We may take for granted the timepieces we wear on our wrists, but these devices have gone through decades of engineering to become the dependable tools they are today. For example, it was only in the mid-19th century that the idea of a water-resistant watch went from a fantasy to a reality, thanks in large part to forward-thinking brands like Zodiac.
In 1953, the brand released its original and now-iconic Sea Wolf. Not only was this the first dive watch designed with a rotating bezel, but it was also the first with a 100-meter rating. Just because it was built to withstand intense, underwater conditions doesn't mean the Sea Wolf was only popular among divers. In fact, during the '50s and '60s, the dive watch became a staple in men's fashion, popular due to its inherent style, durability, and wide-ranging appeal.
Over the following decades, Zodiac would continue to create uniquely cool dive watches inspired by the flagship design, as well as a full line of dress watches and chronographs. While they all featured a certain high-end look, these watches could never be described as boring or stately. In addition to innovating in the realms of water resistance and movement, the Zodiac team experimented with color in ways never before seen in traditional watch companies.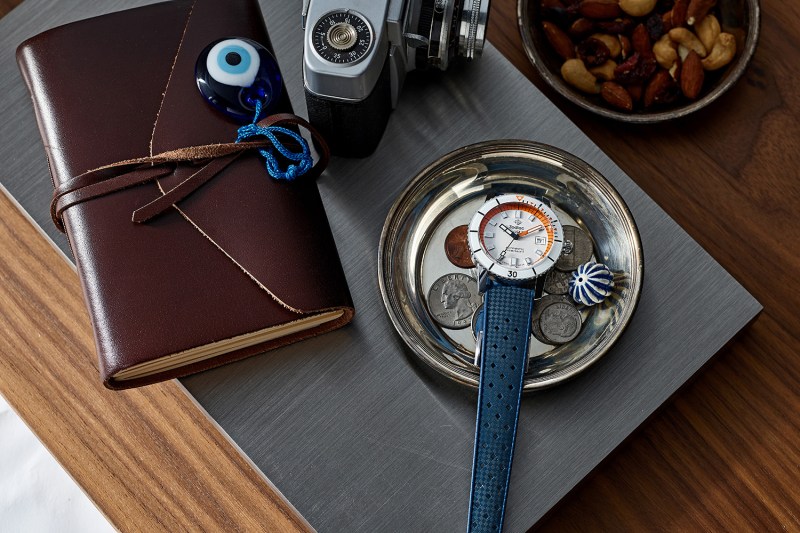 That legacy continues today with the release of Zodiac's heritage-inspired Super Sea Wolf Collection. Built with adventure seekers in mind, these watches pay homage to their vintage ancestors in their look and feel, but their function has been reimagined. Let's dive deep into the Super Sea Wolf Collection to see what these classy timepieces are all about.
The Look
One of the first things you notice about Zodiac's Super Sea Wolf watches is their vivid colors and eye-catching, neon shades. While bright colorways could look out of place on Rolex and Piaget watches, these were one of the defining features of vintage dive watches. The colors made it easier for divers to read their watches underwater, blending both function and beauty.
The face is bold and iconic with large, block-style hour markers and matching hands. Distinct hashes in the bezel mark five-minute intervals, while small triangles note the first 15 minutes. Again, this contributes to the Super Sea Wolf's impressive readability; these hash-mark attributes are common across the line, but some are unique to different models. You're going to want to take a close look at each before settling on the one for you.
The Feel
Considering they're made for business professionals and adventurists alike, it follows that the Super Sea Wolf watches are exceptionally comfortable. This can be attributed in part to the jubilee-style metal bracelets, which are built with expanding springs. The traditional butterfly-style deployant also hides a small, spring-loaded micro-adjust on each side so you can tailor it to your wrist and desired fit. The ZO9070 comes with a rubber strap rather than a five-link bracelet, which is a little lighter and grips to your wrist to minimize slipping.
Measuring at 40mm, the watches are considered small to mid-size. This compact design stays true to the original watch from the 1950s, but the slightly enlarged face brings it closer in line with the styles of today. This results in a very lightweight, wearable timepiece that won't feel loose or distract as you go about your day.
One of the nicest features of Zodiac's Super Sea Wolf watches is the bezel mechanism. To turn it, you need to first press down — a pleasant tactile experience that also prevents you from accidentally turning the bezel throughout the day.
The Collection
Zodiac Super Sea Wolf Automatic Stainless Steel Watch – $1,395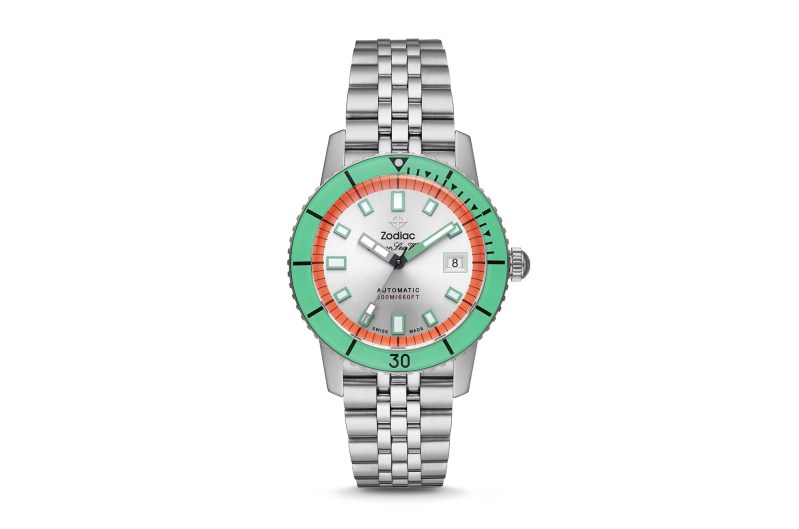 The ZO9269 model is iconically Zodiac thanks to its bright green and coral dial. Its unique coloring has even earned it the nickname "watermelon candy." This watch features a stainless steel case and five-link bracelet, as well as sapphire crystal with anti-reflective coating. Inside the device, STP 3-13 automatic movement keeps the C3 SuperLuminova hands and indexes working like clockwork. It's a watch you can wear in any situation, from the beach to the boardroom.
Zodiac Super Sea Wolf Automatic Blue Rubber Watch – $1,095

This piece looks like it belongs in a Wes Anderson movie thanks to its playful coloring and matte blue strap. The face, flecked with bright orange shapes, is sleek and easy to read. Like the ZO9069, the ZO9070 model features a stainless steel case and uni-directional mineral crystal topping; however, it's priced $300 less than its Sea Wolf counterparts. It's the perfect option for the adventurer who wants a high-end watch that still looks effortlessly cool.
Zodiac Super Sea Wolf Automatic Two-Tone Stainless Steel Watch – $1,395

This gorgeous two-tone design features a smooth cover with domed polished edges and a black and white dial. Gold-tone accents mean this watch practically oozes luxury, but at a price point quite comparable with similar models in the product family. Timeless (pun intended) and cool, this is a watch to pass on from generation to generation.
Editors' Recommendations