Men's watches are not just about telling time; they're expressions of sophistication, taste, and prestige. In the realm of men's fashion, few accessories hold as much power to make a statement as a meticulously crafted timepiece. While many names are synonymous with luxury, such as Rolex and Cartier, it's not always these household names that dominate the list of the world's most expensive watches. We're taking a closer look at a selection of opulent timepieces available at a surprising source: Costco.
Yes, you read that right – the store known for its bulk groceries and household goods, has a collection of Costco watches, offering a range that includes renowned brands like Montblanc and Versace. So, if you're a connoisseur of fine watches, you're about to embark on a journey through a list that combines luxury and affordability in a way you might not have expected.
But wait, you might be thinking, "Does Costco really offer watches of that caliber?" The answer: Yes. While Costco is often celebrated for its value-driven approach, it's not stopping short of catering to the luxury market. From the sleek and refined designs of Montblanc watches to the bold and distinctive style of Versace watches, this bulk-store has curated a collection of Costco watches that cater to a variety of tastes and preferences.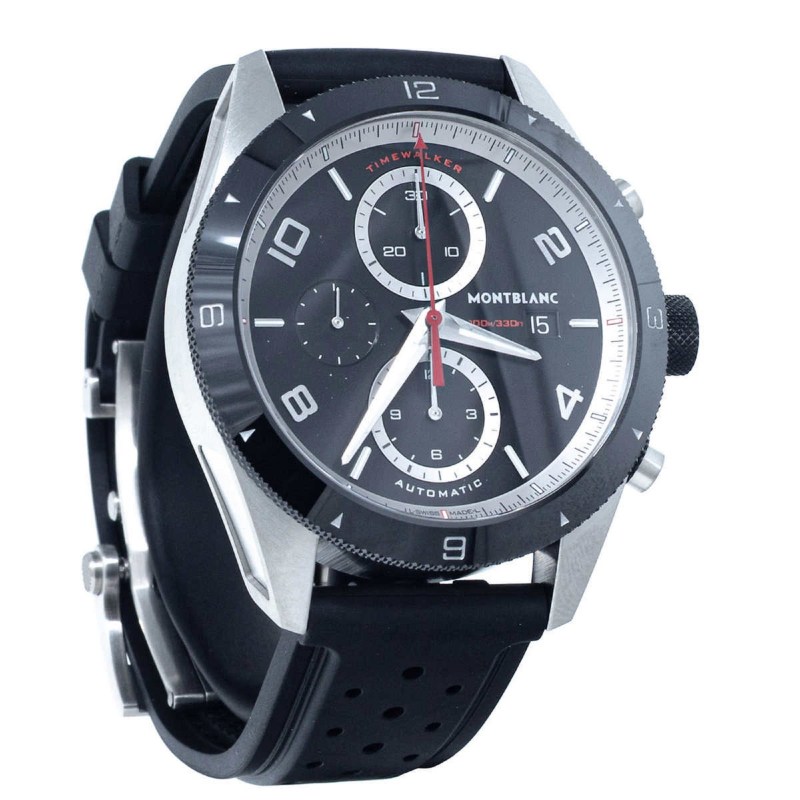 Montblanc Timewalker Automatic Stainless Steel Men's Watch (with rubber strap)
The Montblanc Timewalker is a prime example of timeless elegance and functional refinement. Crafted with a blend of stainless steel and rubber, this Montblanc masterpiece features a chronograph function and a 46-hour power reserve, ensuring the watch remains active even after extended periods of non-wear. With a water resistance rating of 100 meters, this men's watch is perfect for rain or water-based activities, meaning it can handle the challenges of an active lifestyle.
Montblanc watches are known for quality and attention to detail, something the design of this piece exemplifies. Its sleek stainless steel case is both robust and refined, making it suitable for a variety of occasions, such as date night or drinks with your friends. The contrasting elements of steel and rubber not only enhance the watch's aesthetics but also contribute to its durability.
Montblanc Timewalker Automatic Stainless Steel Men's Watch (with leather strap)
Another version of the Timewalker Automatic from Montblanc mixes a traditional design with contemporary elegance. This timepiece presents a blend of stainless steel and leather, creating a harmonious juxtaposition of materials. The sapphire crystal dial not only offers exceptional clarity but also serves as a window into the intricate mechanics within. This watch features a 42-hour power reserve ensuring reliability, and with a water resistance rating of 30 meters, it's equipped to handle everyday splashes and brief exposure to water.
Its refined blend of materials and impressive power reserve make it an exceptional addition to any watch collection. With an emphasis on both style and practicality, this Montblanc watch resonates with those who appreciate the convergence of classic aesthetics and contemporary engineering.
Versace Aion Chrono Two-Tone Gunmetal/Bronze Stainless Steel Men's Watch
Versace watches are just as fashionable as the clothing designs that flounce down the runway at Milan Fashion Week. An example of this is the Versace Aion Chrono Two-Tone Gunmetal/Bronze Stainless Steel Men's Watch. This Versace watch exudes a harmonious blend of gunmetal and bronze-plated stainless steel, creating an elegant and versatile accessory, while the gray sunray dial with bronze accents adds a touch of grandeur, making a striking visual statement. The chronograph feature adds practicality, offering precise timekeeping capabilities beyond its stylish appearance.
Editors' Recommendations