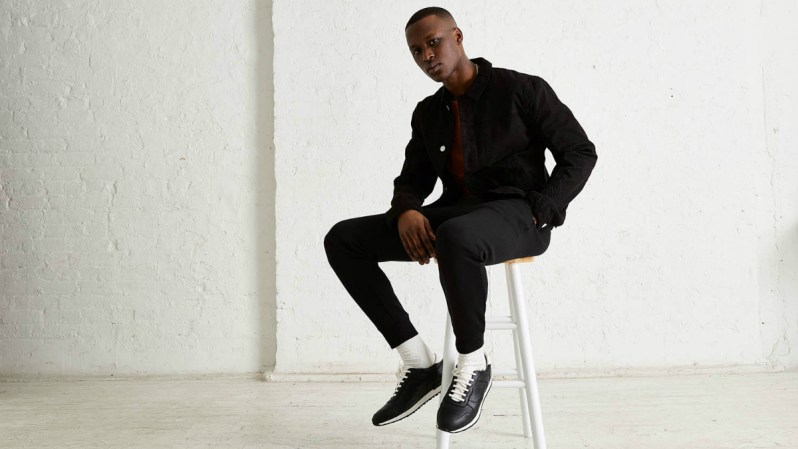 When Scott Gabrielson launched lifestyle brand Oliver Cabell in August 2016, the focus was clean-cut accessories folded into a minimalist style aesthetic.
His initial product run had a waitlist thanks to a small, die-hard following and sold out almost immediately. At the time, though, footwear was nowhere to be found in the house of Cabell. Fast forward 18 months and the growing brand (that now boasts an email list over 200,000 strong) has announced its first shoe releases: the Low 1 low-top and Rennes sneakers.
"It's more business-centric than anything for us," Gabrielson says, implying that footwear is a hot property this season. "It also just translates to what our team is inspired by."
Both designs are built from three-ounce, full-grain, calfskin leather from Veneto, Italy, and sport Italian rubber soles. Each follows old-school lasts (shoe forms) that Gabrielson and his team also found in Italy, but where the Italian connection ends is in the production. Both shoe styles are hand-stitched and lasted in Spain.
The Low 1 (pictured above) comes in four colorways following a pretty simple, yet timeless approach: alloy, white, black, and nude. The Rennes trainer (pictured below) follows the same color lineup.
Gabrielson wants to create a reputation for long-lasting, fairly-priced footwear and others are taking notice. His company recently closed a $1.2 million round of funding to help fuel inventory growth.
Much of that sum went towards Gabrielson's ambitious plans to release a new shoe every week as their "Drop of the Week." Releases will range from collaborations to experimentation with no end in sight. Among them will be a Chelsea boot made from the same suede Prada and Saint Laurent use. "We spent eight months getting to know the highest-end suppliers," he says. Another future shoe will use the same leather that Hermes sources.
Oliver Cabell's direct-to-consumer approach means these shoes are more accessible than their luxury counterparts too. The Low 1 comes in at $199 and the Rennes is just $101 less. The forthcoming Chelsea boot will be priced below $200, which puts that forthcoming version on the less-expensive end of the Chelsea boot market.
You can learn more about Oliver Cabell's other gear or get your own pair of kicks here.
Editors' Recommendations