It's good to be Anna Wintour, editor-in-chief of Vogue and artistic director of Condé Nast. The first Monday of every May, you get to invite 500 of your closest "friends" to a fierce party at The Metropolitan Museum of Art's Costume Institute, which just happens to be named after you. The party celebrates the annual opening of the latest exhibition at the institute, this year called "Camp: Notes on Fashion," referencing Susan Sontag's 1964 essay "Notes on Camp."
OK, yes, I'll admit that, although I knew who Susan Sontag was, I was a bit shaky on her writing. But trust us on this one: By "camp," she wasn't referring to enjoyment of the great outdoors, nor will we be seeing this book on the shelves of your nearest REI. In fact, as Steff Yotka's essay in Vogue describes it, one gallery at the exhibit presents 58 bullet points from Sontag's essay, inviting attendees to contemplate the concept of camp more deeply, when they aren't busy appraising each other's outfits.
"[Camp] incarnates a victory of 'style' over 'content,' 'aesthetics' over 'morality,' of irony over tragedy."
Among her other observations, Sontag writes that, "Camp is the consistently aesthetic experience of the world. It incarnates a victory of 'style' over 'content,' 'aesthetics' over 'morality,' of irony over tragedy. Or maybe … camp (is) 'the love of the exaggerated, the 'off,' of things-being-what-they-are-not.'"
If you ask me (and the rest of us for whom a tuxedo is probably the most dressed up we'll ever be in our lives), the Met Gala has been pretty camp for years now, no matter the topic of the latest exhibition. Monday night's festivities did not disappoint. Here are, if not the best-dressed men at the event, at least the most interestingly put together. This was one night where men can and should throw caution to the wind and indulge in the sort of sartorial splendor worthy of a Lewis Carroll novel.
Billy Porter
Billy Porter was last season's ambassador of New York Fashion Week and, as character Pray Tell on the award-winning television show Pose, we are used to seeing him in some non-binary, full-frontal fashion ensembles. Mr. Porter took it to a whole new level on Monday with a Cleopatra-like outfit that was more mise-en-scene than costume.
Ezra Miller
Ezra Miller gave us one of the evening's most dramatic looks, which was not too surprising since he'll be playing the young Salvador Dali in the upcoming biopic Dali-land.
Hamish Bowles
Hamish Bowles is the European editor-at-large for the American edition of Vogue, here feeling light as a feather. Or many feathers, depending.
Taron Egerton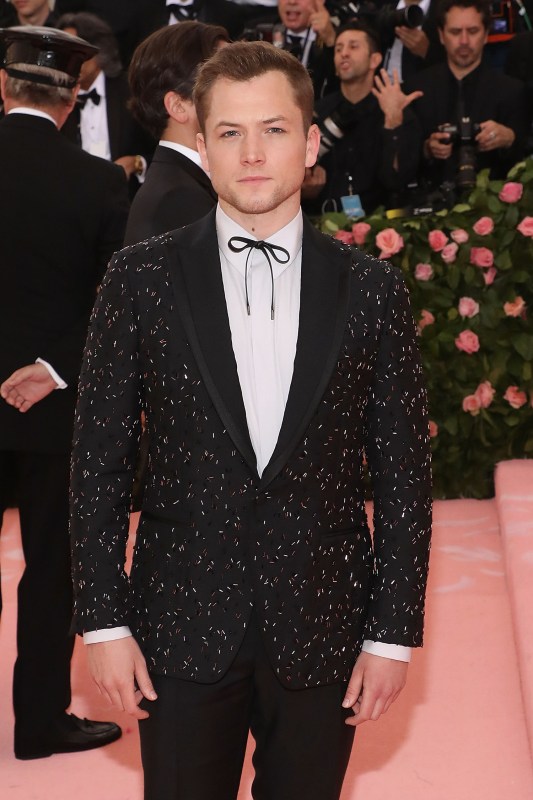 Taron Egerton, who plays Elton John in Rocketman, actually toned it down a bit — compared to Sir Elton, that is — for the evening. But we love the simplicity of this beaded jacket and string tie.
Michael Urie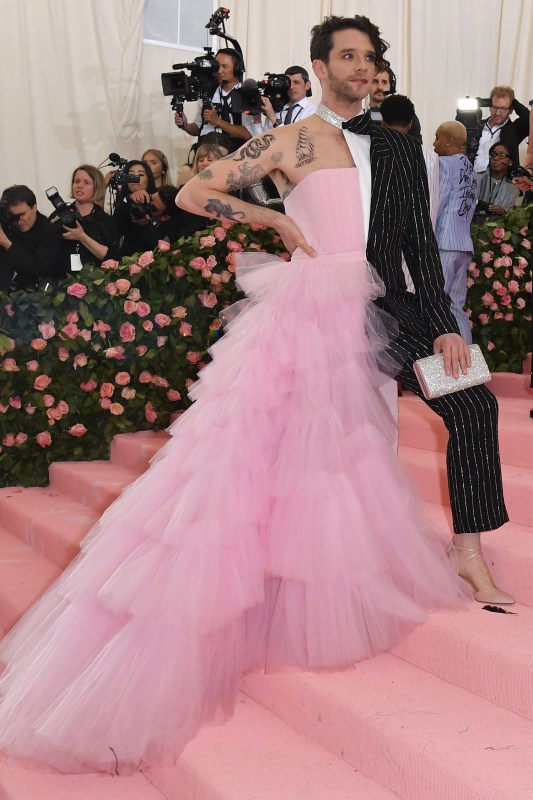 Ugly Betty's Michael Urie gives us the best of both worlds.
Harry Styles and Alessandro Michele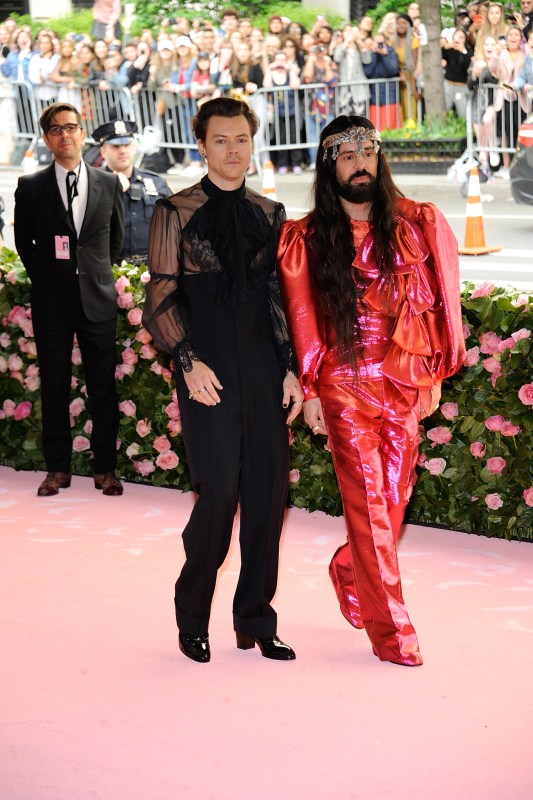 Harry Styles was one of the evening's co-hosts. Here, he makes his big entry with Gucci's Alessandro Michele (who designed his outfit), taking sheer style in one direction.
Joe Jonas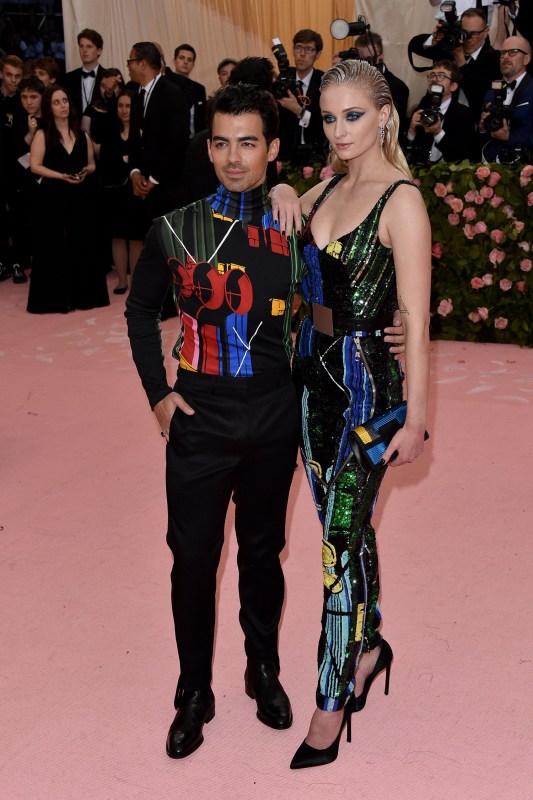 Joe Jonas understands that this is camp, not Camp Rock … but we almost wondered if he wasn't getting some direction from his fellow DNCE band member, bass player Cole Whittle, whose personal style is a bit more flagrant. Was "Cake by the Ocean" served for dessert?
Lena Waithe and Kerby Jean-Raymond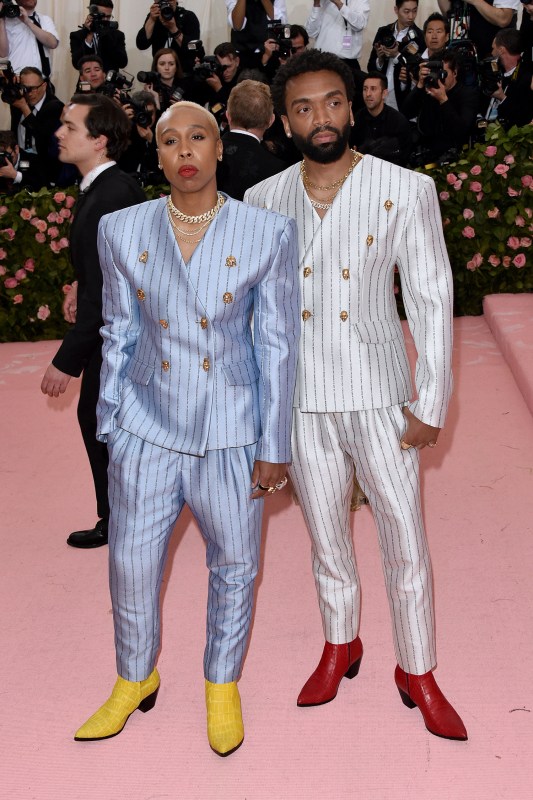 Master of None's and Ready Player One's Lena Waithe joined up with designer Kerby Jean-Raymond for more gender-bending style.
Dapper Dan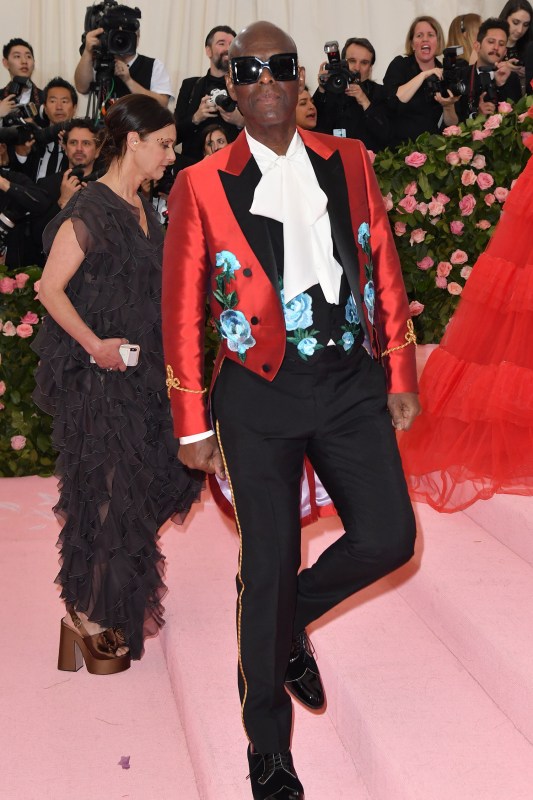 Harlem couturier Dapper Dan stirred the fashion pot a few seasons ago when Gucci made a jacket that was a tribute … to the designer. Here he shows how to do it first and best.
Michael B. Jordan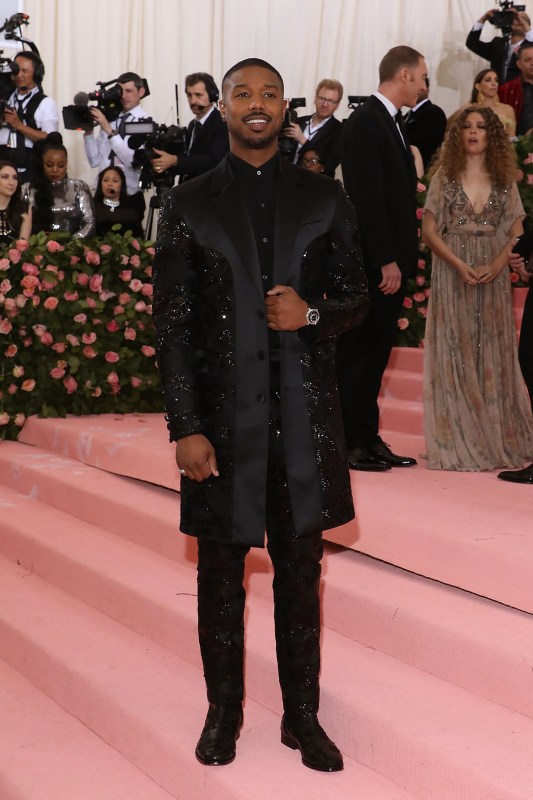 Michael B. Jordan looks as great in boxing shorts as he does in a tux. Here, we like his sparkle and the extra length of this Edwardian-style jacket.
Shawn Mendes
Shawn Mendes, if we can't have you, at least we can have that great jacket. You'd really be the life of the party, though, if you dressed a little more dangerously for the evening.
Frank Ocean
Maybe Frank Ocean got caught up on the things appearing to be what they are not part of camp; i.e., this jacket is not a raincoat. Or is it?
Liam Hemsworth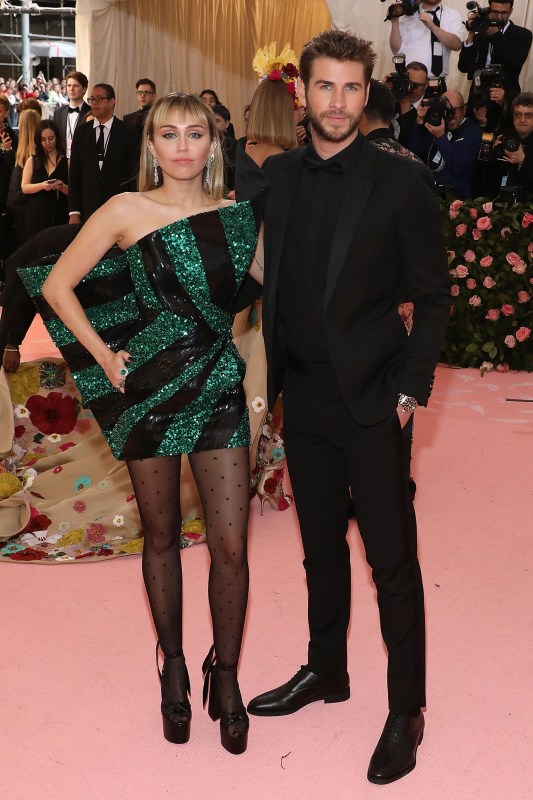 And as a special tribute for those who didn't get the memo, but who were trying to do right by their date, we give special props to Liam Hemsworth, Tom Brady, and even designer Nicolas Ghesquiere for looking awesome, if playing it pretty safe.
Jared Leto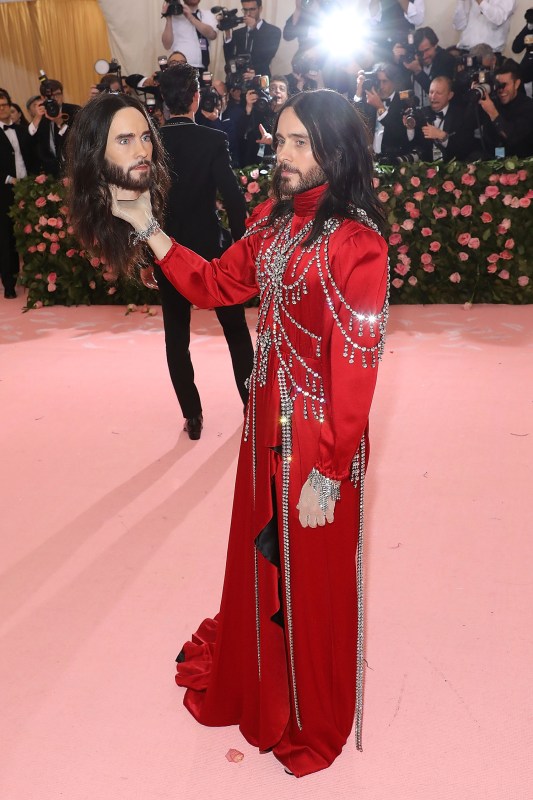 Bring me the head of Jared Leto. Oh … wait. OK. Um. Yeah … no. Just no.
Editors' Recommendations