Longines, a name synonymous with precision and elegance in watchmaking, has a rich heritage deeply intertwined with aviation history. The brand has consistently paid homage to its aviation legacy through its watch collections, and the new Longines Spirit Flyback is no exception. We're diving into the remarkable world of Longines and exploring the exceptional features of three distinct variations of the Spirit Flyback, highlighting their significance in the realm of men's watches.
Longines: A legacy of aviation
Before we embark on the journey of discovering this luxury watch, it's essential to appreciate the brand's historical connection to aviation. For over 100 years, Longines has been a prominent figure in the aviation industry, providing pilots with precise timekeeping instruments. This heritage is not only a testament to Longines's commitment to excellence, but also a source of inspiration for its aviation-themed collections.
The Longines Spirit Flyback collection pays tribute to the brand's aviation heritage by combining classic design elements with modern technology. This collection includes three remarkable timepieces, each with its own unique strap. For those who appreciate a more classic look, a brown leather strap is often associated with pilot's watches and perilous exploration. They can remind us of the pioneering aviators like Charles Lindbergh and Amelia Earhart, who relied on durable and stylish timepieces during their historic flights. Or perhaps, Steven McQueen, famous for his rugged and masculine style, especially in movies like Bullitt. If you appreciate a more contemporary look, the Longines Spirit Flyback with a stainless steel bracelet and blue dial exudes confidence, while the beige NATO strap adds a more casual vibe.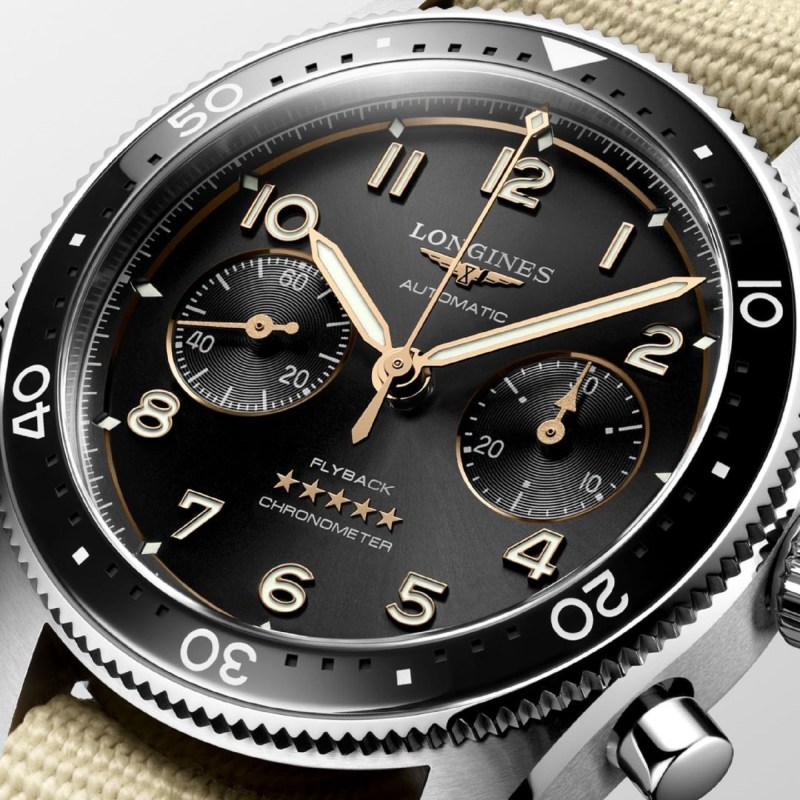 The Longines Spirit Flyback boasts impressive features
The Longines Spirit Flyback watch boasts a range of impressive key features. The 42 mm case diameter ensures a bold presence on the wrist, making it an ideal choice for the modern man. The watch stands out with its flyback chronograph function, a feature that allows precise timing with a single press of a button.
Additionally, its practicality extends to a date display at the 3 o'clock position, ensuring you're always on schedule. Even in low-light conditions, the Super-LumiNova-coated hands and markers provide enhanced visibility, adding to its practicality. Moreover, this watch is built to withstand various environments, as it's water resistant up to 100 meters, making it a versatile and reliable timepiece for both everyday wear at the office and special occasions.
One of the defining features of the Longines Spirit Flyback collection is the flyback chronograph complication. This sophisticated function allows the wearer to reset the chronograph hands to zero and immediately start timing a new event with a single press of a button. This aviation-inspired complication is not only practical but also a nod to the precision required in aviation.
The New Longines Spirit Flyback collection is a tribute to the brand's deep-rooted connection to aviation history. These exquisite men's watches embody the perfect blend of classic aesthetics and modern functionality. Whether you prefer the elegance of leather, the boldness of a steel bracelet, or the sportiness of a NATO strap, there's a Longines Spirit Flyback watch to suit your style.
Editors' Recommendations