The term 'Farm to Table' is nearly anathema these days. Although well raised animals and vegetables make us happy, everyone is using it for abundant branding. We now have 'Sea to Plate' and even 'Farm to Bottle' for those distilleries growing everything on property. But what about your clothes? It's very rare to know the chain of order they go through. Think of seeing the mill where your fabric was woven, hell, the sheep from which it was shaved? Then taking that fabric to a tailor who cuts it into the suit you want. That was the rare and remarkable experience we had from the Outer Hebrides in Scotland to the tailoring shop of the famed Martin Greenfield in Brooklyn, New York. I guess we could call it 'Mill to Maker.'
Finding the Fabric
The story begins in the iconic Harris Tweed mill, way up in Northwest Scotland on the blustery and beautiful Isle of Harris. My husband and I were on an in-depth tour of the mill and factory and as the tour was winding down, they took us through a long hallway of excess fabric that was up for grabs. We could choose our very own Harris Tweed at Harris Tweed and have it shipped home. But we only had five minutes to do it since we were on a tight tour schedule. It was like being in a game show as we scrambled to see every bolt, climb on chairs to reach the top, lay on the floor to see what was at the bottom of the heap all in a manic panic. Insert the Benny Hill theme song here.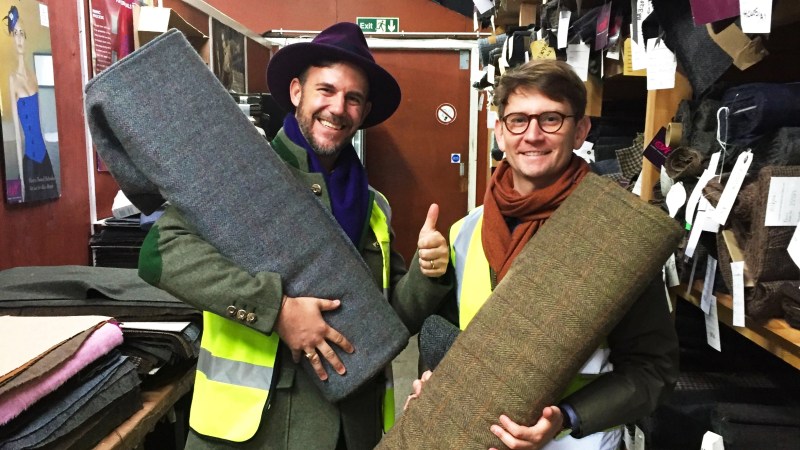 I ended up choosing a handsome robin's egg blue plaid with a muted red stripe. Paul, my husband, chose a loden green color woven in a herringbone. We heaved our bolts into the next room and a bubbly Scottish lady cut five yards of each, enough to make a three-piece suit for the both of us. She asked for our address and that was that. We would see the fabric at home.

Making the Suits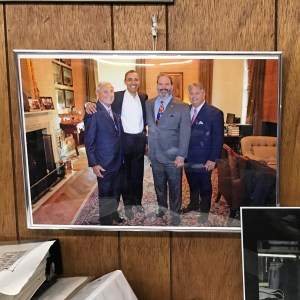 Martin Greenfield with Former President Barack Obama
The next dilemma we faced was who was going to make the suits? When we were at Lovatt Mill on the border town of Hawick, I asked one of the owners of Lovatt, Alan who he thought would be a good fit and he suggested Martin Greenfield in Brooklyn. Bingo. I have heard of Mr. Greenfield for many years in the menswear world. He made suits for everyone from Brooks Brothers to Thom Browne not to mention General Dwight D. Eisenhower, Bill Clinton and Barack Obama. He is affectionately known as America's tailor.
Fast-forward one month when the fabric bolts arrive at our home. I called Martin Greenfield and spoke to a lovely lady named Michelle. I explained our desire to have two suits made with fabric we had shipped back from Harris Tweed. She was rather excited about this situation, clearly a client with a love of the cloth. We made an appointment for January 28th at 11am and we shipped the bolts up immediately.
Our big day arrived and we were a little hung over, but we made it to 239 Varet Street in Bushwick at 11am on the dot. There is a simple big green sign over a pair of beaten up steel double doors that lets you know you are indeed at Martin Greenfield Clothiers. However, once you walked in, you were on your own to figure out where to go. We went up one flight of stairs in the warehouse and opened a door to a factory floor. Didn't seem right. We went up another flight of stairs to open a door and there was a long hallway. Nope. As we walked up the third flight of stairs we heard someone coming down towards us. An older gentleman holding up a suit under plastic brushes by us, laughs and says, "Good luck gents, there's a wait!" Sure enough, we opened lucky door number three and walked down a hallway clad in 60s wood paneling and there was a room full of people buzzing in every direction, some half dressed, some with bolts of fabric, some just in a daze sporting huge grins; this was the epicenter of Martin Greenfield.
Martin Greenfield's President Clinton's press photos and newspaper clippings
We stood there in awe and slightly confused. We finally found Michelle with whom we scheduled our appointment. She was warm and delightful and just laughed when we said we were here for our 11am appointment. "Oh honey, it's going to be a while, there are coffee and bagels on the table over there." She patted me on the back and kept moving. So we did as we were told, poured ourselves a cup of coffee, and chose a bagel (these are very good bagels) as we just soaked it all up. While this is hardly what we expected, we began to see what makes this place so special. The room was filled with a mélange of people from old men who have been coming to Martin for decades to young boys with their mothers getting their first suit tailor-made for their bar mitzvah. We met a gent getting his wedding suit made and a seemingly celeb who was getting a great deal of attention.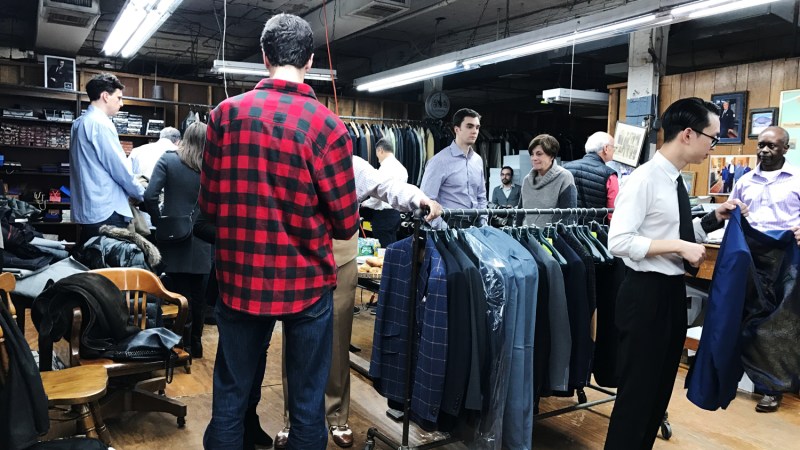 The most wonderful part of the process was seeing THE Martin Greenfield slowly, gently making his way around the room, making sure a jacket was the right length, that a customer picked the right lining, and of course posing for pictures with nearly everyone who entered the door. He is a true icon and legend in American menswear.
Mr. Greenfield
Martin Greenfield was born in Pavlovo, a small village in what was then the Ukraine, to an idyllic provincial life. At 14 he was rounded up by the Nazis with the rest of his family and put in Auschwitz concentration camp. He never saw his family again.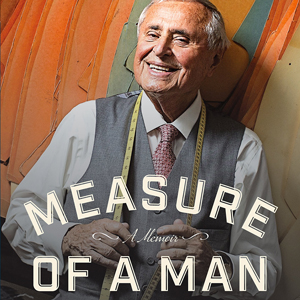 Martin Greenfield's Book, Measure of a Man: From Auschwitz Survivor to Presidents' Tailor
After the war, relatives in America paid for his passage and he started over at age 19. He soon landed a job at GGG Clothing company and worked his way up. In 1977 he bought the company and changed the name to Martin Greenfield Clothiers. For 70 years Mr. Greenfield has been going to work in the same building and through the decades, his reputation for classic suits grew. He has truly lived the American Dream. To read more about Mr. Greenfield's life be sure to order his book on Amazon . It's a fascinating, horrifying, and even an amazingly amusing read.
When our time finally came to be fitted, Michelle took great care of our measurements from neck to ankle by writing down all of them on one big sheet of paper. While Paul chose a classic suit, I wanted something a little different. I have longed for a Norfolk Jacket, that classic, belted shooting jacket made popular by the Duke of Norfolk in the 1860s that remained popular through the 40s. When I told this to Martin's son Jay, who also works for the company he smiled and said, "Oh we know how to make those, we did all the costumes for Boardwalk Empire." Well clearly I was in good hands. When Mr. Greenfield came by to meet me and make sure everything was going well, I mentioned my desire for a Norfolk jacket and he just nodded and smiled and quietly said in his light accent, "Yes, I know this jacket, I wore one often as a child." We had this brief, quiet moment of connecting and understanding before he patted me on the shoulder and moved on to the next client.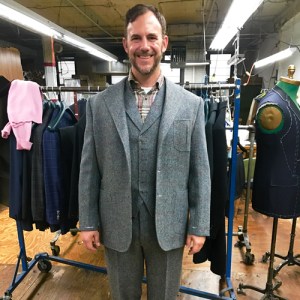 My first fitting at the factory
After we were both measured, we thanked Michelle and she said she would be in touch for our next fitting. Two months later at the end of March we came back. This time we knew better than to make an appointment on a weekend so we came in on a Friday afternoon and it was a completely different atmosphere; just us and one other client while the cutters and tailors quietly worked away at their stations. Michelle brought out our suits and we could hardly contain our excitement. Michelle took notes on what to take in and let out and then we were asked to choose the buttons we wanted. Paul got the attention of Mr. Greenfield on this trip and they were looking at the sheet of horn buttons together. Paul pointed to a light brown, tawny colored button and Mr. Greenfield smiled and without a word, held his hand and moved it down to the darker horn button at the end of the line. This may be a custom suit, but Martin is certainly going to give you his two cents and Paul was happy he did.
The Finished Product
Two months later our suits arrived in a massive box that seemed designed by a technical engineer it was so structured and perfectly made for two suits to hang, yet not move an inch. We not so carefully tore the box open and pulled the suits out, unzipped the suit bags and there was that fabric we had picked out on an island in Scotland six months ago. It had been cut, pressed, and formed to fit our bodies perfectly. Harris Tweed sent Martin Greenfield two labels to stitch into the lining to let the world know that these are indeed suits made from the iconic Scottish cloth. The worst part of the experience? The suits were delivered in May and we won't be able to sport them for another five months when the cool, crisp fall weather allows us to don such heavy sartorial looks.
Our Scottish friends laughed at this struggle and suggested just flying back to Scotland to wear them immediately, after all, Harris Tweed was made for the wild and wonderful British countryside where there is a nip in the air nearly year round. We may just need to book a trip across the pond and rent a cottage in quaint Stornoway to let our suits live for a bit in their natural habitat.