Classic prep meets West Coast style in the new Grayers x SeaVees collaboration — and for menswear fans everywhere, that's very good news indeed. The two brands have just launched their new stylish fall sneakers collaboration. And at affordable prices, they're sure to become your new favorites.
Fall style is a time typically dominated by rugged leather chukka boots and the like, but the slew of seasonally appropriate footwear in this collaboration–from the Maslon Desert Boot at the very top of the page to the Legend Sneaker–blend the best of fall-ready Grayers fabrics with classic SeaVees silhouettes. The collaboration keeps the classic, California beach-ready aesthetic of SeaVees sneakers and updates it from the prep style viewpoint on which Grayers was founded–and it's a well-done effort. It's also affordably priced: styles range from $98 (for the Army Issue Low) to $108 (for the Maslon Desert Boot). That means you should pick up more than a few pairs and wear them as much as possible this fall. Grayers and SeaVees went through the extensive Grayers fabric archives before landing on premium fabrics and that's admirable when you look at the resulting product.
Related: Life After Denim's New Menswear Is Here
In particular, styles like the Maslon Desert Boot best exemplify the merger between the two brands, taking cold-weather components like a brushed flecked flannel upper from Grayers and blending it with SeaVees' chukka silhouette.
It's definitely a sneaker that exudes downtown cool while remaining totally office-ready–wear these with slim dark denim and a cable cream sweater on a casual Friday and turn some heads. Other styles, like the Legend Sneaker, take a low-cut silhouette and mash it up with excellent Grayers fabric options, inspired by classic suiting styles. The grey flannel option would sit handsomely under dark denim or contrast nicely with a rugged field jacket for casual weekend style.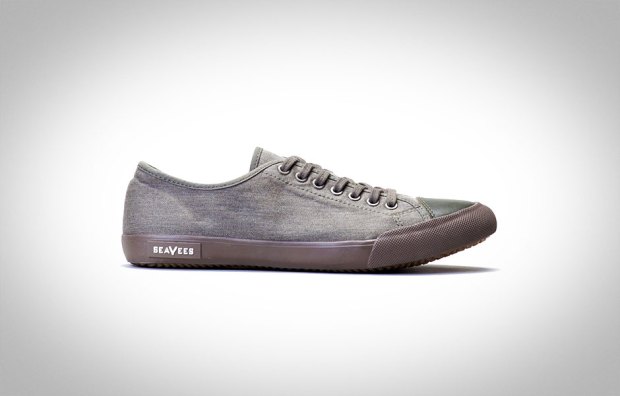 Not to be forgotten, the Army Issue Low uses rugged olive twill and a soft cotton canvas lining to re-shape the way one thinks about fall sneakers–it's a time of rugged leather boots, but it's also a time to play with texture in your everyday fall sneakers. It's certainly as good a time as any to refresh your fall footwear closet, too. The olive twill sneakers are going to contrast sharply (in a good way) with navy chinos or even grey herringbone trousers–try it out next time you want to switch up your look for the office or date night.
When one considers the mix of style, affordability, and unique-yet-versatile footwear options at play, the Grayers x SeaVees collaboration is a heck of a place to start when it comes to fall style–and you should certainly start shopping soon.
Editors' Recommendations