Well-made basics that evolve with you — Life After Denim's new menswear is here to solve all your shopping woes this season. And after taking just one look at what the contemporary lifestyle brand is slinging this fall, you might have a tough time holding back from, well, several purchases.
The Los Angeles-based brand's newest offering first came to life in two rather unlikely places across the pond — the modern-yet-historic city of Copenhagen, and the energetic city of Amsterdam; each are mash-ups of history, modern styling and unique architecture, and the locales are reflected in the fall offering.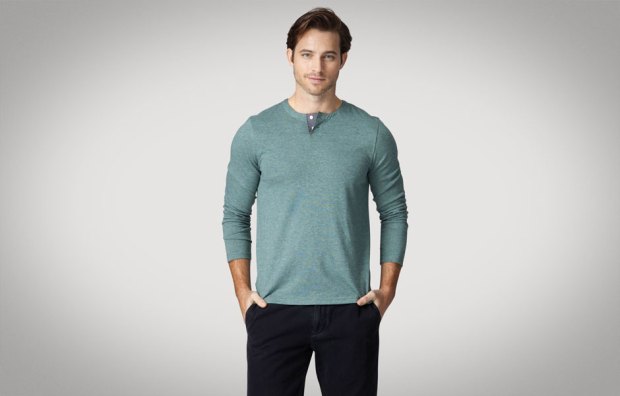 The brand says that particularly from Copenhagen, the collection drew on "duality" to turn "luxurious yarns … into athletic apparel," while standard pieces were updated with rich pigments. The tri-blend jersey fabric of the Heather Patina Hachiko Henley seems to reflect this use of rich colors and fabrics within seemingly straightforward pieces, as do pieces like the Cozy Crew, made with a ridiculously soft blend of Italian wool-alpaca.
Related: Your Ideal Fall Sneakers Are Here
Even pieces like the retro-leaning Football Tee in a washed black feature a lived-in look that would still pair seamlessly with everything from a rugged crewneck sweatshirt to your favorite navy blazer before it gets too chilly. If you couldn't spot the European influences from the modern approach to simple yet well-made basics, there's even the Denmark Shirt, a heather charcoal Oxford featuring textured cotton dobby fabric. It wouldn't look out of place with slim denim and retro sneakers — nor would you go wrong pairing it with some sharp, Italian-made denim.
And pieces like the Ryder Trouser exemplify the mix of casual and refined that one finds in a city such as Amsterdam — the brand's designers say the"visual and tactile properties of city's texture become symbolic of its nonchalantness."
That versatile styling potential — the blending of the nonchalant and the sharp — is also evident in, say, the Waterloo Cardigan, which could dress up a classic blue Oxford or work for high-low style with a rugged henley.
It's what one should expect from a brand that branched off from denim admirably, and continues to do so. Whether the inspiration comes from down the street in Los Angeles or across the globe in rainy Europe, it's worth adding some of these fall style essentials to your collection — then proceeding to wear the heck out of them.
Editors' Recommendations